I have been lucky enough to dive in locations all over the world discovering a world I previously didn't know existed. My diving journey began on a family holiday on the Caribbean island of Jamaica. Being a family of four girls we were often thrown into activities to 'keep dad company', but on this occasion I could not be happier that I was dragged along!
My first dive into the ocean was amazing, I'll never forget the freedom I felt floating around in the sea or when I saw my first turtle and sting ray. I had planned to only do a Discover Scuba dive, but by the end of that holiday I came away a qualified Open Water diver. I was hooked, and little did I know that was just the beginning.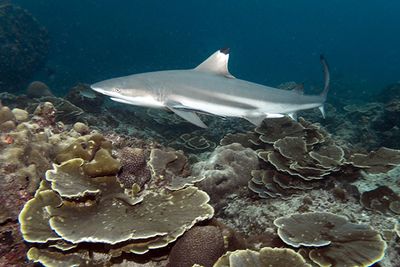 Thailand
I continued to dive in various spots across the Mediterranean, developing my diving skills and learning more about the underwater world. But I wanted more, so in 2013 I headed off to Koh Tao in Thailand where I did my first deep dive and saw my first shark, I was quite nervous beforehand, but as soon as we found it I was so relaxed and felt far more excited and in awe than scared.
Cayman Islands
Next stop was back to the Caribbean to the Cayman Islands, where I did my first wreck dive, Kittiwake, went on search for hammerhead sharks and explored the incredible wall dives they have on offer.
Asia
For the next instalment of my diving journey I headed back East. First stop: Indonesia's Bali and the Gili Islands, where the incredible diving was matched above water with beautiful scenery (climbing Mount Batur for sunrise was unforgettable).
I then headed over to Sipadan in Malaysia, off the coast of Borneo where I dived with reef sharks, huge turtles and schools of barracuda, to name but a few, and even a pod of about 100 dolphin joined us for our return journey.
Africa
More recently I had the opportunity to explore some of the diving on offer in Africa. I have spent a lot of time in Africa growing up, but had never had been underwater...
Tanzania
First stop, Tanzania, to visit Pemba, Zanzibar and Mafia. The picturesque turquoise sea and white sandy beaches were beautiful and the diving was wonderful, full of marine life and coral, and if you go to the right place you can be the only divers around which adds to quite an unforgettable experience!
Mafia Island, as well as having very good diving, is also home to a significant number of whale sharks at the right time of year, and thankfully I was there at the right time. After searching the seas for a couple of hours (and getting slightly sunburnt!) I managed to cross off swimming with these incredible creatures off my bucket list, an experience I will never forget.
South Africa
In South Africa, I headed to Protea Banks to see if I could find any more sharks. This section of coastline is known as The Wild Coast and it lives up to its name, it was easily the roughest sea I had ever been diving in which presented a new challenge in itself.
I found quite a few large oceanic black tip sharks who were very interested in us as well as a school of hammerhead sharks, and although we were constantly on the look for that elusive tiger or bull shark unfortunately (or fortunately from my mother's point of view!) it was not my day.
Mozambique
I was then lucky enough to get another go at seeing the majestic whale sharks in Tofo Beach, Mozambique, as well as crossing another creature off my bucket list - the mighty manta ray! Mozambique has absolutely stunning beaches, lots of palm trees, and the diving was brilliant; as well as the whale sharks and manta rays we found turtles, frogfish, a variety of other rays, a leopard shark as well the largest moray eels I have ever seen (they were enormous!).
All the diving I've done has been amazing, but I think the best is yet to come as my diving journey continues…