Together, the Turks Islands of Grand Turk and Salt Cay as well as the larger Caicos Islands archipelago—Providenciales, North Caicos, Middle Caicos, East Caicos, South Caicos, and West Caicos—form the island nation of the Turks and Caicos Islands. Sitting to the north of the Caribbean countries of Haiti and the Dominican Republic, the Turks and Caicos Islands are blessed with spectacular beaches, and its crystal-clear ocean water provides world-class diving, characterised by deep walls and an impressive array of marine life. The Grand Turk Wall on the western side of Grand Turk Island is popular with experienced divers, but for the best beginner diving in the Turks and Caicos, a stay on Pine Cay, Parrot Cay or Providenciales will put you on the doorstep of the country's more protected dive sites.
Parrot Cay
The private-island paradise of Parrot Cay offers everything you could dream of from a Caribbean holiday: pristine white-sand beaches; warm, turquoise waters; shade-giving coconut trees; and luxurious living. With post-dive pampering options including spa treatments or poolside pina coladas, a stay on Parrot Cay will ensure your batteries are recharged. Beginner diving in the Turks and Caicos doesn't get much better than on Parrot Cay, with calm and quiet waters, glistening coral reefs and far flung dive sites just waiting for a first-time explorer.
Pine Cay
Neighbouring Pine Cay is also an idyllic setting in which to enjoy the escapism of a Caribbean dream holiday. The island is crowd- and car-free, and its two-mile-long white-sand beach is the ideal setting for a post-dive nap. The calm waters allow for relaxed exploration by kayak, stand-up paddleboard or Hobie Cat sailboat, and rays, turtles and dolphins can be seen underwater. Pine Cay is a great choice for those looking for luxury and tranquillity alongside the relaxed beginner diving in the Turks and Caicos.
Providenciales
The capital island of the Turks and Caicos, Providenciales, sits on the edge of Northwest Point Marine National Park and offers easy access to some of the best beginner diving in the Turks and Caicos Islands. Bight Reef and Smith's Reef are found close to shore and are perfect for shore diving or snorkelling, with turtles, stingrays, eagle rays and reef sharks regularly spotted. The island's beachfront villas and restaurants provide uninterrupted views of the calm, turquoise ocean blending into the perennial blue skies, and if you're not diving below the waves, kayaks and paddleboards provide another means of enjoying the cooling ocean.
Where to go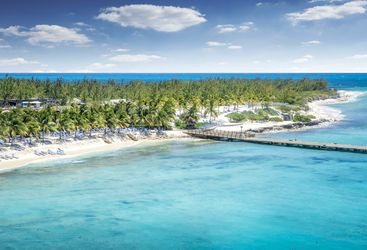 Turks & Caicos
The Turks and Caicos is home to some wonderfully white sand and clear blue seas. Oh, and some very good diving.
Where to Stay
Parrot Cay by COMO
Private Island? Check. Powder fine sand? Check. More shades of turquoise ocean than your eyes can adjust to? Check. Parrot Cay is the pre-eminent...
Start creating your tailored trip today
Our thoughtful experts are ready with ideas, inspiration and advice for your next journey.
Working with you we'll craft an unforgettable trip and tailored itinerary.
We're here to help with everything while you're away from the smallest to the biggest request.
Emily C and Eleanor are our 'Beginner Diving in Turks & Caicos' experts and as seasoned travellers they have the inside track on the most memorable adventures.