If you're thinking about getting certified in open water diving, we'll be the first to tell you that it's a fantastic idea. Diving is a wonderful hobby that will keep you coming back for more, and luckily, there's no shortage of dive sites around the world to discover. Whether you're a traveller looking to start a new hobby, a couple on their honeymoon wanting to try something new together, or a family looking for another way to bond, being Open Water certified is the first step in your diving adventure. While you'll find stunning diving destinations for beginners around the globe, here are a few of our favourite places to get Open Water certified and to get those first few dives in.
Grenada
With warm waters throughout the year, great visibility, and an abundance of marine life, Grenada is one of our top choices for open water diving. While it's known as the 'shipwreck capital of the Caribbean', there are also plenty of spectacular dive sites for new divers and those getting back into diving after a long break.
We particularly love Granada because it has a variety of sites suitable for beginners. You can dip your toe into wreck diving at the Veronica L with its beautiful encrusting cup corals; experience something a little different at the Molinere Sculpture Park, which tells the story and history of the island; or become entranced by the colourful coral wall at Flamingo Bay.
Egypt
Egypt has no shortage of dive sites to choose from, but when it comes to getting certified in open water diving or improving your skills, we'd recommend Hurghada every time.
There's a fantastic house reef at the Oberoi Sahl Hasheesh that's easy to reach from the jetty, with vibrant healthy corals and diverse wildlife. It's not uncommon to spot reef fish, sharks, octopus, blue spotted rays and even dolphins if you're lucky.
Maldives
With white sand for days and crystal clear waters, the Maldives is one of our top destinations for honeymooners looking to try open water diving. Yes, it's full of luxury resorts and world-class beaches, but beneath the water, the Maldives has some beautiful reefs, with gorgonian fans, sponges and colourful corals.
It's a top spot for beginners due to its calm waters and great visibility, with more challenging dives for advanced divers too. The Maldives is a fantastic location for seeing mega-fauna, and sightings of whale sharks and manta rays are fairly common.
If you're thinking of heading off on a diving adventure, let our team of experts help you to create a tailor-made itinerary. The marine world has so much to offer and an open water diving certification is the first step to seeing it all.
Itineraries
Best for: Couples and Solo Travellers
Sun, Sea and Scuba in Grenada
Spend a week uncovering Grenada's incredibly varied dive sites, from colourful coral gardens to underwater sculpture parks and the biggest shipwreck...
7 Days
From £3,615pp
Best for: Couples, Honeymoons, Families and Solo Travellers
Sailing the Maldives' Central and Northern Atolls
On this nine-day itinerary experience the North and South Ari Atolls on the Four Seasons Explorer, dipping into different turquoise lagoons, diving...
9 Days
From £9,316pp
Best for: Couples, Groups and Solo Travellers
Liveaboard Diving Across the Northern Red Sea
On this week-long Egyptian adventure, experience some of the best diving in the Red Sea aboard the Red Sea Aggressor II, diving on pristine coral...
8 Days
From £2,115pp
Where to go
Maldives
The Maldives is a world-class diving destination, particularly if you like diving with big fish. Above the waves you find pure white sand, blue...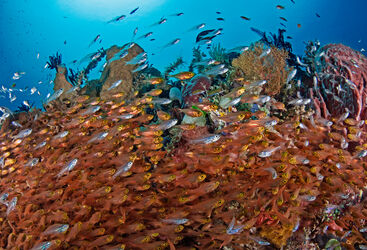 Egypt
Egypt has vast historical and cultural aspects, and also offers world class diving, all within striking distance of Europe.
Start creating your tailored trip today
Our thoughtful experts are ready with ideas, inspiration and advice for your next journey.
Working with you we'll craft an unforgettable trip and tailored itinerary.
We're here to help with everything while you're away from the smallest to the biggest request.
Emily C and Eleanor are our 'Open Water Diving' experts and as seasoned travellers they have the inside track on the most memorable adventures.