Classic Grenada
Who: Couples and Solo Travellers
From £3,615pp
Sun, Sea and Scuba in Grenada
Spend a week uncovering Grenada's incredibly varied dive sites, from colourful coral gardens to underwater sculpture parks and the biggest shipwreck in the Caribbean, with surface intervals spent being seduced by the island's contagious Caribbean charm, lush landscapes and swashbuckling rum-scapades.
Itinerary at a Glance:
Dive Bianca C, dubbed 'The Titanic of the Caribbean'
Discover vibrant reefs and colourful marine life
Dive the world's first underwater sculpture park
On this trip, the dive sites are suitable for novices and experts alike
Why Book with Original Diving?
Just a few of the extra touches that come as standard on an Original Diving holiday...
See More
All of the holidays we create are completely tailor-made to you
This sample itinerary is intended to give you a flavour of what we can do
Day 1:

International Flight
Wave goodbye to one island and embrace another as you depart London Gatwick for the Spice Island of Grenada. The flight departs in the morning and takes around 11 hours, touching down briefly in St Lucia.
On arrival into Grenada you will be met by your driver and transferred to your hotel, which should only take around ten minutes. Once you've checked into your hotel, toast to your arrival with a cocktail on the beach as the sun sets over the turquoise ocean before dining on fresh seafood under the stars.
Day 2:

Diving Local Sites
There's no time like the present to explore Grenada's fascinating seascape.
After a leisurely breakfast, wander down the beach to Dive Grenada to be suited and booted for your dives; the team will look after you immaculately and show you the wonders of their local reefs.
Grenada's diving is some of the best in the Caribbean, with a wide variety of hard and soft corals, hawksbill and green turtles, clouds of purple creole wrasses, angelfish, butterflyfish, lobsters, the odd moray eel and so, so much more (which we'll get onto later).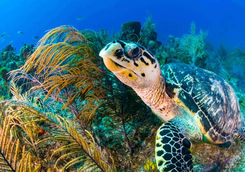 Grenada is home to such a wide range of beautiful sites including wrecks, reefs, caverns and even an underwater sculpture park! It is the perfect spot in the Caribbean for novices and experts alike.

Additional Activities
In the afternoon, take out a Hobie Cat (catamaran) to dart about Grand Anse bay. Don't worry if you don't have prior experience, the watersports team will help you out. Don't forget to take your snorkel and mask!
Day 3:

The Titanic of the Caribbean
Now that you've experienced some local reefs it's time for something a little more adventurous - diving the famous Bianca C wreck. Dubbed the 'Titanic of the Caribbean', this is the largest wreck in the Caribbean.
Descending to a maximum depth of 33 metres, the wreck extends a staggering 180ft and is one of Grenada's most famous dive spots. You can expect all manner of fascinating marine life to turn up, including barracuda, eagle rays and, if you are very lucky, perhaps a lurking black tip or bull shark.
As the sun sets over Grand Anse Bay head back under the waves to see the reef transform at night - this is a great time for observing crustaceans out on the reef.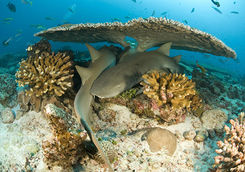 Not certified for deep diving? Don't worry, Dive Grenada can take you to a local wreck at a shallower depth – there are 15 of them nearby.

Day 4:

Flamingo Bay and Underwater Sculpture Park
Today you will further delve into Grenada's fascinating and varied seascape.
This morning's dive will explore Flamingo Bay, so named for the abundance of stunning flamingo tongue snails. Your expert dive guides will navigate around the site pointing out the best of the marine life; spotted drums, bar jacks, snappers, or, for photographers in particular, long snout seahorses and pipefish.
After a surface interval bobbing above the turquoise water with a cup of tea, you will descend to your next site - Grenada's famous underwater sculpture park. This is a great photo opportunity and a rare chance to see an underwater art installation.
Day 5:

Happy Valley and Molinere Reef
Located in one of the local marine protected areas, your two dives this morning are great for a bit more macro life.
Sites max out at a depth of 24 metres so the light will be perfect for photographers, while subjects include seahorses, scorpionfish, jawfish, frogfish and octopus.
In the afternoon, either head back under the waves or explore the island. We highly recommend visiting the Rum Distillery for a flavour of the island's drink of choice.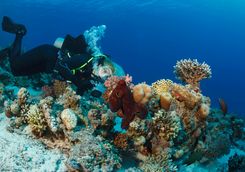 Day 6:

Purple Rain and Boss Reef
For your final day's diving it's all about beautiful reefs.
Start off with a drift dive on Purple Rain where you can marvel at vast barrel sponges, soft and hard corals. This is one of the best reefs in the area and its visitors include hawksbill turtles, rays and barracudas. Not to forget its other inhabitants including box fish, filefish, angelfish and enormous schools of creole wrasses.
After a surface interval sunbathing on the boat, you will explore Boss Reef, which sprawls almost five miles from St George's harbour. This reef can be marvelled at for its fantastic topography which houses nooks for morays and tumbling corals. Keep an eye out for the giant green moray eel that lives here (it's hard to miss), and be sure to look under overhangs for sleeping nurse sharks.
Day 7:

Landlubber Adventures
Today we've arranged for a jeep to be dropped off at your hotel so you can explore inland.
While Grenada might be small it packs a serious punch with waterfalls, natural rock pools and tropical wildlife hidden in its thick, jungle-clad interior. Culture vultures should swing by Fort George, which also happens to sport stellar views over the ocean, or if you're still craving the salt life, you can set sail on a hobie cat (sailing catamaran) for the day or rent a kayak, armed with a mask and snorkel, to explore the local reefs.
This morning scoff down one more breakfast burrito before packing up and preparing to be transferred back to the airport for your overnight flight home.
If you're organised enough to pack the night before then we'd recommend a morning snorkel! Your flight home will touch down in St Lucia again but no need to disembark.
All of the holidays we create are completely tailor-made to you
This sample itinerary is intended to give you a flavour of what we can do
A Rough Idea of Price
While all of our holidays are completely tailor-made and prices will vary based on things like time of year and level of accommodation, we want to give you as good an idea of how much this itinerary will cost. The below prices are based on two people sharing.
This Itinerary
If you would like to book the exact itinerary mentioned above, with economy flights, during mid-season and staying in our preferred room category at our preferred hotels.
Bells & Whistles
If you are looking for something extra special and would like to add business or first class flights, stay in top room categories at some of the most luxurious hotels we work with, and add more activities and guiding.
Emily C, Eleanor and Jacqui are our experts for this itinerary and as seasoned travellers they have the inside track on the most memorable adventures.