Learn To Dive Grenada
Who: Couples, Families and Groups
From £2,125pp
Learn To Dive With All The Family In Grenada
Grenada is the perfect spot to learn to dive as a family with easy conditions, fascinating marine life and even an underwater sculpture park. Above water, Grenada is bursting at the seams with adventures across lush tropical rainforests, waterfalls and hidden beaches that will entice all the family.
Itinerary at a Glance:
Learn to dive on beautiful Caribbean reefs
Set sail on the turquoise waters on a private catamaran
Explore the island at your leisure in an open-top jeep
Why Book with Original Diving?
Just a few of the extra touches that come as standard on an Original Diving holiday...
See More
All of the holidays we create are completely tailor-made to you
This sample itinerary is intended to give you a flavour of what we can do
Day 1:

International Flight
Prepare your family for a swashbuckling adventure as today you depart for Grenada. You will fly during the day from London Gatwick to Grenada, with a short touchdown in St Lucia, taking around 11 hours.
On arrival you will be met by your driver and transferred the short ten-minute journey to your hotel on Grand Anse beach. Once you've checked in, enjoy a delicious meal and soak up the Caribbean warmth on your first evening.
Day 2:

Embrace Island Life
Embrace Grenada's slow-paced, old-fashioned charm by spending the day relaxing and exploring the island at your own pace.
Wake up early to walk along the stunning Grand Anse beach before the other tourists wake up, or enjoy a gentle morning with the sun streaming in through your bedroom window. This is the perfect spot to play a family game on your balcony!
In the afternoon you can take out a hobie cat (sailing catamaran) or some kayaks - don't forget your snorkel and mask so that you can hop into the water to cool down and see what wonderful creatures are cruising about.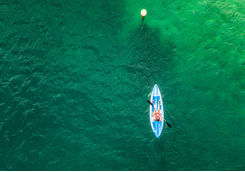 Days 3–6:

PADI Open Water Course
Today you will be initiated into the wondrous watery world as you embark on the PADI Open Water Course.
Taking your first breaths underwater together is a very special memory and Dive Grenada are the perfect centre to look after your family. The course will take around three days to complete and comprises the theory portion (we recommend completing this prior to arrival via e-learning), confined water dives completed in the swimming pool, and open water dives completed in the turquoise local waters. You'll learn the skills necessary to feel confident underwater and come away with a qualification for life.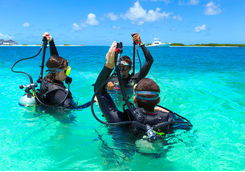 Today we've arranged for an open-top jeep to be dropped off at your hotel so that you can explore this exciting island at your leisure.
We thoroughly recommend taking a hike up to the Seven Sisters waterfalls where you can cool off in the jade waters. If you'd like, your hotel can pack you a picnic to enjoy in a secluded spot, or you can find a local eatery and enjoy some fresh grilled fish.
As the afternoon draws to a close, head up to the north coast, winding your way down the west as the sun sets - stopping off for some family photos overlooking the Caribbean sea before meandering through picturesque Grenadian villages.
You'll get back to your hotel just in time for a slap up beach barbecue, courtesy of Original Diving!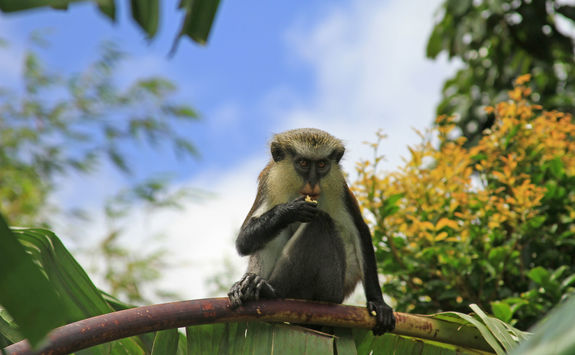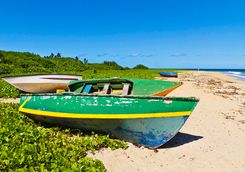 Additional Activities
Guided nature walk through the Grand Etang National Park where you'll encounter mona monkeys and learn about the flora and fauna of the area
This morning you'll meet at the dive centre to show off your new Open Water certifications.
Head out to Purple Rain where bright purple anthias (fish) dance above the reef, or delight in a turtle cruising by to check you out. For your second dive you can visit the iconic Grenadian underwater sculpture park, where your dive guide will help you add to the family photo album with some wonderful underwater shots - don't worry, we'll provide the Go Pro.
Today we have arranged a private charter of a beautiful catamaran so that you can enjoy a day's adventure in the crystal clear waters surrounding Grenada.
You'll have the chance to snorkel and swim in hidden bays and enjoy a relaxed lunch with the water lapping against the boat, returning in time for sundowners at Savvy's beach club - the best spot on Grand Anse beach.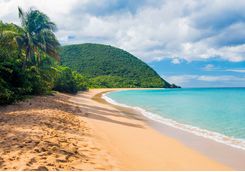 Sadly, it's time to go home today. You will be transferred to the airport in plenty of time for your flight. The transfer time is around 10 minutes.
All of the holidays we create are completely tailor-made to you
This sample itinerary is intended to give you a flavour of what we can do
A Rough Idea of Price
While all of our holidays are completely tailor-made and prices will vary based on things like time of year and level of accommodation, we want to give you as good an idea of how much this itinerary will cost. The below prices are based on two people sharing.
This Itinerary
If you would like to book the exact itinerary mentioned above, with economy flights, during mid-season and staying in our preferred room category at our preferred hotels.
Bare Necessities
If you would like to pare back the above itinerary by travelling at non-peak times, staying in a standard room and removing some or all of the guided activities.
Bells & Whistles
If you are looking for something extra special and would like to add business or first class flights, stay in top room categories at some of the most luxurious hotels we work with, and add more activities and guiding.
Emily C, Eleanor and Jacqui are our experts for this itinerary and as seasoned travellers they have the inside track on the most memorable adventures.