The far-flung islands of Raja Ampat are well known among the diving community for being home to some of the world's most spectacular marine life. Whether you're looking for pristine coral reefs inundated with colourful fish, or are on the hunt for large pelagics like manta rays, this remote corner of Indonesia won't disappoint. Thanks to its hard-to-reach location, it's no surprise that liveaboard diving in Raja Ampat is by far the most popular, if not practical, way to see the area's dive sites. Here are a few of our favourite dive sites in Raja Ampat:
Bantanta Island
Bantanta Island is the smallest of Raja Ampat's four major islands. The island's black sandy slopes aren't what most people envision for a typical dive in Raja Ampat, but for those who can't get enough of muck diving, Bantanta Island is fantastic.
Above the water, the island is rich in natural beauty, with lush rainforests and tropical birdlife, which provide stunning scenery during surface intervals.
'Black Beauty' - the island's most famous site - is a must-visit for anyone enjoying liveaboard diving in Raja Ampat. The site's sheltered, black sandy slopes and coral rubble are the perfect hiding place for elusive frog fish, nudibranchs and ghost pipefish.
Sel Pele Bay
Sel Pele Bay, on the west of Waigeo Island, is undoubtedly the best place for macro diving in Raja Ampat. The large bay is a popular stop for Raja Ampat liveaboards, with itineraries often combining critter hunting in sites like Dinding Selatan, with an afternoon or morning spent learning about the local pearl farming industry.
Dinding Selatan, situated in the south of the bay, is a haven for cephalopods, such as mimic octopus, blue ring octopus and even the rare bobtail squid. A macro diver's dream, it's not uncommon to spot nudibranchs, ribbon eels and mantis shrimp tucked beneath the sand and coral rubble, as well as porcelain crabs camouflaged by anemones and pygmy seahorses hidden within gorgonian sea fans.
Dampier Strait
The Indonesian Dampier Strait is the channel that separates Bantanta Island and Waigeo Island. The area is filled with world-class reefs and huge shoals of fish, making it a top choice for liveaboard diving in Raja Ampat. Strong currents through the channel bring nutrient-rich waters, so it's not unusual to spot groups of manta rays feeding on plankton.
Sardine Reef is a must-dive for anyone in the area. Funnily enough, the site isn't home to any sardines but was named for the scores of densely-packed fish (such as rainbow runners, butterfly fish and Spanish mackerel) that dart around the colourful corals.
The beauty of liveaboard diving in Raja Ampat is the access it offers to countless amazing dive sites. If you'd like to spend your next diving holiday cruising between Raja Ampat's idyllic islands, get in touch with a member of our team who can help to create the perfect itinerary.
Itineraries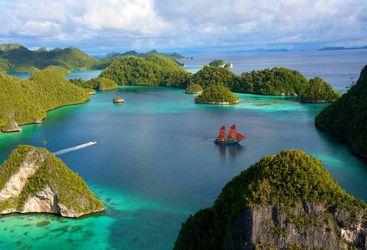 Best for: Couples, Families, Groups and Solo Travellers
A Raja Ampat Adventure with Award-Winning Experts
On this 11-day adventure, sail Raja Ampat aboard luxury liveaboard Tiger Blue. Led by National Geographic wildlife expert Jack Randal award-winning underwater...
11 Days
From £5,890pp
Best for: Couples, Honeymoons, Families, Groups and Solo Travellers
The Best of Raja Ampat
This three-week trip will allow you to access all the best dive sites in Raja Ampat in Indonesia. First, relax at a beachfront bolthole in the...
21 Days
From £7,791pp
Best for: Couples, Families and Solo Travellers
Diving and Culture in Raja Ampat and Ubud
On this twin centre adventure, set sail on the aquamarine waters of Raja Ampat by luxury liveaboard, diving the world's most biodiverse reefs...
16 Days
From £5,841pp
Where to go
Raja Ampat
Raja Ampat just happens to sit right on the bullseye of the Coral Triangle, which is the area of highest marine biodiversity on earth. With more...
Where to Stay
Amandira Liveaboard
Amandira fuses the Sanskrit words for 'peace' and 'intrepid', and this is exactly what she offers guests – the chance to become an...
Start creating your tailored trip today
Our thoughtful experts are ready with ideas, inspiration and advice for your next journey.
Working with you we'll craft an unforgettable trip and tailored itinerary.
We're here to help with everything while you're away from the smallest to the biggest request.
Emily C and Eleanor are our 'Liveaboard Diving in Raja Ampat ' experts and as seasoned travellers they have the inside track on the most memorable adventures.