Diving Across Cebu
Who: Couples and Solo Travellers
From £2,888pp
On this 12-day itinerary you will plunge into some of Cebu's best dive sites. First explore the underwater world of Moalboal, home to a resident sardine shoal, as well as spectacular fan corals and all manner of macro life. Malapascua follows with its famous thresher shark encounters, incredible critters and endless exciting dive sites.
Itinerary at a Glance:
Dive with Moalboal's resident sardine bait ball, with an incredible lightshow as the sun dances on their shiny, silvery scales
Take a night dive off the pier at Kasai Village - spot myriad critters including one of our favourites, the bobtail squid
Encounters with thresher sharks at Monad Shoal, one on every diver's bucket list
Head to Gato Island to swim through the tunnel, home to sleeping whitetip and bamboo sharks
Why Book with Original Diving?
Just a few of the extra touches that come as standard on an Original Diving holiday...
See More
All of the holidays we create are completely tailor-made to you
This sample itinerary is intended to give you a flavour of what we can do
Day 1:

International Flight
It's time to dust off your fins and mask as tonight you depart for the Philippines. Your overnight international flight departs London for Cebu, and while there are a few different routes, in this itinerary we are going via Hong Kong, so the total flight time is just under 16 hours.
Day 2:

Arrive in the Philippines
Your flight lands in Cebu in the late morning and, after you have been through customs and collected your bags, you will be met by one of our team on the ground and privately transferred to the west coast of Cebu to the region of Moalboal. This journey will take around three hours depending on traffic conditions.
For the next five nights, you will be staying at Kasai Village. With an excellent dive setup, this is the perfect spot from which to explore the reefs of Moalboal. After you've settled into your room, spend the rest of the day relaxing into your surroundings, whether shaking off the jet lag in the sea-view spa or snorkelling off the jetty. In the afternoon touch base with the dive centre before you start your diving tomorrow.
Moalboal is home to some of the best diving in the Philippines, which you will spend the next four days experiencing first-hand.
One of the main highlights that continues to draw most divers to this part of the Philippines is Sardine Point, just five minutes by boat from the resort. Here you will find a resident bait ball of more sardines than you could possibly count; that iconic flicker and shimmer in the sunlight is truly mesmerising. Head here in the early morning for the best chance to see fish hunting the sardines.
Aside from Sardine Point, there is plenty to keep you underwater, whether diving from a boat or straight off the pier on the house reef, which descends to 25 metres and features fan coral gardens where you can spot pygmy seahorses alongside frogfish, nudibranchs, turtles and larger schools of fish. There is also a wealth of interesting sites located within 15 minutes of the resort so you can easily fit in up to four dives in a day.
Dive off the pier at night to see adorable tiny bobtail squid!

Day 7:

North to Malapascua
Today you will venture north to the tiny island paradise of Malapascua.
Your driver will arrive in the morning to transfer you to Malapascua, heading north along the west coast of Cebu. This will take around six hours, depending on traffic conditions. When you arrive at the port right on the northern tip of Cebu, you will be met by a banca (traditional Filipino outrigger boat) and transferred a short 20 minute boat ride to the island.
Spend the rest of the day enjoying the white sandy beach and exploring the island if you fancy it. Tomorrow will be an early start so you may want an early night!
Day 8:

An Eye for the Elusive
Today is the day to tick off a bucket list diving experience with the elusive thresher shark.
It is an early start as the dive boat departs at 04.45 to Monad Shoal. Monad Shoal is a seamount rising to a depth of 25-30 metres and acts as a cleaning station for the thresher sharks. These shifty sharks normally live in the darkest depths due to a missing a membrane on their eyes, which would be damaged by strong sunlight. However, Monad shoal is one of the few sites in the world where you can witness these long-tailed sharks as they venture up to the seamount at dawn to be cleaned by the resident cleaner wrasses. Sightings are not guaranteed so we recommend doing this dive at least twice, with an 80-90% chance of seeing them.
For the rest of the day, we suggest exploring some of the local sites after such an early start. The macro life around Malapascua is excellent and can vary between coral and muck sites.
There is nothing quite like descending at dawn to be greeted by thresher sharks, an incredibly graceful species and on most divers' bucket lists!

After an early thresher shark dive (we recommend requesting a different seamount that very few know about to avoid the crowds for your second dive), take a 45-minute boat ride to Gato Island.
Gato Island is a marine reserve well known for its huge variety of marine life, including sea snakes, and beautiful soft coral. With plenty of sites ripe for exploration this makes for the perfect two-tank day trip. Make sure to swim through the tunnel where you might find sleeping white tip and bamboo sharks, causing endless schools of glass fish to scatter as you make your way through it.
Known as a sea snake sanctuary, Gato Island is home to interesting rock formations, swim throughs and a fantastic array of marine life.

Day 10:

Calanggaman Island
A day trip to the postcard-perfect Calanggaman island is a must during your stay on Malapascua.
A 90-minute boat ride takes you to powdery white sand beaches and turquoise waters which give rise to this island's Robinson Crusoe reputation, while it is conveniently home to some excellent diving too. The main event here is a stunning wall dive, covered in hard corals and gorgonian fans as well as abundant fish life. Visibility is normally good too so be sure to keep your eye on the blue for passing pelagics such as tuna and barracuda.
In between dives, enjoy a delicious barbecue on the beach - it doesn't get more picturesque than this! Calanggaman is also great for snorkelling so perfect for non-divers too.
Day 11:

Dona Marilyn Wreck
Today you will uncover the 100-metre Dona Marilyn wreck.
A passenger ferry that tragically sank 20 years ago in a typhoon, the Dona Marilyn is covered in corals and all manner of marine life, from octopus to frogfish to bigger fish such as whitetip reef sharks and marble rays. Lying on its starboard side, the hull is shrouded in a garden of giant black corals. Insider tip: look out for the giant moray eel living in the wreck (it's hard to miss).
The Dona Marilyn is draped in long lost, coral-encrusted fishing nets, making it feel pretty eerie, but it remains an extremely memorable dive.

Sadly, today it is time to start your journey home. Spend the morning relaxing on the beach and soaking up some final rays before your transfer back to Cebu.
The transfer will take around four hours via boat and road as you head directly to the airport for your evening flight back to the UK via Hong Kong, taking just under 17 hours.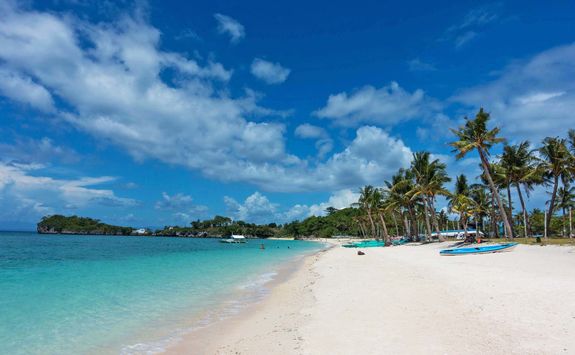 All of the holidays we create are completely tailor-made to you
This sample itinerary is intended to give you a flavour of what we can do
A Rough Idea of Price
While all of our holidays are completely tailor-made and prices will vary based on things like time of year and level of accommodation, we want to give you as good an idea of how much this itinerary will cost. The below prices are based on two people sharing.
This Itinerary
If you would like to book the exact itinerary mentioned above, with economy flights, during mid-season and staying in our preferred room category at our preferred hotels.
Bells & Whistles
If you are looking for something extra special and would like to add business or first class flights, stay in top room categories at some of the most luxurious hotels we work with, and add more activities and guiding.
Emily C, Eleanor and Jacqui are our experts for this itinerary and as seasoned travellers they have the inside track on the most memorable adventures.