Rise and shine for a morning dive at Isla Pinzon.
On the dive expect to see a wealth of marine species, including a variety of shark species, sea lions, manta and eagle rays, moray eels and a range of tropical fish species including yellow tailed surgeonfish, king angelfish, moorish idols, steep pompanos, snappers, grunts, creole fish and barracuda.
After the dive you will visit Santa Cruz island where you will be taken by bus to the highlands to see ancient, humungous Galapagos Tortoises in their natural environment, as well as visiting the largest town in the archipelago, Puerta Ayora. The town is at the centre of the conservation efforts in the archipelago and you can visit the Charles Darwin Research Station which conducts scientific research.
The boat will head back to San Cristobal overnight.
?>
?>
?>
?>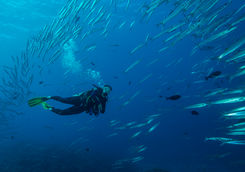 Animals rule the town of Puerta Ayora – it's difficult to find a free bench to sit on as they're a favourite napping spot for sealions