We challenge you to find a 'world's best diving' round-up that doesn't include the Galapagos. Whether island hopping across the archipelago or venturing to the northernly Wolf and Darwin islands by luxury liveaboard, we know all the best haunts that will ensure your Galapagos luxury diving dream becomes a reality.
Fabled among everyone from Darwin to Dr Sylvia Earle, these distant, remote islands attract some of the world's most coveted species to grace the planet. And while there is incredible diving throughout the archipelago, the very best diving in the Galapagos centres around the incredibly remote Wolf and Darwin islands. Only reached by liveaboard, the Galapagos Sky is the reigning king for luxury diving in the Galapagos, with just eight cabins ensuring an intimate diving experience. But what really sets it apart are the incredible crew, who are a fountain of knowledge on the surrounding water world and are always a step ahead of guests to help shed your gear after each dive and present you with a warm brew to heat up. For the ultimate luxury diving experience, we can even book you your own private guide.
There are also some incredible luxury safari camps across the Galapagos islands, which are well worth a visit. Luxury here is focused around the experiences, from ancient giant tortoises that roam freely to infinity pools overlooking the lush highlands (it's all very Land Before Time), kayaking with Galapagos penguins and so much more.
When in Rome (or in this case, Ecuador), combine the Galapagos with a stay in some of our top luxury hotels in Ecuador, be it staying in a historic mansion in Quito or a lakeside lodge in the middle of the Amazon.
If you want to combine the best diving in the world with some incredible luxury experiences, you simply can't beat luxury diving in the Galapagos.
Where to go
Ecuador & the Galapagos
Home to a rich variety of wildlife, both above and below the waves, some of which are found nowhere else in the world.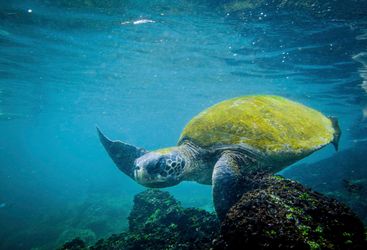 Where to Stay
Galapagos Sky
The Galapagos Sky liveaboard, formerly Sky Dancer, has eight comfortable staterooms, each with twin beds, which can be joined together, a private...
Start creating your tailored trip today
Our thoughtful experts are ready with ideas, inspiration and advice for your next journey.
Working with you we'll craft an unforgettable trip and tailored itinerary.
We're here to help with everything while you're away from the smallest to the biggest request.
Jacqui is our 'Luxury Diving Galapagos' expert and as a seasoned traveller has the inside track on the most memorable adventures.