Diving Desroches & Alphonse
Who: Couples, Honeymoons, Groups and Solo Travellers
From £13,220pp
The Seychelles' Best Diving: Desroches & Alphonse
On this two-week adventure, dive on some of the Seychelles' most remote, pristine sites, combing the two luxurious private islands of Desroches and Alphonse; spending surface intervals marooned on uninhabited islands, feeding giant tortoises, exploring tropical forests for exotic birds and relaxing on some of the Seychelles' most beautiful beaches.
Itinerary at a Glance:
Become blissfully marooned on two luxurious private islands
Take part in a plethora of conservation activities, including feeding giant ancient tortoises
Dive some of the most remote reefs in the Indian Ocean at Desroches and Alphonse
Why Book with Original Diving?
Just a few of the extra touches that come as standard on an Original Diving holiday...
See More
All of the holidays we create are completely tailor-made to you
This sample itinerary is intended to give you a flavour of what we can do
Day 1:

International Flight
Start your trip in the lap of luxury as you are met at the airport and fast-tracked through check-in and security for your evening flight to Mahe in the Seychelles.
The direct flight takes ten hours and you will arrive, hopefully well rested, the following morning to the Indian Ocean.
Day 2:

Onwards to Desroches Island
After landing in Mahe you will be transferred to the domestic terminal for your charter flight to the stunning Desroches Island, which takes an easy breezy 35 minutes.
You will be met fresh off the plane with an ice-cold OJ and escorted to the lodge for check in. Once you have settled into your room spend the day relaxing into island life. Four Seasons is the only hotel on Desroches so you're in for a real castaway experience, albeit a very luxurious one.
Tuck into a delicious fresh lunch at the poolside Claudine restaurant, before heading to the Castaway Centre to meet the Blue Safari team and plan tomorrow's diving. For the rest of the day, the possibilities are endless; decamp to the beach; explore the island by bike; take part in a yoga session in the pavilion; before sampling delicious cocktails over ocean sunset views at the Lighthouse Lounge.
It's time to get (wet)suited and booted for your first taste of the underwater world.
There are 18 dive sites surrounding the island which range from dramatic wall dives to caves, swim-throughs and tunnels. Airport Reef, located a 20-minute boat ride away, features a beautiful soft coral-covered wall adorned with all manner of macro species, as well as white tip and nurse sharks and turtles. Church dive site is also well worth exploring, which is a cavern that lights up with beautiful shards of light from the surface, much like the inside of a church. The marine life here is equally impressive with huge shoals of snapper and soldier fish, blue triggerfish and so much more.
Surface intervals can be spent refuelling on a delicious poke bowl at The Deli or indulging your sweet tooth sampling freshly made ice cream. In the afternoon, you can head back under the waves to explore another dive or relax on the beach.
Additional Activities
Enjoy a one-on-one yoga session on the beach or in the privacy of your villa
Channel your inner Roger Federer or Serena Williams playing tennis
Day 4:

Outer Islands diving at St Joseph & D'Arros
Today head out on an amazing private diving adventure to the outer islands of St Joseph and D'Arros, a designated marine reserve close to Desroches. This area has been found to be a hotspot for sharks, sting rays and turtles.
The journey to these atolls will take around an hour and a quarter, and once you get there the itinerary is entirely up to you. No matter which site you choose to dive you are likely to see blacktip reef sharks, turtles, mantas, dolphins and more - the dive centre has a 90% success rate of seeing mantas, dolphins or both on these trips.
Have a delicious picnic onboard before jumping back in the water for another dive in the afternoon. Look out for the wide range of sharks that visit these islands including whitetip reef, tawny nurse, grey reef silvertip, silky, oceanic whitetip, and even bull and hammerhead sharks. There are also lots of hawksbill and green turtles to be found here as the island is a nesting site for both species.
Day 5:

Relaxation Station
There is a wealth of adventures across Desroches and you can do as little or as much as you feel like; gain a deeper understanding of the incredible natural environment at the Island Conservation Society (ICS) centre; explore the island by bike - there are nine miles of cycling trails to work up a sweat on; or simply park on the beach with a good book.
Day 6:

Next Stop: Alphonse
It's time to depart for the next leg of your adventure to the remote, southernly Alphonse atoll.
Your charter flight will depart Desroches at around midday, arriving on Alphonse island 30 minutes later. After you've settled into your room, head to the beachfront restaurant to enjoy a delicious lunch. Spend the afternoon exploring the island at your own leisure - each room comes with bikes and there are several tracks running through the forest.
If you're eager to get in the water, you can snorkel straight from the beach on the incredible house reef, where you can spot juvenile fish, lobsters, pipefish and even turtles. Further afield, we can also arrange for you to head out on the boat to snorkel with the world's fastest fish, the sailfish as well as the slower, graceful manta rays.
Days 7-10:

Dive, Explore & Dive Some More
Spend the next few days diving and exploring Alphonse Atoll.
Some of the best sites in the Indian Ocean are but a 20-minute boat ride away, and with new dive sites being discovered daily, this is a real exploratory experience. Less fishing pressure means that the underwater environment is extraordinarily fishy, with huge schools of barracuda, bigeye trevally, fusiliers and batfish as well as larger predators including Napoleon wrasse, dogtooth tuna, potato cod and several species of grouper. Not to forget a whole heap of different shark species including bull, hammerhead, nurse, whitetip and grey sharks. Macro-enthusiasts fear not, though, as you can spot an encyclopaedia of macro wonders, from nudibranchs to mantis shrimp.
Above water, Alphonse is a pioneer of conservation and guests can take part in several research and protection programmes, including turtle patrols, giant tortoise feeding, beach clean-ups and bird watching. Alphonse also has some of the best saltwater fly fishing in the world, and guests can catch (and release) giant trevally, milkfish, triggerfish and snapper, to name but a few.
While several species of shark, manta rays and turtles are the norm on every dive, the real treat is to expect the unexpected, be it the thresher shark recently spotted at 14 metres or a pod of 50 melon headed whales

Day 11:

Castaway for a Day
Become gloriously castaway on the uninhabited island of St. François for the day.
Led by an expert guide, explore the island's mangroves and sand flats as you learn about its wildlife, looking out for nursing sicklefin lemon sharks, mangrove crabs and tropical birds. If you want, we can also arrange for you to dive some of the sites surrounding St. François, where you can spot anything from manta rays to green turtles, whip rays, Napoleon wrasse and even milkfish.
Head back to Alphonse as the sun sets then enjoy a candle-lit dinner in the privacy of your villa before stargazing from your deck.
Day 12:

Final Day in Paradise
Spend your final day in paradise at your own leisure.
If you're feeling active, take a bike out to explore the island, parking up on a deserted beach to tuck into a pre-prepared picnic. Don't forget your snorkelling gear as you can find all manner of marine life a few fin kicks off the beach. You can also head out on an ocean safari aboard a luxurious catamaran to spot dolphins, sharks, turtles, melon headed whales and manta rays as you cruise across the Indian Ocean.
In the late afternoon, head out on a sunset cruise to see the sun dip below the horizon while sipping on champagne and sampling delicious canapes.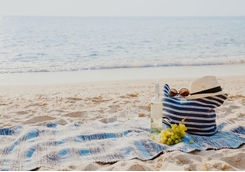 Sadly, it's the end of your epic adventure in the Seychelles.
Spend the morning soaking up some final rays, snorkelling from the beach or indulging in a spa treatment before boarding your flight to Mahe in the afternoon, which will take around an hour. Your international flight departs in the evening, transitioning through Dubai and landing in London the following morning.
Your flight touches down in London in the morning.
All of the holidays we create are completely tailor-made to you
This sample itinerary is intended to give you a flavour of what we can do
A Rough Idea of Price
While all of our holidays are completely tailor-made and prices will vary based on things like time of year and level of accommodation, we want to give you as good an idea of how much this itinerary will cost. The below prices are based on two people sharing.
This Itinerary
If you would like to book the exact itinerary mentioned above, with economy flights, during mid-season and staying in our preferred room category at our preferred hotels.
Bells & Whistles
If you are looking for something extra special and would like to add business or first class flights, stay in top room categories at some of the most luxurious hotels we work with, and add more activities and guiding.
Emily C, Eleanor and Jacqui are our experts for this itinerary and as seasoned travellers they have the inside track on the most memorable adventures.