Mahe and Alphonse
Who: Couples, Honeymoons, Groups and Solo Travellers
From £8,610pp
Mahe & Alphonse: Culture, Adventure & Diving
On this two-week trip explore the beautiful Seychelles islands. Starting with a week on the main island of Mahe, where you will explore this and the surrounding islands, visiting beautiful beaches and wandering through thick rainforest before flying down to the remote wonderland of the Alphonse Atoll for diving and fishing.
Itinerary at a Glance:
Explore the central islands of Mahe, La Digue and Praslin with their stunning beaches and rainforest covered interiors
Get a feel for the Creole culture with a tour of the capital and visit to local villages
Dive with countless turtles, sharks and other pelagic fish down in the remote Alphonse Atoll.
Why Book with Original Diving?
Just a few of the extra touches that come as standard on an Original Diving holiday...
See More
All of the holidays we create are completely tailor-made to you
This sample itinerary is intended to give you a flavour of what we can do
Day 1:

International Flight
Your flight to the Seychelles departs this afternoon so you have plenty of time to get to the airport and enjoy a glass of champagne in the lounge before your flight. The flight is around ten and a half hours overnight, landing into Mahe the next morning.
On arrival into Mahe you will be met by our representative on the ground and whisked away to your beach paradise for the week.
Your hotel overlooks Port Launay Marine Park and two of the most beautiful beaches in the Seychelles, so it's the perfect spot to unwind after the journey. Spend the rest of the day at leisure, whether relaxing on the beach, snorkelling in the marine park or visiting the spa for a rejuvenating treatment.
In the evening, slurp on sundowners at Seselwa, which enjoys a prime location on the north beach - perfect for watching the sunset. There are several restaurants to choose from at the hotel, varying from fresh local dishes to Asian and Mediterranean creations, so foodies really are spoilt for choice.
Day 3:

Explore Mahe island
After a leisurely breakfast embrace your inner culture vulture on a guided tour of Mahe.
Led by a knowledgeable guide, you will have a chance to explore the island while learning the country's rich culture and history. You will start with a visit to the capital of the island, Victoria, where you can marvel at the Victoria Clock Tower and wander the colourful Sir Selwyn Selwyn-Clarke Market Place.
Leaving the capital you will head to Mission Lodge via the Sans Souci, a pretty mountain road surrounded by lush forest and tea plantations. Mission Lodge is a spot on the top of a hill offering stunning views over the island towards the coast. There are some great local restaurants nearby to refuel with a traditional creole buffet.
After lunch you will drive along the coast past beautiful bays as you make your way to a historic herb and spice garden where your guide will explain the flora and fauna which are endemic to these islands. Towards the end of the day, stop off in a local village to get a sense of local life and for an opportunity to buy handicrafts made by local artisans.
Back at the hotel, enjoy a delicious dinner on the beach as you watch the sun go down over the Indian Ocean.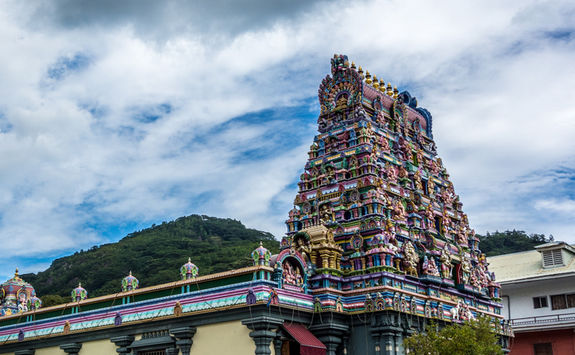 Day 4:

Cycling around La Digue Island
Today you will have the opportunity to explore the island of La Digue at your own leisure by bike.
A ferry will take you to this small, beautiful island and upon arrival you will be given a bike and map to explore. The island is home to some stunning beaches which are all within a short bike ride of the village of La Passe.
Remember your snorkel gear because to the north of the village are Anse Severe and Anse Patates beaches, which are both fantastic for swimming and snorkelling. Further north along the coast the beaches start to become a bit wilder with big waves so are less ideal for swimming but make for a great secluded picnic spot.
If you head south from the village you will arrive at the Anse Source d'Argent beach which is the most famous in the country, covered in large granite boulders and set in the grounds of l'Union Estate. In the estate you can visit the park and museum where you can see old coconut mills as well as a few giant tortoises which are native to these islands. Further south still, after a short hill you will find Grand Anse, Petite Anse and picture perfect Anse Cocos beaches.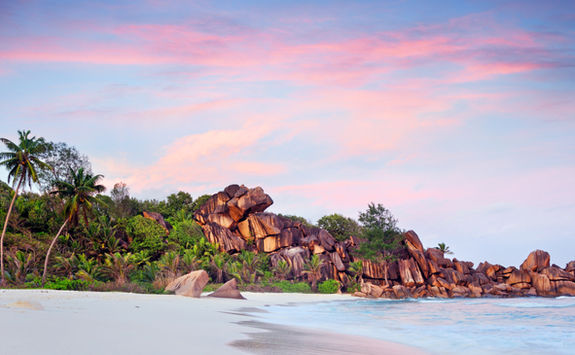 Day 5:

Vallee de Mai and Anse Lazio
Today you will visit Praslin island and the UNESCO World Heritage national park of Vallee de Mai.
This magical park is full of huge palm trees and a range of rare and endemic species. The Coco de Mer palm is found here along with its famous heart-shaped seed, the largest and heaviest of any tree on earth weighing up to four stone. The oldest trees in the park are around 300 years old and stand a staggering 88ft high. The park is also home to several animals including geckos, frogs, snails, the large-billed bulbul bird and the rare black parrot.
After your visit to the park you will then head to Anse Lazio beach, a pristine beach of white sand and clear turquoise waters, backed by lush vegetation and huge granite boulders. Spend the afternoon swimming and snorkelling from the beach, or simply relax along the shore with a good book.
Day 6:

Peaks of Paradise Tour
Today discover the untouched far north of Mahe at Morne Seychellois National Park, the largest in the Seychelles.
Led by an expert guide, hike along the coast between dramatic granite boulders and into the depths of the forest, finishing at the secluded Anse Major bay.
When you arrive into Anse Major bay, the Anahita catamaran will be waiting to take you to the Baie Ternay National Marine Park for a barbecue lunch followed by swimming and snorkelling in the crystal-clear waters. The boat will then cruise back to Victoria where you will be transferred back to the hotel in time for sundowners.
After all of your adventures from the previous few days you may be in need of a break, and luckily your hotel is the perfect spot for a bit of relaxation.
Day 8:

Next Stop: Alphonse
This morning you will be collected from your hotel and transferred to the domestic airport for your hour-long flight down to the far south of the Seychelles to the Alphonse atoll.
On arrival you will be transferred the short distance from the airstrip to the resort. Once you have settled into your beachside bungalow, spend the rest of the day becoming familiar with your surroundings. Alphonse island is a nature lover's dream, with deserted white beaches flanked by a lush tropical interior embellished with tropical birds. Take a bike and explore the trails around the island, looking out for ginormous giant tortoises along the way. In the evening, sample delicious Creole-themed dishes as the sun sets.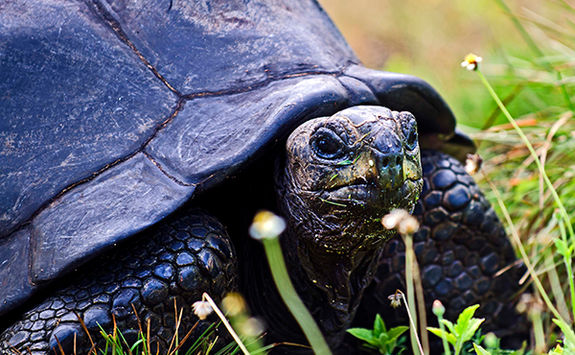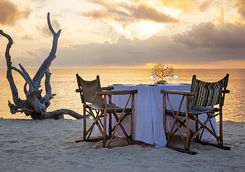 Day 9:

Diving around Alphonse
Today you'll start your diving adventure in Alphonse.
There are currently 30 known dive sites surrounding the island, with more being discovered on a regular basis. Start off diving at Pinnacles, a site with three large coral formations and a great site to spot dogtooth tuna, potato grouper and sharks including silvertip, nurse, bull, whitetip and grey reefs. There are lovely overhangs covered in huge sea fans which schools of fusiliers hide among. On the reef itself you will find smaller animals including lionfish, scorpionfish and nudibranchs.
In the afternoon head to Turtle Parade to meet the plethora of green and hawksbill turtles that give this site its name. As well as turtles you can also expect to see giant sweetlips, grouper, moray eels, lobsters and schools of surgeonfish around the purple sea fans.

Spend the rest of the day joining the in-house conservation team with their turtle conservation project. Alphonse is a nesting site for green and hawksbill turtles, and they run daily searches for turtle tracks, measuring them and identifying new nests. They also tag any turtles they find actively nesting to monitor individuals and gather data on the turtle populations visiting the atoll.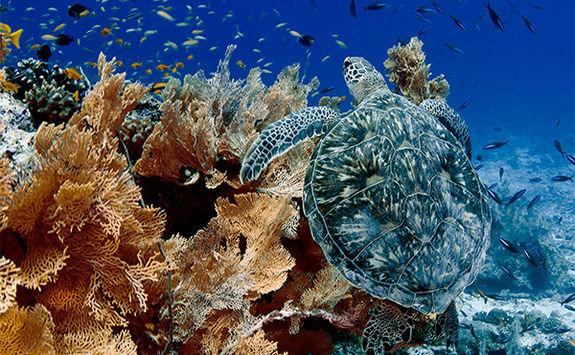 Day 10:

St Francois diving
For your diving today, head further afield to St Francois island, which is about 20 minutes away and a great place to spot pelagics.
Start at Three Sisters, a site with three large coral patches on the sandy bottom where groupers and snappers congregate. Start on the outer wall, which is covered in purple sea fans, and look out into the blue where you are likely to see some big fish pass by - anything from sharks to mantas and dolphins.
Spend your surface interval enjoying a delicious lunch on the beautiful flats with views out over the lagoon. This is an ideal location for watching wading birds. In the afternoon head to Mantam North, which is a reef absolutely covered in hard coral. Schools of snappers and fusiliers spread over the reef while nurse sharks patrol nearby making for some colourful diving.
When you get back to the resort relax on the beach or, if you have the energy, go bird watching around the island. The atoll is visited by a wide range of migratory species including red-footed boobies which return to the island in their thousands to roost at sunset - an amazing sight to behold.
Day 11:

Bijoutier Island Diving
This morning you'll get to dive the reefs surrounding the nearby island of Bijoutier.
Start off at Secret Reef, which is covered in tabulate corals and pink sea fans. Schools of snapper, napoleon wrasse, emperors, jacks and barracuda are regularly spotted close to the site while rarer grouper species, including smooth and blacksaddle coral groupers, are often seen on the wall.
Have a barbecue lunch on the island's beach before heading out for another dive this afternoon. After lunch head to the Theatre, an impressive crescent-shaped raised reef that plunges dramatically to a depth of 40+ metres. This ridge acts as a guide for large animals heading in towards the lagoon. You can hover above the wall and watch the marine life pass by - look out for milkfish, mantas, bumphead parrotfish and hammerhead sharks.
Back on Alphonse Island go for a guided nature walk with a member of the conservation team, who will be able to tell you all about their ongoing research and conservation projects, as well as point out the fauna and flora found on the island. Look out for the native giant tortoises slowly making their way through the undergrowth.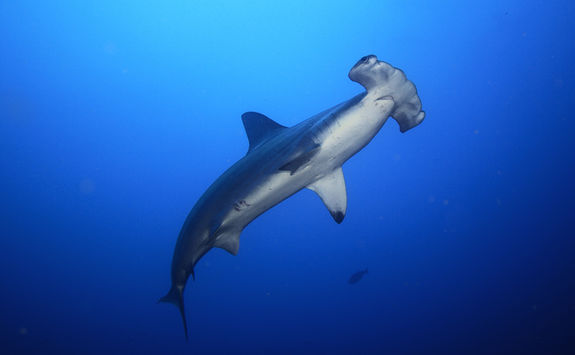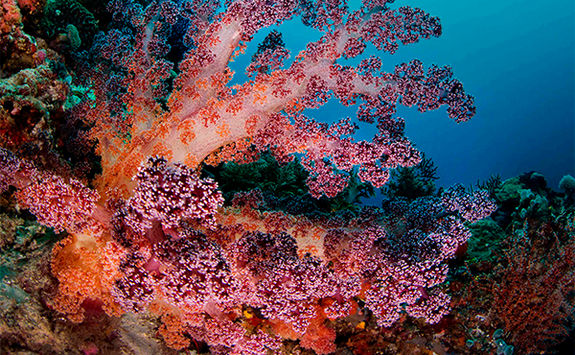 Day 12:

Sleep, Eat, Dive, Repeat
Another day, another spectacular dive site to explore.
To the north-east of Alphonse Island is the Abyss, a lovely wall dive with coral outcrops extending out from the wall. Look out into the blue water to spot dogtooth tuna and a variety of sharks. On the wall itself there are lots of overhangs covered with pink sea fans, which are popular with humpback snapper, emperor and potato groupers as well as oriental sweetlips.
To the east of Alphonse lies the Boiler, a vertical drop-off covered in soft corals with lots of overhangs and crevices for marine life to hide within. Look out for macro life including gobies, nudibranchs, shrimp and hawkfish around the coral and turtles and nurse sharks resting in caves. Out in the blue you may catch a glimpse of grey reef and bull sharks cruising by.
In the afternoon head out for a dive or snorkel on the beautiful house reef right off the beach or borrow a bike to continue exploring the island at your own leisure.
Sadly today will be your last diving day but you will have a chance to visit some of the incredible sites you have yet to explore.
Start at Eagle Nest to the east of Alphonse Island. As the name suggests, this is a great site for spotting eagle rays cruising along the drop-off, sometimes in large groups. The reef itself is covered in hard coral formations, which are home to giant moray eels, sleeping nurse sharks, large groupers and schools of bluestreak fusiliers which often surround divers. There is also a wall covered in sea fans where you can find nudibranchs, flatworms and various shrimp species.
Finally stop off at Gorge Gonian, a shallow plateau covered in hard corals that drop off to a deeper plateau. The site is named for the thousands of Gorgonian sea fans that create a purple forest. Due to these sea fans there is a wealth of macro life including shrimps, gobies, nudibranchs and longnose hawkfish. Out in the blue look out for napoleon wrasse, dogtooth tuna and giant barracuda.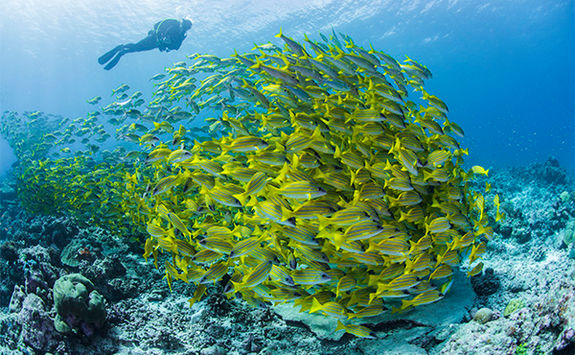 Spend your final day relaxing on the beach and snorkelling on the house reef, or head out for a fishing trip.
As well as being an excellent spot for diving, these islands also offer fantastic fishing opportunities - this is one of the best bonefish fisheries in the world.
Head out onto the huge flats surrounding the atolls where you can easily wade out with your experienced guide, who will coach you through the process. You can expect to catch triggerfish, barracuda, grouper, parrotfish, milkfish and eight species of trevally, including the giant trevally. Fish are caught on a catch and release policy to keep the fish populations at a healthy level. During the crossing to the flats look out for mantas and marlin which you may have the opportunity to snorkel with.
Back at the resort, trade diving and fishing stories with other residents while enjoying sundowners and supper on your last day in paradise.
Sadly it is time to leave the Seychelles and head home. You will fly back to Mahe in plenty of time for your flight home. Your direct flight will arrive back into London in the afternoon on the same day.
All of the holidays we create are completely tailor-made to you
This sample itinerary is intended to give you a flavour of what we can do
A Rough Idea of Price
While all of our holidays are completely tailor-made and prices will vary based on things like time of year and level of accommodation, we want to give you as good an idea of how much this itinerary will cost. The below prices are based on two people sharing.
This Itinerary
If you would like to book the exact itinerary mentioned above, with economy flights, during mid-season and staying in our preferred room category at our preferred hotels.
Bare Necessities
If you would like to pare back the above itinerary by travelling at non-peak times, staying in a standard room and removing some or all of the guided activities.
Bells & Whistles
If you are looking for something extra special and would like to add business or first class flights, stay in top room categories at some of the most luxurious hotels we work with, and add more activities and guiding.
Emily C, Eleanor and Jacqui are our experts for this itinerary and as seasoned travellers they have the inside track on the most memorable adventures.