Marine Safari in the Philippines
Who: Couples, Honeymoons, Families, Groups and Solo Travellers
From £5,850pp
A Marine Safari in the Philippines
Discover the best the Philippines has to offer underwater on this two-and-a-half week marine safari. Meet friendly turtles, thresher sharks and mantas followed by small critters such as mandarin fish, octopus, nudibranchs, seahorses, frogfish and shrimps, spending surface intervals on beautiful beaches and exploring the lush Filipino countryside.
Itinerary at a Glance:
Dive the best sites across the Philippines
Dive with the extremely rare, elusive thresher shark in Malapascua
Meet the world's smallest mammal, the tarsier, on Bohol island
Capture macro critters while muck diving in Dumaguete
Why Book with Original Diving?
Just a few of the extra touches that come as standard on an Original Diving holiday...
See More
All of the holidays we create are completely tailor-made to you
This sample itinerary is intended to give you a flavour of what we can do
Day 1:

International Flight to Cebu
Today, after enjoying a glass of champagne in the departure lounge, you will fly to Cebu via Hong Kong. The flight takes around 17 hours, arriving the following morning.
Day 2:

Arrival into Cebu and Transfer to Malapascua Island
This morning you will arrive into Cebu airport. When you have cleared customs you will be met and transferred to Malapascua island. The journey will take around three hours by car followed by a 30-minute scenic ride on a local banca (traditional Philippine boat).
After you have checked into your hotel you can organise diving for the coming days around Malapascua island.
It's time for a (very early) rise and shine for a dawn dive with thresher sharks.
You will board the dive boat while it is still dark, jumping into the water just as the sun comes up and descending to a wall, which you sit behind and wait for the sharks to arrive. Watch these amazing sharks glide over your head while small fish pick parasites and dead skin off their sides.
After a surface interval spent picnicking on Malapascua's sandy beaches, head back beneath the waves to discover this tiny island's other claim to fame on a macro dive.
It is quite rare to get the opportunity to swim with these elusive pelagics. This is one of the few places in the world where they are almost guaranteed. Their tails can be as long as their bodies and they use them to stun their prey.

Day 4:

Diving at Kalanggaman Island
Today you will dive the marine-rich reefs surrounding Kalanggaman.
The small island of Kalanggaman is home to a pristine beach and long sand bar, and below the waves divers will find walls and shallow reefs covered in soft corals and macro life, including nudibranchs and pygmy seahorses. These reefs are also often visited by turtles - another notch on the dive tick list.
Between dives enjoy a barbecue of freshly caught fish and relax on the perfectly white sand beach.
Day 5:

Diving Around Gato Island
Today you will get to tick off Gato island, one of the other jewels that make up Malapascua's diving crown.
Gato island is a marine reserve and sea snake sanctuary located a 45-minute boat ride from Malapascua, boasting everything from macro dives to wall dives. Spend the day exploring the site's pygmy seahorses, lots of nudibranchs and sea snakes and lovely soft corals, as well as turtles, whitetip sharks and mantas.
Close to Gato island lies the Dona Marilyn wreck - a passenger ferry which sank 20 years ago and is now covered in marine life. The wreck sits at a maximum depth of 32 metres and its hull is carpeted in black corals. You will likely come across frogfish, nudibranchs, whitetip reef sharks and rays at this site.
Day 6:

Relax, Refresh, Recharge
Relaxation is the order of the day today.
Spend the day alternating between channelling your inner beach bum and snorkelling around the island. Alternatively, knead out any residual knots with a rejuvenating spa treatment and stretch during sunset with a beach front yoga session.
Today you will depart Malapascua for the next leg of your adventure in Bohol.
You will be transferred to Bohol island via a short banca ride followed by a four-hour drive south to Cebu and a short flight to Tagbilaran. From Tagbilaran you will be transferred through the beautiful green Filipino countryside to your resort in Anda. Once you have checked in, spend the rest of the day exploring your local surroundings, whether snorkelling straight from the shores of the resort's private beach or venturing through the surrounding tropical forest.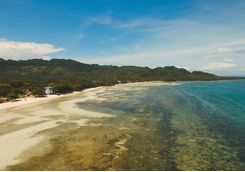 Day 8:

Mandarin Fish and More in Anda
Bohol is renowned for its beautiful coral reefs and abundant marine life, which you will spend the day uncovering.
Diving in Anda is a real treat, with calm, warm waters and beautiful reefs covered in all manner of creatures both big and small, including pygmy seahorses, nudibranchs, shrimps, octopus and lots of weird and wonderful crabs. Not to forget numerous pelagic fish, reef sharks and heaps of turtles. There are more than 30 dive sites all within a 20-minute boat ride of Amun Ini so you'll be spoilt for choice.
In the evening, just as the sun is going down, descend onto the house reef to watch the mandarin fish courtship dance. This special spectacle involves a male mandarin fish taking centre stage, dancing to the delight of the females as he tries to attract a mate.
Today you will explore the treasure troves of Balicasag island.
Perfect for snorkellers and divers alike, Balicasag houses some of the best-known sites around Bohol. Located further afield, this trip will require a full day, but trust us, it's worth it. The island rises up above deep coral-covered walls which are home to an incredible abundance of macro life, reef fish, schooling jacks and tame turtles. Make sure you look out into the blue - you never know what might be passing by.
Today you'll dive with the big fish as you uncover the splendours of Pamilacan island.
After a delicious breakfast spread, board the dive boat for a day trip to Pamilacan island. Pamilacan is thought to literally mean 'resting place of mantas', so you can probably guess the island's regular visitors. Along with giant mantas, Bohol is home to more than 11 species of cetacean including bottlenose dolphins, Risso's dolphins, pilot whales, Bryde's and sperm whales - which you'll witness in crystal clear visibility.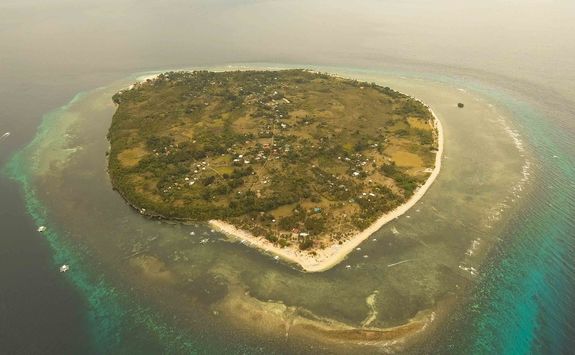 Day 11:

Countryside Cruising
Today you'll keep two feet on dry land as you explore the island.
Bohol is home to some of the Philippines' most iconic sights, from the bulbous Chocolate Hills to tiny wide-eyed tarsiers, the world's smallest mammal. Start your day cruising up the beautiful Loboc river, through emerald forest and trickling waterfalls as you pass the homes of local Boholanos. You will also have a chance to pump up the adrenaline with an exciting zip-line over the river. After the river take an ATV tour around the Chocolate Hills before visiting the tarsier sanctuary, arriving back at the resort just in time for sundowners looking out across expansive ocean panoramas.
Day 12:

Down to Dumaguete
Today you will embark on the third leg of your marine safari as you depart for Dumaguete.
After a leisurely breakfast you will be privately transferred to the airport for your flight to Dumaguete via Cebu. Once you have landed you will be met in arrivals and transferred to the resort which will take around 40 minutes. Once you have settled into your room, spend the rest of the day at leisure. If you're keen to explore, Dumaguete is home to a wealth of natural sites, from thundering waterfalls to glass-topped lakes and bubbling hot springs.
Days 13-14:

Marvellous Muck Diving
If you've never tried muck diving before, this is the place to do it.
The brown volcanic sand might not be much to look at but keep your eyes peeled and you'll see it's home to all sorts of weird and wonderful critters. There are a multitude of fantastic muck diving sites that line the Dauin coastline, where you can spot everything from frogfish and leaf fish to a multitude of octopus (blue ring, mimic, wunderpus, algae, mototi and coconut), as well as nudibranchs in all colours and species.
Take an underwater photography course at Atmosphere and get the best tips and tricks for photographing the alien-esque macro-critters.

Day 15:

Diving at Apo Island
Once you've had your fill of muck diving close to the coast, it's time to head out to nearby Apo island for your coral fix.
Just a 30-minute banca ride away, Apo island is a community-organised fish sanctuary bursting at the seams with marine life. The coral is in superb condition with lots of hard and soft corals and the island is particularly known for its friendly turtles - in fact there are so many green and hawksbill turtles it's easy to lose count!
Day 16:

A Final Day in Paradise
Spend your last day making the most of this paradise.
While you can't dive, you can still get your watery fix on a snorkelling adventure either straight from the shores of the resort or on a day trip to islands further afield (insider tip: look out for dolphins playing in your boat's wake). Landlubbers can visit the local mountain town of Valencia, stopping at various waterfalls and hot springs along the way.
Day 17:

Journey Back Home
Sadly it is the end of your journey across the Philippines. You will be transferred to the airport in good time for your flight to Cebu. Once in Cebu you will board your international flight back to the UK, which will most likely go via Hong Kong or Singapore, arriving the next morning.
All of the holidays we create are completely tailor-made to you
This sample itinerary is intended to give you a flavour of what we can do
A Rough Idea of Price
While all of our holidays are completely tailor-made and prices will vary based on things like time of year and level of accommodation, we want to give you as good an idea of how much this itinerary will cost. The below prices are based on two people sharing.
This Itinerary
If you would like to book the exact itinerary mentioned above, with economy flights, during mid-season and staying in our preferred room category at our preferred hotels.
Bells & Whistles
If you are looking for something extra special and would like to add business or first class flights, stay in top room categories at some of the most luxurious hotels we work with, and add more activities and guiding.
Emily C, Eleanor and Jacqui are our experts for this itinerary and as seasoned travellers they have the inside track on the most memorable adventures.