Iceland Diving Weekend
Who: Couples, Families, Groups and Solo Travellers
From £1,555pp
A Long Weekend Diving in Iceland
Embark on an action-packed adventure uncovering the wild, rugged landscapes of Iceland. Explore cool and quirky Reykjavik before diving the iconic Silfra fissure, rejuvenate in the mineral-rich Blue Lagoon, venture into Iceland's dramatic Raufarholshellir lava tunnel and hit the wilderness in a 4x4 buggy. And all in a long weekend.
Itinerary at a Glance:
Tick off the bucket list diving between tectonic plates in the Silfra fissure
Soak in the toasty waters of the milky Blue Lagoon
Venture underground to explore the Raufarholshellir lava tunnel
Head out on an exhilarating 4x4 buggy tour across Esja Mountain
Sample Iceland's buzzing nightlife in the cool capital of Reykjavik
Why Book with Original Diving?
Just a few of the extra touches that come as standard on an Original Diving holiday...
See More
All of the holidays we create are completely tailor-made to you
This sample itinerary is intended to give you a flavour of what we can do
Day 1:

International Flight
It's time for a whirlwind weekend away in the land of Fire and Ice.
Your flight leaves London in the early evening, taking just over three hours, landing in Keflavik in Iceland late in the evening. You will be met in arrivals by one of our representatives on the ground and transferred to your hotel in Reykjavik. The journey should take around an hour, depending on local traffic conditions. Hit the hay as it's an action-packed day tomorrow.
Day 2:

Diving Silfra Fissure
This morning you'll get to be in two places at once. But before you get wild notions of Back to the Future, we're talking about diving the Silfra Fissure.
After an early breakfast you'll be driven 45 minutes outside of Reykjavik to Thingvellir National Park, where among the snow-capped mountains and heathy landscapes you'll find a narrow chasm dividing the tectonic plates of the American and Eurasian continents, otherwise known as the Silfra Fissure. One of the most unique dive sites in the world, the fissure is filled with glacial meltwater so fresh you can drink it (we can confirm it's delicious) and so clear that visibility often extends 100 metres. Dry suit up to explore Silfra, which you'll do in two dives in Summer and one dive in the winter months.
Warm up with hot chocolate and a picnic of snacks after your dive before being driven to get wonderfully toasty in the iconic Blue Lagoon. Located in the middle of a lava field, the lagoon derives its milky turquoise colour from the mineral-rich, geothermal seawater reaching temperatures of 38 degrees, perfect for soothing any aches and pains.
Head back to Reykjavik in the late afternoon and have a wander around the world's most northernly capital (officially). The town is full of quirky, colourful buildings with a thriving restaurant and bar scene, you can see our dossier for all our favourite haunts.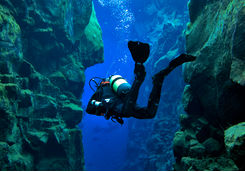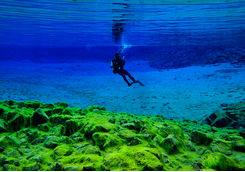 The Silfra Fissure is simply breathtaking, where else in the world can you dive between two continents? Do the dive twice, once for getting the perfect shot and once to appreciate the unique topography.

Additional Activities
Tour the Golden Circle to see the impressive Gullfoss waterfall and Geyser Geothermal areas
If you visit in the winter months, we can arrange a northern lights tour
Day 3:

Sólheimajökull Glacier Walk
This morning it's time to venture out on an easy walking tour over white, blue and crystal clear glacier ice.
Armed with your road map, hop into your hire car and head towards Vík, the southernmost village in Iceland, before driving south past the Eyjafjallajökull and Mýrdalsjökull ice-covered volcanoes. Once you arrive, embark on your walking tour of the Sólheimajökull Glacier where you will traverse the glacier ice, past deep crevasses, ice scuptures and water cauldrons along the way while your guide shares their wisdom about the ever changing landscape of Icelandic glaciers.
After your hike, you can stop to explore the picturesque Seljalandsfoss and Skógafoss waterfalls, the tranquil black sandy beaches at Reynisfjara and the ruggedly beautiful cliffs of the south coast, at Dýrhólaey, before heading back to your hotel.
In the evening, adventure back into town for a delicious supper, or, if you're all tuckered out from an action-packed weekend, unwind in the hotel's spa before dining in the restaurant.
Additional Activities
Go on a super jeep tour of Thorsmork valley (otherwise known as the valley of Thor)
Embark of a whale and puffin watching trip (July to October)
Rise and shine as sadly, it's time to go home. It's an early wake-up call as you are transferred to the airport to catch the first flight back to London, which will touch down three hours later in the late morning.
All of the holidays we create are completely tailor-made to you
This sample itinerary is intended to give you a flavour of what we can do
A Rough Idea of Price
While all of our holidays are completely tailor-made and prices will vary based on things like time of year and level of accommodation, we want to give you as good an idea of how much this itinerary will cost. The below prices are based on two people sharing.
This Itinerary
If you would like to book the exact itinerary mentioned above, with economy flights, during mid-season and staying in our preferred room category at our preferred hotels.
Bells & Whistles
If you are looking for something extra special and would like to add business or first class flights, stay in top room categories at some of the most luxurious hotels we work with, and add more activities and guiding.
Emily C, Eleanor, Jacqui and Kate are our experts for this itinerary and as seasoned travellers they have the inside track on the most memorable adventures.