This morning you'll get to be in two places at once. But before you get wild notions of Back to the Future, we're talking about diving the Silfra Fissure.
After an early breakfast you'll be driven 45 minutes outside of Reykjavik to Thingvellir National Park, where among the snow-capped mountains and heathy landscapes you'll find a narrow chasm dividing the tectonic plates of the American and Eurasian continents, otherwise known as the Silfra Fissure. One of the most unique dive sites in the world, the fissure is filled with glacial meltwater so fresh you can drink it (we can confirm it's delicious) and so clear that visibility often extends 100 metres. Dry suit up to explore Silfra, which you'll do in two dives in Summer and one dive in the winter months.
Warm up with hot chocolate and a picnic of snacks after your dive before being driven to get wonderfully toasty in the iconic Blue Lagoon. Located in the middle of a lava field, the lagoon derives its milky turquoise colour from the mineral-rich, geothermal seawater reaching temperatures of 38 degrees, perfect for soothing any aches and pains.
Head back to Reykjavik in the late afternoon and have a wander around the world's most northernly capital (officially). The town is full of quirky, colourful buildings with a thriving restaurant and bar scene, you can see our dossier for all our favourite haunts.
?>
?>
?>
?>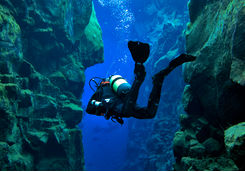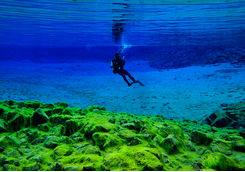 The Silfra Fissure is simply breathtaking, where else in the world can you dive between two continents? Do the dive twice, once for getting the perfect shot and once to appreciate the unique topography.

Additional Activities
Tour the Golden Circle to see the impressive Gullfoss waterfall and Geyser Geothermal areas
If you visit in the winter months, we can arrange a northern lights tour