Malta & Gozo
Who: Couples, Honeymoons, Families and Solo Travellers
From £2,485pp
Malta & Gozo Twin Adventure
Combine the laidback, wild island of Gozo with Malta's capital, the UNESCO World Heritage city of Valletta, on this 10-day adventure. Dive in the warm, clear waters of Gozo, spending surface intervals rock climbing, biking and hiking the island before uncovering Valletta's rich history and baroque architecture.
Itinerary at a Glance:
Explore the sites of Gozo, which boasts the best diving in the Mediterranean
Pump up the adrenaline with rock climbing, abseiling, zip-lining, hiking and biking around Gozo
Immerse yourselves in history exploring the UNESCO World Heritage City of Valletta in Malta
Why Book with Original Diving?
Just a few of the extra touches that come as standard on an Original Diving holiday...
See More
All of the holidays we create are completely tailor-made to you
This sample itinerary is intended to give you a flavour of what we can do
Day 1:

International Flight
It's an easy breezy three-and-a-half hour flight to Malta, and while there are several flights throughout the day we have selected a morning flight.
Once you have passed customs, you will be met by your driver and privately transferred to the hotel. The journey involves an hour's drive to the harbour followed by a 30 minute ferry to Gozo. From there, it's only a short ten minute car journey to ThirtySeven Gozo, where you will have a rental car waiting for you for the remainder of your stay.
Once you've checked in, cool off with a refreshing dip in the pool before stretching your legs exploring the local area. Check out our dossier for some essential, and delicious, refuelling stops.
Day 2:

Island Exploration
After a leisurely lie-in and breakfast, exploration is on today's agenda.
Gozo is a haven for active adventurers of any age, whether hiking around the spectacular, rugged landscapes or taking a boat out to explore the coastline for hidden sandy coves. If you're looking to pump up the adrenaline, there's also rock climbing, off-road biking, zip lining, abseiling and more.
In the afternoon head to the towering Citadel which offers incredible panoramas out to the ocean, while inside discover ancient shrines and mummified saints.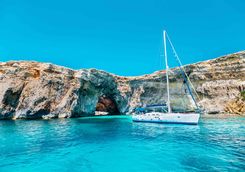 Additional Activities
Visit the nearby island of Comino which, with white sand beaches and azure waters, is more reminiscent of the Caribbean than the Med
Days 3 - 6:

Introduction into the Watery World
For the next few days it's time to initiate yourselves into the wonderful watery world surrounding Gozo.
The majority of diving is completed from the shore and with warm, clear waters it is a haven for learners and advanced divers alike. Add to that an interesting topography of rocks, reefs and even a Blue Hole, and it's safe to say the diving here is a real treat. When not underwater, visit the ancient Ggantija temples for a dose of culture, picnic on secret sandy beaches (revealed within our detailed dossier), or simply drive the winding country lanes past local villages and vineyards.
Today you will be privately transferred back to Malta for the next leg of your adventure in the ancient city of Valletta.
A UNESCO World Heritage Site, Valletta is a labyrinthe of butterscotch houses, palaces and monuments linked by cobblestone lanes. You will have the next couple of days to explore the rich history and culture of this city.
Once you've settled into your hotel, take a leisurely stroll through the city. It's relatively compact and easy to navigate so you can take your time seeking out the different monuments scattered around.
Spend the next couple of days embracing your inner historian in this fascinating city, which counts everyone from the Phoenicians to the Romans as previous occupants.
For a real local's-eye-view, our concierge will share the secrets of the city, from the best time to visit Barrakka Gardens (originally created as a recreational spot for the Knights of the Order of Saint John) to a delectable restaurant in one of Valetta's oldest houses, dating to the 16th Century. For the best insight into the island's gory past take a guided tour while listening to stories of pirates, knights and invaders. Refuel on a delicious seafood lunch at the buzzing Grand Harbour, pick up souvenirs at the street market and treat yourself to chocolate on tap, literally, at the Chocolate District shop.
Sadly, it's time to leave Malta to head home. You will be transferred from your hotel to the airport in good time for your flight home, landing at around lunchtime.
All of the holidays we create are completely tailor-made to you
This sample itinerary is intended to give you a flavour of what we can do
A Rough Idea of Price
While all of our holidays are completely tailor-made and prices will vary based on things like time of year and level of accommodation, we want to give you as good an idea of how much this itinerary will cost. The below prices are based on two people sharing.
This Itinerary
If you would like to book the exact itinerary mentioned above, with economy flights, during mid-season and staying in our preferred room category at our preferred hotels.
Bells & Whistles
If you are looking for something extra special and would like to add business or first class flights, stay in top room categories at some of the most luxurious hotels we work with, and add more activities and guiding.
Emily C, Eleanor and Jacqui are our experts for this itinerary and as seasoned travellers they have the inside track on the most memorable adventures.