Solomon Islands Liveaboard
Who: Couples, Honeymoons and Solo Travellers
From £6,045pp
Exploring the Solomon Islands by Liveaboard
On this two-week liveaboard trip to the Solomon Islands, you will experience some of the best, most remote, diving to be found worldwide. Dive on stunning reefs covered in schools of fish, turtles, sharks and rays, see World War II wrecks and visit local villages for an insight into local life.
Itinerary at a Glance:
Explore beautiful coral covered reefs, home to an array of macro life
Swim with turtles, sharks, mantas and more
Visit remote villages and pick up locally made wood carvings as souvenirs
Dive on fascinating World War II cargo ships and plane wrecks
Why Book with Original Diving?
Just a few of the extra touches that come as standard on an Original Diving holiday...
See More
All of the holidays we create are completely tailor-made to you
This sample itinerary is intended to give you a flavour of what we can do
Day 1:

International Flight
Today it's time for your adventure to begin! Enjoy a glass of champagne in the airport lounge ahead of your overnight flight to Singapore, which will arrive the following evening.
Day 2:

Singapore to Australia
Upon arrival into Singapore you will have a short layover ahead of your overnight flight to Brisbane, which will take around eight hours, arriving the following morning.
Day 3:

All Aboard in the Solomons
Upon arrival into Brisbane you will have a short layover before your flight on to Honiara, the capital of the Solomon Islands. The flight will take around three hours.
Upon arrival into Honiara you will be greeted by one of our representatives on the ground and transferred to the port to board your home for the next ten nights.
Get settled into your cabin before enjoying a delicious lunch on board with the other guests. After you've eaten, the crew will give a safety briefing as you set sail for the Russell Islands where you will begin diving tomorrow.
Days 4 – 6:

Diving the Russell Islands
The Russell Islands are comprised of two main islands (Pavuvu and Mbanika) and several islets that are surrounded by spectacular, world-class diving.
For the next few days, you will be able to dive until your heart's content around the Russell Islands group, diving up to four times a day. While there are endless incredible dive sites, we have a few favourites not to be missed. Leru Cut is a channel lined with beautiful reef formations which, if dived at the right time of day, sees amazing beams of light penetrating the water. Then there's White Beach, originally an American World War II base, which is scattered with trucks, bombs and ammunition that act as a refuge for a range of macro species. Mirror Pond is so named for the reflection of the jungle overhead; the reef is a steep wall on which macro critters such as pygmy seahorses hide, and pelagics including snappers and trevally hunt in the blue. There is also a shallow coral garden in which you can find crocodilefish, cuttlefish and lots of anemones.
Karumolun Point is a marine protected area where fishing has been prohibited for five years. The resulting site is particularly well covered in corals as well as lots of fish, sharks and rays. The macro life is also fantastic - look out for electric file clams, nudibranchs, cuttlefish and pipefish.
At the end of your final day at the islands, the boat will cruise on to the next stop, Mary Island.
Day 7:

Diving Mary Island
Mary Island is an uninhabited island where the diving is considered to be some of the best of the trip.
Hard corals dominate the underwater landscape, which in turn attracts a huge amount of marine life, including large schools of fish, sharks, turtles and bumphead parrotfish.
As you dine on deck, regaling the day's sightings, the boat will cruise on to your next stop, Marovo Lagoon.
Days 8 – 10:

Diving Marovo Lagoon
Bordered by New Georgia and Vangunu Islands, Marovo Lagoon is a saltwater-filled fish soup, resulting in incredible diving. But don't take our word for it, see for yourself…
Over the next couple of days, slip into a wonderful routine of diving the incredible sites across the lagoon and exploring the island's local villages. For a flavour of what to expect diving, we've whittled off a few of our favourite sites:
Carpeted in hard and soft corals, Kicha is absolutely covered in life. You will be followed on your dive by curious batfish while you watch schools of jacks and barracuda circling around the pinnacle. It is often possible to hear the rumblings of the underwater volcano, Kavachi, which is nearby.
Mbulo Caves is dotted with several swim throughs and interconnecting caves, illuminated by dancing sunbeams, while on the outside reef, schools of tropical reef fish dart about the hard corals.
Wickham Island has a number of different sites, all of which are covered in soft corals and sea fans making it a great place to spot macro life. Sharks and rays also regularly visit the island so look out to the blue to see what might be passing by.
Japanese Maru is the site where American bombers sunk a Japanese cargo vessel during World War II. The ship has become an artificial reef and is covered in black corals. A deck gun can also be seen hanging over the side of the ship while groupers and trevally hunt inside.
At the end of these three days you will cruise on to the Florida Islands.
"Between dives you will have a chance to visit some local villages where you can purchase famous wood carvings made by the local people"

Days 11 – 12:

Diving Florida Islands
These last two diving days will be spent around the Florida Islands. Also known as the Nggela Islands, the Florida Islands have myriad marine environments to explore.
Boasting caves, caverns, drop-offs and pristine coral reefs, the Florida Islands are a worthy grand finale. Some of the best dive sites include Twin Tunnels, which is a large seamount with two tunnels dropping straight down from 12 metres, exiting into a cave at 35 metres. At the exit of the cave there is a sheer wall where schools of fusiliers and grey reef sharks pass by. There is also lots of beautiful coral where cuttlefish, octopus and mantis shrimp can be spotted.
Devil's Highway is the best site in the Solomons to dive with mantas. There are strong currents which allow you to drift along the top of the reef before ducking under the reef wall where you can hang on while lots of mantas fly over you while feeding - a spectacular sight!
Maravagi Bay is a fantastic macro site. The area is protected so lots of small creatures seek refuge here - look out for nudibranchs, demon stingers, scorpionfish, cockatoo wasp fish, pipefish, cuttlefish, anemone fish, shrimps and crabs. There is also a small wreck, which is home to batfish, bream and a few giant clams.
The Japanese Mavis Seaplane was sunk during World War II and now sits, mostly intact, upright at 30 metres. While the wreck is impressive in its own right, the site is also excellent for spotting macro animals including reef top pipefish, twin spot gobies and spine check anemone fish.
Sadly at the end of the second day it will be time to head back to Honiara ahead of your disembarkment tomorrow.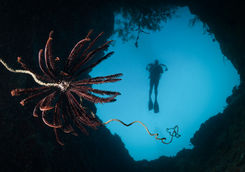 Day 13:

Disembark in Honiara
Sadly your time onboard the Bilikiki comes to an end today. You will disembark in the morning and be transferred to your hotel for the night where you can enjoy the rest of the day relaxing on the beach.
Today sadly marks the end of your adventure; you will be transferred to the airport in plenty of time for your flight to Brisbane. You will follow the same route home with stopovers in Brisbane and Singapore.
All of the holidays we create are completely tailor-made to you
This sample itinerary is intended to give you a flavour of what we can do
A Rough Idea of Price
While all of our holidays are completely tailor-made and prices will vary based on things like time of year and level of accommodation, we want to give you as good an idea of how much this itinerary will cost. The below prices are based on two people sharing.
This Itinerary
If you would like to book the exact itinerary mentioned above, with economy flights, during mid-season and staying in our preferred room category at our preferred hotels.
Bare Necessities
If you would like to pare back the above itinerary by travelling at non-peak times, staying in a standard room and removing some or all of the guided activities.
Bells & Whistles
If you are looking for something extra special and would like to add business or first class flights, stay in top room categories at some of the most luxurious hotels we work with, and add more activities and guiding.
Emily C, Eleanor and Jacqui are our experts for this itinerary and as seasoned travellers they have the inside track on the most memorable adventures.