We regularly hop aboard our soapbox in support of diving. There's nothing quite like floating in an alternate universe of technicolour reef cities and marvellous marine life. That being said, not all trips can be spent entirely underwater. There are surface intervals, after all. Whether you're a diver, landlubber or like to enjoy the best of both worlds, discover our top ten destinations that are great for non-divers.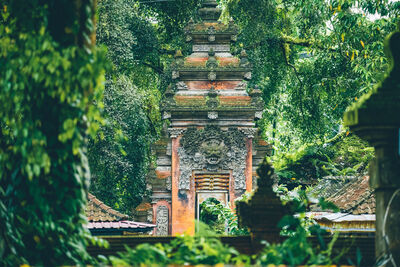 Indonesia
Divers will know Indonesia as the epicentre of the Coral Triangle - the most biodiverse marine region in the world - but venture above the waves and just as much diversity awaits. From ancient Buddhist templates to tumbling rice paddies, prehistoric Komodo dragons to orangutans, rainforests, volcanoes, surfing and an endless roster of white sandy beaches; Indonesia has it all.
The Azores
The Azores archipelago - a group of nine wild, volcanic islands - feels more at place in Jurassic Park than Europe. Hailed as 'Hawaii of the Pacific,' adventurous travellers can hike volcanoes, go mountain biking and try canyoning. For those favouring more mouth-watering activities, Pico caters (literally) with wine tasting and cheese making. The Azores also lies on the migration route of humpback whales, which travellers can see alongside megapods of dolphins throughout summer.
The Maldives
Diver or not, there's nothing quite like sipping a crisp glass of rosé at your overwater villa as spotted eagle rays cruise beneath. Don a mask and spot blizzards of reef fish, baby reef sharks and manta rays swimming in the blue. Take part in conservation initiatives - from releasing baby turtles to planting coral - and become gloriously castaway, gourmet picnic in tow, on white sandy beaches. Cap it off with a sunset dhow cruise; after all, this is the most luxurious archipelago in the world.
Egypt
Pyramids, pharaohs, mummies and tombs: as ancient civilisations go, the Egyptians are one of the most famous. While Egypt's primary allure lies in colossal monuments like the Great Pyramid of Giza, the last wonder of the world that still exists, the country abounds with natural wonders. Drift down the Nile on the Steam Ship Sudan, explore remote wadis and sandboard down towering sand dunes. Along the coast, the Red Sea boasts spectacular coral reefs just a few fin kicks from the shore.
Ecuador
Ecuador's main claim to diving fame lies in the Galapagos Islands. And rightly so, this remote archipelago hosts all the big-ticket animals, some of which - like endemic marine iguanas - can be spotted while snorkelling in the shallows. Above water, Darwin's The Origin of Species materializes with free-roaming giant tortoises and blue-footed boobies. Back on mainland Ecuador, pink dolphins and piranhas patrol the Amazon waterways while misty mountains harbour ancient Inca civilisations. It's all very Indiana Jones.
Oman
From towering mountain ranges to lush wadis, Martian deserts, remote fjords and miles of unspoiled coastline, Oman beguiles in its natural landscapes. Explore the jagged Al Hajar mountain range by 4x4 and paraglide back down; go sandboarding, hiking and canyoning; while on the coast, hop aboard a traditional dhow boat and spot megapods of dolphins. Throw in UNESCO World Heritage Sites and Muscat's bustling souqs for an unforgettable adventure.
Iceland
The Land of Fire and Ice lives up to its name. Hike active volcanoes, soak in geothermal hot springs, snorkel (or dive) between tectonic plates, amble along black beaches, marvel at the Northern Lights… we could go on.
Tanzania
Tanzania is all about vast nature reserves, epic wildlife and beautiful beaches. Spot the Big Five (leopards, lions, elephants, rhinos and African buffalos) in Serengeti National Park, check out chimps in Gombe Stream National Park and marvel at Mount Kilimanjaro, the largest peak in Africa. Next stop: paradise. Characterised by palm-fringed beaches and healthy coral reefs, Mafia Island is one of the few places in the world where, between November and April, whale shark encounters are virtually guaranteed.
Gozo
One of many wonderful things about Gozo is that you don't need to be scuba certified to enjoy the dive sites. Some of the best sites in Europe, like the Blue Hole and Inland Sea, are accessible from shore, making them perfect for snorkellers and divers alike. Above water, embrace Mediterranean life by exploring rolling vineyards, picture-perfect villages and ancient ruins.
Belize
While the Blue Hole is best left to divers, snorkellers can search for dugongs along the Belize Barrier Reef, the second largest barrier reef in the world. Back on shore, sugar-white beaches will appeal to beach bums while inland, lush rainforests hide jaguars, ancient Mayan ruins and vast underground cave systems.