There are few better ways to bond with your children than while diving. Obviously you can't natter away on the dive itself, but when you're back in the boat or on the beach, reliving the dive with a wide-eyed youngster can be a magical experience. The good news (and something a lot of parents don't know) is that kids can start from as young as eight thanks to those clever types at PADI and their Bubblemaker or Seal Team courses. And as luck would have it, the courses are available at several of our favourite destinations across the world.
SUMMER ESCAPES
The best destinations for an unforgettable summer escape...
Best of the Med: Gozo
Europe's diving holds a bad rep. But we know a secret spot, away from the crowds with warm waters, crystal clear visibility and a plethora of fascinating sites to explore straight from the shore (from wrecks to the Blue Hole). Diving aside, there's also kayaking, boat trips, hiking and more, with downtime spent at Hotel Ta'Cenc's private bay.
Caribbean Castaway: Grenada
The Caribbean might be famous for its fly-and-flop formalities, but there's so much more to explore. Colourful coral gardens, warm waters and a rather unique underwater sculpture garden make Grenada a great place to learn to dive while direct flights (from the UK, anyway) and warm Caribbean hospitality will ensure no headaches.
Safari and Scuba: Africa
Think you've got the next Attenborough in your midst? Prepare for an endless narrative on this African adventure, spotting the Big Five in the (malaria-free) Madikwe Game Reserve in South Africa, before being marooned on the paradise shores of Azura Benguerra to spend blissful days diving over the colourful two mile reef, horse riding along the beach or island hopping aboard a luxury catamaran.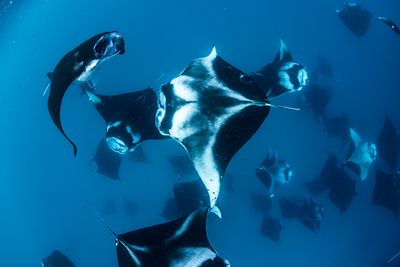 Manta Madness in the Maldives
The Maldives is often grouped in the 'Winter Sun' category. But we think it makes a rather jolly summer sojourn. Witness one of the world's greatest migrations as hundreds of manta rays arrive in Hanifaru Bay to feed in the plankton-rich waters - worth any unpredictable weather if you ask us. Add to that a smattering of summer offers and you've got the perfect escape
'Ere Be Dragons: Komodo
Dragons, the preserve of many an adventure tale, can be seen in Bali's Komodo National Park. Start your adventure in the lush jungles of Bali's Ubud before setting sail on a private charter to see these mystical beasts, diving the world's best reefs in-between (it is located in the Coral Triangle, after all).
OCTOBER HALF-TERM
Beat those summer blues with our top destinations to take youngsters on their October half-term.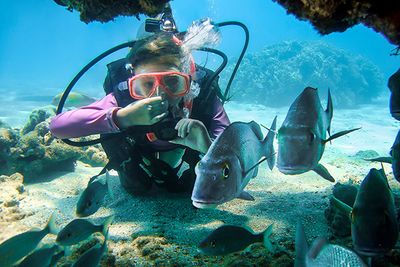 Egypt
On land Egypt boasts some of the most famous sites of antiquity on the planet while offshore and underwater the Red Sea is home to healthy colourful corals and excellent marine life - which also happens to start just a few fin kicks off the beach from The Oberoi.
Oman: An Arabian Adventure
Enjoy an Arabian adventure, staying in some of the world's finest hotels while exploring the capital city of Muscat, camping among the towering sand dunes of the Wahiba Sands, hiking the dramatic Hajar Mountain range and diving around the Daymaniyat Islands.
Jurassic Azores
Hike, cycle and canyon around the Azores' wild, rugged landscapes, discovering glistening lagoons, abseiling down waterfalls and sampling local wines in vineyards (a well-deserved break for the adults). At sea, go whale watching, dive wartime wrecks and spot colourful marine life. This is the best diving in Europe.
Seychelles: A Beachcombers Paradise
For families, Four Seasons Desroches goes above and beyond, whether cycling through the forest tracks or learning about the fascinating underwater world at the WiseOceans discovery centre. That is, if you can drag your little ones from the superb Kids For All Seasons club (while moody teens will crack a smile in the Teen Centre).