One of the most iconic of all species, hammerhead sharks should be swimming near the brim of any diver's bucket list. The fact that - unlike most sharks - scalloped hammerheads usually swim in huge schools only amplifies the spectacular experience of seeing them.
Bimini, Bahamas
Of the nine subspecies, the great hammerhead is the largest, sometimes measuring a mighty 18 feet long. They are also the most solitary version of the species, which is probably just as well. Between December and April, Bimini in the Bahamas attracts these marine monsters to one specific dive spot with crystal clear visibility and in only eight metres of water, so you can stay down for longer with sharks coming up to within a few feet.
Best Time: December to April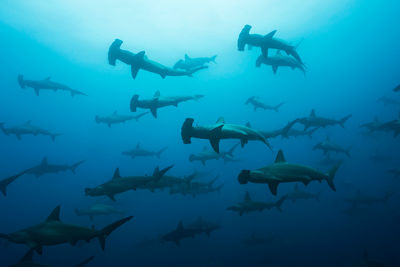 Galapagos Islands
Even by Galapagos standards the islands of Darwin and Wolf are remote, and only accessible by liveaboard. They're well worth the voyage though, when you're diving in March and April with - quite literally - hundreds (and sometimes thousands) of hammerheads. They tend to be in residence during prime manta season, so this is a great chance to tick off two classics.
Best Time: December to May
Cocos Island, Costa Rica
Sticking on the subject of remote islands and liveaboards, the journey in June and July to the marine national park around Cocos Island from the Costa Rican mainland takes 36 hours. You'll probably agree that the crossing is worth every second when surrounded by huge schools of scalloped hammerheads.
Best Time: May to September
Rangiroa, French Polynesia
Home to one of the most famous dive sites in the world, Tiputa Pass in Rangiroa is frequented by a staggering variety of pelagic species, including the humble hammerhead. January and February are the best times to spot these predators in the pass, and during this time it's not uncommon to see a fever of dozens hunting for stingrays. Usually solitary, this is a remarkable time to witness these rare sharks hunting like this this.
Best Time: January and February
Socorro Island, Mexico
Located in the remote Pacific Ocean off southernly Baja California, Socorro is the largest island in the Revillagigedo Archipelago and a hotspot for all the big ticket animals. It is possible to spot everything from giant oceanic manta rays to bottlenose dolphins and, of course, hundreds of hammerheads (April to June). Also part of the archipelago is Roca Partida, a solitary rock rising from the water like a humpback's tail, and here you can often see scalloped hammerheads along with huge schools of pelagic fish, such as yellowfin tuna.
Best Time: April to June
Alphonse Island, Seychelles
The marine mantra for the remote island of Alphonse is to expect the unexpected. Located some 250 miles south of the main island of Mahé in the Seychelles, each dive is peppered with surprise encounters, from seeing hammerheads out in the blue to huge schools of barracuda and anthias to all the big stuff (think: dolphins, sharks and manta rays). This is the kind of diving experience where you never know what you'll come across.
Best Time: March to May and October to December
Interested in hammerhead diving? Get in touch with our team today to start planning your next dive adventure.