As the ocean's largest fish whale sharks are found in tropical seas around the planet, making for some pretty comfortable dive conditions - unusual when diving, or snorkelling, for some of the ocean's bigger beasts. Yet despite being one of the most recognisable marine creatures, these dotted docile beings are surprisingly elusive, luckily we know the best spots to find them...
NINGALOO REEF, AUSTRALIA
Come face to fin with these forty foot gentle giants from March to July at Ningaloo Reef in Western Australia. Nab one of the daily snorkel permits and you're all but guaranteed to enjoy a close encounter with the sighting success rate topping at a whopping 95% thanks to the coral spawning at this time of year, creating a plankton-soup buffet for whale sharks to gorge on.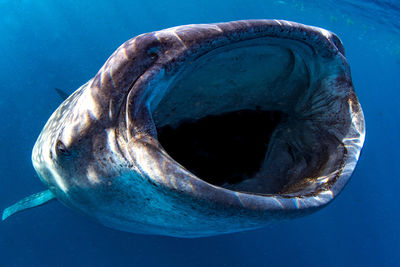 MAFIA ISLAND, TANZANIA
While Mafia Island remains relatively off-the-radar for tourists, it's all the rage with whale sharks who reside in the surrounding waters year-round. In fact, they are so regular scientists have started giving them names. For the best whale shark encounters, visit between October and February when they venture close to the shore to feed on the plankton that is pushed out from the Rufiji River into the warm Indian Ocean waters. Add to that pristine reefs housing over 50 coral species and 460 fish species and you'll be hankering to spend as much time under the waves as above them.
THE GALAPAGOS ARCHIPELAGO, ECUADOR
Suspected highlights of a diving trip to the Galapagos might include sea turtles, marine iguanas and fur seals, but the gentle giants of the ocean can also be spotted here between June and December. They typically travel to the northern islands of the Galapagos, around Wolf and Darwin islands, where a fortunate convergence of three different ocean currents provides an upwelling of nutrient-rich waters ideal for hungry whale sharks. Don't be surprised if these gentle giants look a little plumper here, scientists speculate that pregnant whale sharks arrive in the Galapagos to give birth - although this still remains a mystery of the deep.
ISLA HOLBOX, MEXICO
Isla Holbox is just a 25-minute boat ride from the mainland of Quintana Roo and is one of the rare pockets of this region that is yet to be overrun by mass tourism, despite attracting the ocean's largest fish, who arrive between June and September to feed and mate. Combine this with diving the Yucatan's crystal clear cenotes for the ultimate bucket-list diving trip. For whale sharks galore, hop across to the Pacific coast and embark on a liveaboard diving trip to Socorro, where whale sharks occasionally mingle with resident manta rays, bottlenose dolphins and ten species of shark.
WEST PAPUA, INDONESIA
The protected Cenderawasih Bay in West Papua is home to a unique resident population of whale sharks who are known to hang around offshore fishing platforms hoping to munch on fish that slip through the nets or are thrown overboard by fishermen. As whale sharks are usually spotted on their own, this is a rare chance to see them gathered together on the hunt for food. They can be found here year-round but the plankton bloom usually happens between October and April attracting them three-fold. The bay is part of the Teluk Cenderawasih National Park and is also home to more than 150 different coral species and over 200 known species of fish, making for spectacular diving conditions.
ACROSS THE MALDIVES
Whale sharks can be spotted year-round in the Maldives with the best spots being around the South Ari and Baa Atolls. Head to Hanifaru Bay in the Baa Atoll between May and November when there is a large build-up of plankton and witness whale sharks feeding alongside hundreds of manta rays. For one of the most epic whale shark experiences out there, head to COMO Maalifushi in the Thaa Atoll and snorkel with whale sharks under a blanket of stars - and with only six people in the water at a time it is a real bucket-list experience.
Fancy swimming with whale sharks? Get in contact with one of our Original Diving Specialists today to organise your next epic scuba diving tip.