Bali Komodo Twin Adventure
Who: Couples and Solo Travellers
From £4,543pp
Bali and Komodo Twin Adventure
Indonesia is a diverse melting pot of a country with endless opportunities for adventure. On this 15-day itinerary to Bali and Komodo you can explore lush tropical jungles and rice paddies, rejuvenate on golden beaches, come face to face with the famous Komodo dragon and dive on some of the world's most pristine reefs.
Itinerary at a glance:
Explore the lush green landscapes of central Bali
Dive on the pristine reefs of Komodo National Park, located in the Coral Triangle and home to some of the world's best dive sites
See Komodo dragons
Dine on fresh seafood against pink hued sunsets in southern Bali
Why Book with Original Diving?
Just a few of the extra touches that come as standard on an Original Diving holiday...
See More
All of the holidays we create are completely tailor-made to you
This sample itinerary is intended to give you a flavour of what we can do
Day 1:

International Flight
Several airlines fly to Bali from London overnight, either connecting in Southeast Asia or the Middle East. The combined flights take roughly 17 hours, with your luggage checked all the way through to Bali.
On arrival, and once you have passed immigration, you will be greeted by our representative on the ground to make the scenic 90-minute private transfer to Ubud, passing emerald green rice paddies and historic Hindu temples en route.
Whether you choose to stay in a luxurious spa retreat or boutique bolthole, spend the next few days recovering from jet lag, doing laps in the pool and indulging in delicious Balinese cuisine.
A plethora of active ways to explore the surrounding countryside are on offer, from white water rafting through dramatic gorges to working up an appetite on a traditional Balinese cooking course. Or you could set out on a guided bike tour through rolling rice paddies and past local villages or set out in style in a vintage VW convertible to explore further flung sites in Central Bali.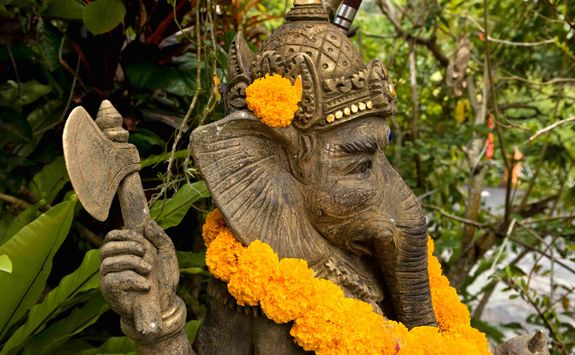 This morning you will be met for the hour long private transfer to Benoa Harbour, embarkation point for the Komodo archipelago.
Best experienced by luxury liveaboard, Komodo National Park's rugged sun-drenched islands ringed with pink beaches and turquoise waters are a dreamy destination. Diving-wise, the areas with nutrient-rich thermoclines attract a whirlpool of marine life, which, coupled with pristine reefs has resulted in some of the most exceptional diving in Indonesia.
Board the Mermaid II liveaboard and relax in your cabin before heading out on to the main deck for dinner under the stars as you cruise towards Moyo Island, located off the north west coast of Sumbawa.
Today you can complete up to three dives. Begin your underwater adventure diving in the calm waters of Moyo Island's Angel Reef. Characterised by a steep drop-off covered in soft corals and fauna, the maximum depth is 30 metres but the most interesting creatures can be found at shallower depths. Spot nudibranch, frog fish and schools of long fin bannerfish to name but a few.
Spend your surface interval re-fuelling on a fresh fish lunch before cruising to Panjang Reef to mingle with the macro critters from the pygmy seahorse to vibrant frogfish. After watching a sky full of bats scatter into the sunset you'll descend back to Satonda for a night dive to see all things nocturnal, including flathead fish and stargazer fish.
After a delicious dinner settle into your cabin as you cruise overnight to Sangeang Island.
Day 8:

The Nusa Tenggara region
After a light breakfast you will enjoy two dives at Sangeang Island, searching for rare nudibranchs, blue ribbon eels, pygmy seahorses and leaf scorpionfish while diving over the black sands of bubbling underwater hot springs that support this unique marine life.
Next, you will cruise to Gili Banta to dive at either Tanduk Rusa (or Roller Coaster) or GPS Point. Tanduk Rusa features 40-metre slopes with vertical and horizontal currents resulting in an exhilarating dive. Look out for huge mushroom-shaped corals, colourful anthias, sweetlips and coral catshark. Strong currents in GPS Point make this a dive best suited to more advanced divers, and plankton-rich water can make visibility variable, however you'll be rewarded with a soup of marine life, including a wealth of sharks and pelagics.
As the sun begins to dip over the horizon, enter the Komodo National Park and enjoy a night dive at Gili Darat South Passage where you'll spot sleeping turtles, colourful reef stonefish and Spanish dancers in calm waters.
(Incidentally, although you can dive four times this day, you might also prefer to read a book on a sun lounger instead.)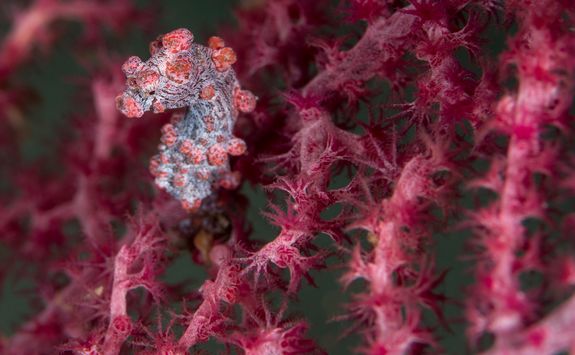 If the tide is right, you'll spend the morning searching for grey reef sharks and dolphins at Taka Toko Gili Lawalaut. Dive two is a fast drift dive with manta rays and pelagics at either the Lighthouse Reef or Old Passage, while dive three offers the chance to see a flurry of marine life, including sharks, turtles and Giant Maori wrasse at Crystal Rock.
The night dive at Pink Beach offers a spectacular display of colour as you descend to a maximum depth of 25 metres to see thriving sea life amongst soft giant corals.
Day 10:

Loh Liang Komodo National Park
Today you'll start your adventure on land, as you hike through the tropical forests of Loh Liang Komodo National Park to spot the famous Komodo dragons.
Accompanied by a park ranger, you'll learn all about these ancient lizards as well as spotting wild boar, Sunda deer and birds. Then relax as you cruise two hours south to Horseshoe Bay Rinca Island to dive the famous Cannibal Rock to spot rare nudibranchs, frogfish and cuttlefish over spectacular corals, sponges, ascidians and huge black coral bushes.
Back on-board, you can watch the Komodo dragons scuttling across the beach and you might even spot whales and dolphins feeding in the bay. You'll spend the night in these calm waters and enjoy another fascinating night dive at one of the world class sites. You can do up to three dives today.
Day 11:

Horseshoe Bay Rinca Island
Today, prepare for all manner of marine life as you complete up to four (depending on your mood) dives across diverse dive sites. Begin your day in Padar Island's Three Sisters dive site. Featuring three big rocks on a 30-metre sandy floor, look out for surgeon fish, sharks, devil rays and nudibranch.
Next up is Manta Alley, arguably one of the best sites in Komodo, where you will drop to a maximum depth of ten metres and watch manta rays feed and get cleaned in a reasonable current.
Batu Bolong, or 'Current City', features a giant drop off extending 70-metres. As you might have guessed, the currents can be very strong but you will be rewarded with amazing soft and hard corals teeming with marine life, from Napolean wrasse to blue fin trevally to turtles.
Wave goodbye to Komodo National Park with a final night dive at Gili Banta for the Coral Cat Shark before stargazing as you cruise to Satonda Island.
Returning to the calm bays of Satonda and Moyo Island, you'll enjoy two final dives for a last viewing of the varied marine inhabitants before cruising overnight to Benoa in Southern Bali.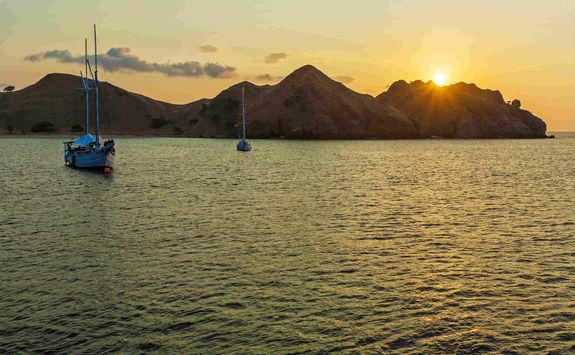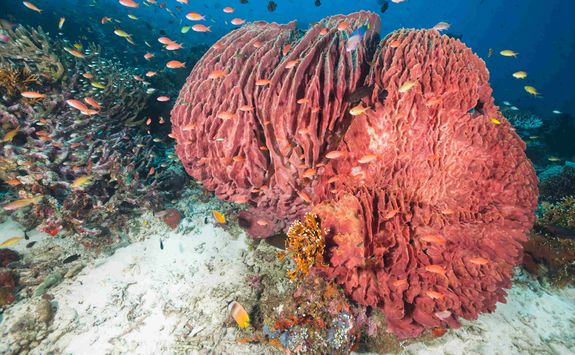 Day 13 – 15:

Southern Bali
After a relaxed breakfast, bid farewell to Komodo as you are taken ashore to continue your journey to the Southern shores of Bali for some well-earned rest and relaxation.
Located just south of the airport, Jimbaran is a laid-back crescent-shaped beach characterised by golden sands and calm blue seas. Spend a couple of days basking in the sun and feasting on fresh fish from the famous seafood restaurants that pop up along the beach every evening. If you still want to fit in a few activities, Serangan Island is a short trip away as are a host of temples.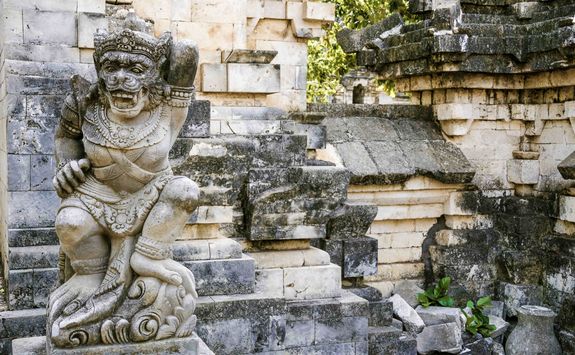 Sadly, it's nearing the end of the holiday now, but only after one final day soaking up the sun. Enjoy a beach stroll and last lunch in Bali before you are transferred to the airport for your evening flight. As on the way out, you'll fly back to the UK overnight and via either Southeast Asia or the Middle East, and with your luggage checked straight through. The two flights will take around 18 hours in total.
Land back in London in the early morning.
All of the holidays we create are completely tailor-made to you
This sample itinerary is intended to give you a flavour of what we can do
A Rough Idea of Price
While all of our holidays are completely tailor-made and prices will vary based on things like time of year and level of accommodation, we want to give you as good an idea of how much this itinerary will cost. The below prices are based on two people sharing.
This Itinerary
If you would like to book the exact itinerary mentioned above, with economy flights, during mid-season and staying in our preferred room category at our preferred hotels.
Bells & Whistles
If you are looking for something extra special and would like to add business or first class flights, stay in top room categories at some of the most luxurious hotels we work with, and add more activities and guiding.
Emily C, Eleanor and Jacqui are our experts for this itinerary and as seasoned travellers they have the inside track on the most memorable adventures.