These past couple of months have been the hardest yet, thanks (if that's the word) to the double dose of winter and lockdown. Here at Original Diving, we're determined to stay as positive as possible, so we asked the team to each describe their 'Happy Place' - one blissful moment from their travels that they conjure up in their mind's eye for a little hit of happiness in the gloom.
We'd love to hear about your happy places too, so please share them on our Instagram feed using the hashtag #TravelHappyPlace. And while a collective reminisce about travels past is succour for the soul, we're also still - cautiously - confident that we'll be travelling again by this summer, so call us if you want help creating a whole heap of future happy places too.
The Maldives
Tom Barber, Founder
"Introducing my twin ten-year-old daughters to the wonders of diving. I arranged for them to do their PADI Bubblemaker course while we were staying at the glorious Soneva Fushi in the Maldives, and they both adored it. I'd suspected as much because they've always loved snorkelling, but as I swam along on the surface and ducked down to watch them with their instructors diving along the house reef I could see the excitement in their eyes. Bubblemaker is the perfect way to introduce children to diving, and I can't wait to go on Original Diving adventures with them from now on!"
Anywhere Underwater
Louisa Fisher, Head of Original Diving
"Underwater, in a tropical marine environment, is where I'm at my happiest. When you're diving, it is a meditative experience where the whole world appears to slow down, and your breathing becomes rhythmic as you fin through crystal clear waters along kaleidoscope reefs. The noises of day-to-day life are silenced in an instant and it's just you and this underwater city where the loudest sounds are your breathing, or parrotfish munching on the coral. Then, back on the dive boat, you talk excitedly through the highlights of the dive - the colours of the reef, the species of fish you spotted or a particularly special marine encounter - with your buddies. Diving is the perfect balance of silence and connection."
The Seychelles
Neill Ghosh, Director and Dive Master
'Diving on a reef system, with the sounds of thousands of fish feeding on the coral. It's hypnotic. If I had to choose one dive happy place it would be the remote island of Cosmoledo in the Outer Islands of the Seychelles. In 2018, I was lucky enough to be part of the first group of divers ever to stay on this truly far-flung island, with vamped up shipping containers as the accommodation. It was magical both above the waves and below.'
Indonesia
India Tyndall, Diving Specialist
"Diving the Magic Mountain dive site in Misool, southern Raja Ampat - the heart of the fabled Coral Triangle. It was, quite simply, the best diving experience of my life. As we slowly headed down to a depth of around 10m, we were met by the sight of a reef top just teeming with life. Soft corals in kaleidoscopic colours swaying, clouds of fusilier fish engulfing us. In the distance, we saw trevallies darting around as they patrolled for prey, and a large barracuda hovering just at the edge of our visibility. On the reef itself we focused on the smaller marine life - nudibranchs in a vast array of colours and shapes across the reef, a moray eel's beady eye focused on us, its mouth opening and closing as it pumped water over its gills. Between breaths I could hear the distinctive click-clicking of dolphins in the distance before spotting a small pod on a fly-by, cocking their heads as they drew closer to inspect these new visitors to their reef. You could really feel their intelligence. Then BAM, we rounded a corner and four giant oceanic manta rays swooped elegantly by. It was cleaning time, and the perfect end to the perfect dive."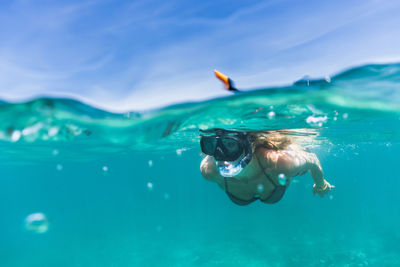 Borneo
Olivia Lee, Marketing
"Snorkelling in the brilliantly blue waters of Mantanani Island in Borneo. Home to silver-white sands and gin-clear waters, it's a tropical paradise - above and below the waves. You could wade into the calm shallow waters to snorkel close to shore or hop into a RIB in search of the perfect snorkelling spot in deeper waters.
Donning masks, snorkels and flippers we jumped in, and the visibility was so good we could see everything on the seabed, from patches of empty sand to small multicoloured coral cities criss-crossed by motorways of glittering fish darting in and out of their hiding spots. Taking a deep breath, I dived down to explore closer, marvelling at the intricate details of life on these reefs and only frustrated by the constant need to return to the surface to breathe.
That was the exact moment I decided to pursue my PADI Open Water diving qualification. I was hooked, and desperately wanted the chance to explore the marine world uninterrupted."