While we regularly hop aboard our soapbox in support of diving, there's something liberating about leaving the oxygen tank behind and exploring the deep through freediving. Plus, learning to freedive makes you a better diver - you'll become more relaxed, minimise your air consumption and master buoyancy through controlled breathing. Whether you're inclined to 'base jump' into blue holes like Guillaume Nery, the French freediving world-record holder, want to enter vast, glistening bait balls or swim alongside hundreds of mantas, read on to uncover the world's best freediving destinations around the globe.
1. Baja California, Mexico
With nearly 5,800 miles of coastline, Mexico has no shortage of epic freediving spots. In fact, this vast country boasts two of the best freediving destinations in the world - the Yucatan and Baja California - earning two spots in the top ten. Along the western coast, Baja California straddles both the Pacific Ocean and the Sea of Cortez, with freediving predominantly centred in the Sea of Cortez. From May until September, you can see the mobula ray migration, and if you're lucky, you might also see pods of dolphins, sperm whales, humpback whales and orcas. The beauty of freediving in the Sea of Cortez is that you never know what's going to turn up.
2. Yucatan Peninsula, Mexico
The Yucatan's main draw is its vast network of sun-lit, freshwater-filled cenotes. There are 7,000 of these natural sinkholes pitted across the peninsula, each with their own personality. However, three cenotes truly stand-out for freediving: Angelita, Casa Cenote and El Pit. Casa Cenote, despite its relatively shallow maximum depth (eight metres), is arguably the most beautiful cenote in the region with a lush underwater garden complete with lily pads rising from the floor - keep an eye out for terrapins. Meanwhile, Angelita presents an eerie underworld. Here, the turquoise water gradually dissipates into an otherworldly green, and at 30 metres, you'll encounter an island of trees emerging from a dense halocline cloud. Last, but certainly not least, El Pit is a colossal, teardrop-shaped cavern lined with striking stalagmites and stalactites. Beams of light penetrate the entrance, illuminating the entire cave, and freediving feels more like skydiving.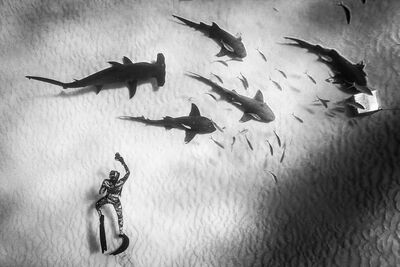 3. The Bahamas
If you're well-versed in the world of freediving, Dean's Blue Hole is undoubtedly a name you've encountered. Located off Long Island, Dean's Blue Hole is the second-deepest blue hole in the world, plunging to a whopping 202 metres. Accessible from the shore, this blue hole is a renowned freediving destination thanks to its excellent visibility and tranquil, warm waters. While the vast majority may only venture to its upper reaches, there's still plenty to explore. The Bahamas also ranks as one of the best freediving destinations in the world to see sharks. Designated as a shark sanctuary in 2011, the Bahamas provides the opportunity to dive with various shark species at most sites. However, for those in search of rarely encountered species, a journey to Tiger Beach, on Grand Bahama Island, presents a unique opportunity to freedive alongside tiger sharks, reef sharks, nurse sharks and hammerheads.
4. Belize
The Great Blue Hole, located off the coast of Belize on the world's second-largest barrier reef, is a frequent inclusion on freedivers' bucket lists. Visible from space, the blue hole stretches to a diameter of 300 metres and drops to 125 metres, providing ample opportunity for freedivers to train for their personal best (PB). For those keener on leisurely exploration, the blue hole's walls are lined with stalagmites and stalactites, while outside the entrance, colourful corals and tropical marine life await.
5. Indonesia
Situated at the heart of the Coral Triangle, the world's most biodiverse marine region, Indonesia acts like a magnet for freedivers. Within its vast archipelago of 6,000 inhabited islands, the Gili Islands - nestled near the larger Lombok Island, off Bali - have cultivated a thriving freediving community. The Gili Islands are renowned for warm water temperatures, crystal-clear visibility, and gentle currents, creating an ideal environment for honing freediving skills. On the mainland in Bali, freedivers can explore the renowned USAT Liberty, a WWII shipwreck, found just a few metres off the shores of Tulamben. This coral-encrusted wreck extends an impressive 200 metres and lies at depths ranging from five to 28 metres, making it an excellent choice for both beginner and advanced freedivers.
6. The Philippines
From swimming beside silvery bait balls and whale sharks to exploring shipwrecks, the Philippines' offers a wide range of freediving at the centre of the Coral Triangle. Island-hopping across this sprawling archipelago provides access to some of the Philippines' finest freediving sites. Begin your journey in Palawan, where freedivers can delve into the WWII wrecks of Coron Bay. On the north shore of Coron Island, Barracuda Lake stands out as an exceptional location for freedivers seeking to explore crystal-clear waters and enhance their depth skills. Meanwhile, Moalboal in Cebu offers the rare opportunity to dive in the midst of a shimmering silver sardine baitball. Lastly, Apo Island, located near Dumaguete in the Visayas region, is a marine sanctuary famed for attracting huge schools of jacks and sea turtles.
7. Iceland
Iceland isn't for the faint of heart, known for its frigid water, even in the summer months. But for freedivers up for the challenge, the Nordic nation offers the once-in-a-lifetime opportunity to dive between two continents. The Silfra Fissure, located in Thingvellir National Park, is a freshwater filled rift between the North American and Eurasian plates. While the water hovers at a cool two degrees, this site has some of the best visibility in the world, often exceeding 100 metres.
8. French Polynesia
French Polynesia has all the ingredients for a top-notch freediving destination. Aside from boasting tropical, calm waters and spectacular visibility, this island nation is also one of the only places in the world where you can freedive with humpback whales. Between July and November, humpback whales migrate through Moorea, while year-round, you can encounter pods of dolphins, sharks, rays, turtles and Napoleon wrasse.
9. Fiji
Freediving in Fiji is like entering a kaleidoscope. Hailed as the 'Soft Coral Capital of the World', Fiji's waters are awash with colourful corals, blizzards of tropical fish, sharks, rays, turtles and dolphins. Within this remote South Pacific archipelago, consisting of some 300 islands, you'll find one of the best freediving destinations, Namena Marine Reserve, nestled between Viti Levu and Vanua Levu. Here, freedivers can test their skills against vertical drop-offs while keeping an eye out for bumpheads, groupers, bottlenose and spinner dolphins, sharks, barracuda and trevallies.
10. The Maldives
The Maldives, an archipelago comprising over 1,000 coral islands grouped into 26 atolls, offers some of the finest freediving opportunities in the Indian Ocean. Novice freedivers have a wealth of options within the inviting turquoise lagoons scattered across the archipelago, while experienced freedivers can challenge themselves on the outer slopes of the reefs. One of the most unique freediving experiences in the world can be found in Hanifaru Bay, located in Baa Atoll. This bay is famous for hosting the world's largest aggregations of manta rays, which gather alongside whale sharks from mid-May to November to feed in the plankton-rich waters.