The Galapagos Islands require very little introduction for most scuba divers. Famed as a hotspot of diversity above and below the surface, the Galapagos have intrigued the planet ever since Darwin regaled the world's leading scientists with his observations and evolutionary speculations upon the HMS Beagle's return to port. Mention the name of this Ecuadorian archipelago to divers, and their minds will immediately conjure up images of schooling hammerheads, huge whale sharks and curious dolphins. While it gets less attention than the megafauna, the coral diving in the Galapagos is also well worth checking out.
In recent decades, El Niño events have been documented as causing bleaching of the corals in the Galapagos, yet scientists are reporting signs of recovery. The more remote sites of the Galapagos, Darwin and Wolf, lie in the path of the warm Panama current, which flows into the region from the northeast, and it's at these iconic sites where scientists are seeing signs of recovery, with massive coral colonies, some reaching four-and-a-half metres (15ft) in diameter, being documented. The best way to see the awesome coral diving on the Galapagos' more remote sites is by liveaboard, and we can tailor your ideal itinerary to ensure you also get to experience the giant tortoises and blue-footed boobies on land.
Ecuador has a mainland that is equally as stunning as its famous offshore archipelago. With a long journey time from Europe, we recommend making the most of your trip by combining the incredible Galapagos diving with tours to see the country's snow-capped volcanoes, lush jungle and lively cities.
Itineraries
Best for: Couples, Families, Groups and Solo Travellers
An Epic Adventure Diving the Galapagos
Spend a week diving the bucket list-worthy Galapagos islands. Dive with schools of hammerheads, huge pregnant whale sharks, rays, sea lions...
9 Days
From £8,780pp
Best for: Couples, Honeymoons, Families, Groups and Solo Travellers
Exploring the Natural Highlights of Ecuador
This two-and-a-half week trip will show you the incredible diversity in Ecuador and the Galapagos Islands. In Ecuador, explore the colonial city...
19 Days
From £10,520pp
Where to go
Ecuador & the Galapagos
Home to a rich variety of wildlife, both above and below the waves, some of which are found nowhere else in the world.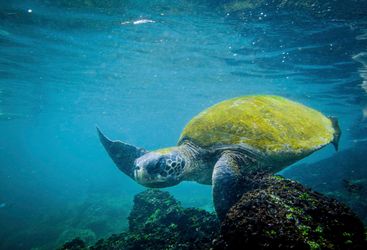 Related Collections
Luxury Diving Galapagos
We challenge you to find a 'world's best diving' round-up that doesn't include the Galapagos
Start creating your tailored trip today
Our thoughtful experts are ready with ideas, inspiration and advice for your next journey.
Working with you we'll craft an unforgettable trip and tailored itinerary.
We're here to help with everything while you're away from the smallest to the biggest request.
Emily C and Eleanor are our 'Coral Diving in the Galapagos' experts and as seasoned travellers they have the inside track on the most memorable adventures.