Raja Ampat, a remote group of islands in Indonesia, has a firm reputation as a diver's paradise. Its pristine waters are home to vibrant coral reefs and more than their fair share of pelagic species. The islands, which are located on the western tip of Papua in Indonesia, are subject to strong currents and nutrient-rich upwellings, making drift diving in Raja Ampat not only spectacular but a welcome challenge for advanced divers.
Thanks to its hard-to-reach location, the best and most practical way to experience drift diving in Raja Ampat is on a liveaboard. However, in recent years, more and more fabulous resorts have slowly been cropping up, perfect for those who prefer to spend their nights on dry land.
Below are some of our favourite spots in Raja Ampat for drift diving:
Dampier Strait
The Dampier Strait, a narrow passage that separates Waigeo Island, Batanta Island and the mainland, has a reputation for some of the best drift diving in Raja Ampat. The strait's unique topography, combined with the presence of the Indonesian Throughflow (a major ocean current) makes it an amazing choice for drift diving with several sites in the area.
Cape Kri is one of the most popular dive sites in the Dampier Strait, known for holding the record for the most fish species recorded in a single dive. The currents here are strong to very strong, with divers drifting along a colourful coral wall, surrounded by impressive schools of groupers, snappers and sweet lips. The site is exhilarating, to say the least, with the added bonus of being more suitable for less experienced drift divers compared to other sites in Raja Ampat.
Sardine Reef is another fantastic choice for drift diving in Raja Ampat. The site is east of Kri Island, where strong currents run along the eastern shore and visibility can reach up to 30 metres. During the dive, there are vibrant soft corals, large table corals and an abundance of schooling fish. Rarely, lucky divers may even spot wobbegong sharks.
Misool
Misool Island is the second largest of Raja Ampat's four main islands. It's even more remote than areas like Waigeo and the Dampier Strait, with plenty of dive sites in and around its waters.
The island is an amazing choice for anyone looking to go drift diving in Raja Ampat thanks to its strong currents, abundant wildlife and pristine reefs. Gorgonian Passage is one of our favourite drift dives in the area, with divers drifting along a narrow passage that separates two islands. The underwater walls are decorated with colourful sea fans, and at the end of the dive there's a fantastic coral garden.
If you're considering a once-in-a-lifetime trip to go drift diving in Raja Ampat, our expert team can help you put together your dream itinerary, handling all the little details to create your perfect holiday.
Itineraries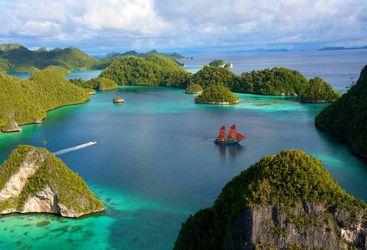 Best for: Couples, Families, Groups and Solo Travellers
A Raja Ampat Adventure with Award-Winning Experts
On this 11-day adventure, sail Raja Ampat aboard luxury liveaboard Tiger Blue. Led by National Geographic wildlife expert Jack Randal award-winning underwater...
11 Days
From £5,890pp
Best for: Couples, Honeymoons, Families, Groups and Solo Travellers
The Best of Raja Ampat
This three-week trip will allow you to access all the best dive sites in Raja Ampat in Indonesia. First, relax at a beachfront bolthole in the...
21 Days
From £7,791pp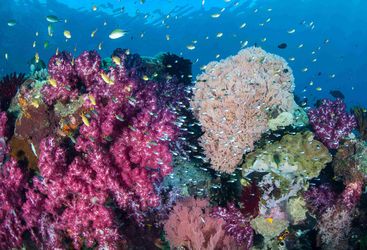 Best for: Couples, Honeymoons, Families, Groups and Solo Travellers
Indonesia Cool Combo: Raja Ampat & Sulawesi
On this two-week trip you will experience some of the best diving on offer in Indonesia. Starting on the beautiful reefs of Raja Ampat where you...
15 Days
From £4,300pp
Where to go
Raja Ampat
Raja Ampat just happens to sit right on the bullseye of the Coral Triangle, which is the area of highest marine biodiversity on earth. With more...
Where to Stay
Misool Eco Resort
Misool Eco Resort is in one of the most beautifully remote places we have ever been. The diving, and the place, are very special.
Start creating your tailored trip today
Our thoughtful experts are ready with ideas, inspiration and advice for your next journey.
Working with you we'll craft an unforgettable trip and tailored itinerary.
We're here to help with everything while you're away from the smallest to the biggest request.
Emily C and Eleanor are our 'Drift Diving in Raja Ampat' experts and as seasoned travellers they have the inside track on the most memorable adventures.