As part of the Coral Triangle, Indonesia has the highest marine biodiversity in the world, so it comes as no surprise that the macro diving in Indonesia is world-class.
Whether you're looking to discover the bountiful coral reefs, numerous wrecks or mysterious ocean floor, Indonesia's waters are teeming with small creatures, which to the untrained eye remain hidden. From pygmy seahorses that are camouflaged among gorgonian sea fans to bizarre-looking frogfish which can be found on the sandy, silty ocean floor, there is plenty to be discovered beneath the surface.
There are countless spots for macro diving in Indonesia, but we particularly love Ambon, North Sulawesi and Raja Ampat. Each destination is as breath-taking as the last, and we can help you visit one, or all, with a custom-made itinerary.
Ambon
Ambon, also known as Spice Island, is renowned for having some of the best macro diving in Indonesia. With a mixture of muck sites, wrecks and coral reefs, divers will encounter a variety of interesting creatures, including bobbit worms, harlequin shrimp and the elusive psychedelic frogfish, which was first discovered in these waters.
The best sites for macro diving in Ambon are Laha, an area known for frogfish and fire urchins; the 'Duke of Sparta' wreck, which is a hotspot for invertebrates including octopuses; and Air Manis, a fantastic muck diving site where divers can encounter flamboyant cuttlefish, crinoid crabs and crinoid clingfish.
Many divers explore the island and its underwater spots on a liveaboard, visiting Ambon alongside other destinations such as Raja Ampat and the Banda Sea.
North Sulawesi
While North Sulawesi is packed with wonderful dive sites, the Lembeh Strait in particular is a fantastic macro photography destination, renowned for its muck diving. The strait has over 30 dive sites teeming with small critters, interesting fish and nudibranchs. It's not the best place to visit if you're hoping to see megafauna, but when it comes to macro diving in Indonesia, it's a must-visit.
The visibility in the Lembeh Strait isn't always excellent, but for macro diving, this isn't an issue. Expect to encounter creatures such as orangutan crabs, crinoid shrimp, ornate ghost pipefish, mantis shrimp and more.
Raja Ampat
Diving in Raja Ampat is a dream for most divers. In this incredibly diverse and remote part of the country, you'll have the best of both worlds, witnessing both mega and micro fauna. Although most divers head to Raja Ampat hoping to see manta rays and other large creatures, turn your attention to the seafloor and you may see frogfish, nudibranchs, blue-ringed octopus and more.
We recommend adding some night dives to your itinerary when in Raja Ampat. This will allow you to focus on the smaller creatures in front of you and avoid the distraction of what's overhead.
Macro diving in Indonesia is phenomenal, with several world-class spots. However, the best sites tend to be remote and hard to reach, which is where we come in. Planning a trip with Original Diving takes out all the hassle of planning and logistics, as we will handle everything from creating a tailor-made itinerary to organizing pick-ups and transfers.
Itineraries
15 Days
From £4,540pp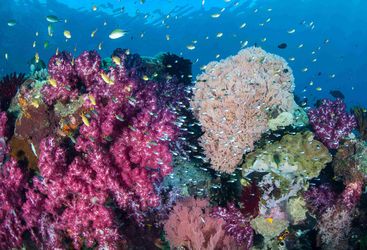 Best for: Couples, Honeymoons, Families, Groups and Solo Travellers
Indonesia Cool Combo: Raja Ampat & Sulawesi
On this two-week trip you will experience some of the best diving on offer in Indonesia. Starting on the beautiful reefs of Raja Ampat where you...
15 Days
From £4,300pp
Best for: Couples, Honeymoons, Families, Groups and Solo Travellers
The Best of Raja Ampat
This three-week trip will allow you to access all the best dive sites in Raja Ampat in Indonesia. First, relax at a beachfront bolthole in the...
21 Days
From £7,791pp
Start creating your tailored trip today
Our thoughtful experts are ready with ideas, inspiration and advice for your next journey.
Working with you we'll craft an unforgettable trip and tailored itinerary.
We're here to help with everything while you're away from the smallest to the biggest request.
Emily C and Eleanor are our 'Macro Diving in Indonesia' experts and as seasoned travellers they have the inside track on the most memorable adventures.