Indonesia Twin Centre
Who: Couples, Families and Solo Travellers
From £4,365pp
Off The Beaten Track in East Bali and Alor
On this two-week itinerary, stay in the wild, unexplored coast of East Bali; venture to the undiscovered island of Alor - a diving mecca rich with marine life and healthy reefs - and unwind and rejuvenate among Ubud's billowing rice paddies and ancient temples.
Itinerary at a glance:
Get off the tourist track in the relatively undiscovered East coast of Bali, diving a wealth of sites around the coast and looking out for mola mola (seasonal)
Up your dive log exploring the sites of Alor, located within the Coral Triangle and rich in marine life - with macro life particularly abundant
Immerse yourself in Balinese culture, visiting the ancient temples and religious shrines around Ubud
Why Book with Original Diving?
Just a few of the extra touches that come as standard on an Original Diving holiday...
See More
All of the holidays we create are completely tailor-made to you
This sample itinerary is intended to give you a flavour of what we can do
Day 1:

International Flight
Your overnight international connecting flight leaves London in the evening for Denpasar. There are several routes, but here we're working on routing via Singapore, so the flight will take around 17 hours.
Day 2:

Arrive in Indonesia
Your overnight flight lands in Singapore in the early afternoon and you then transfer across to the onward flight to Denpasar (bags checked through automatically), which takes a further two-and-three-quarter-hours.
On arrival this evening you will be met by one of our team on the ground and privately transferred the two hours to your hotel on Bali's East Coast. And relax. Time for a late supper before a well-earned sleep.
This morning it's time to dive. Whether you're a beginner or advanced diver, there are a wealth of great dive sites within a short boat ride of the coast.
Around 15 minutes from shore, Padang Bai has eight spectacular dive sites to choose from. The Jetty, in particular, is a macro photographer's dream, located in the middle of Amuk Bay and featuring an abundance of technicolour critters from nudibranch to blue-ringed octopus. If you have manta rays in mind, venture to Manta Point, a 45-minute boat ride from Padang Bay. The mantas cruise at around five metres so bottom time is longer.
In the afternoon, you can explore a different dive site or stay dry and visit Pasar Agung, a magnificent temple nestled on the slopes of Mount Agung. Overlooking the entire island, this is a great place to watch sunset before heading back to the resort for a candlelit supper.
Additional Activities
Indulge your taste buds with a local cookery lesson, plucking ingredients straight from the organic garden before making a Balinese lunch al fresco on the pavilion.
Home to cloud-topped mountains, wild volcanic beaches and lush green rice paddies, Eastern Bali has yet to centre on the tourism radar, meaning that the region still holds its authentic charm.
Set off from Sogra, cycling through the wild, forested slopes of the towering Mount Agung, passing through slak (snakeskin fruit) plantations and local markets before cooling off, coconut in hand, at Pasir Puith Beach.
Either stay at the beach or head back to the hotel for a delicious lunch before visiting Goa Lawah (or the Bat Cave) in the afternoon. The cave is hidden within a temple and is home to thousands of bats that you can spot flying through the smoke from incense burnt as part of the priests' ceremonies. Stop by the Kusamba Salt Pans on the way back, reaching the hotel in time for sundowners. In the evening, dine on delicious Balinese dishes by the ocean shore.
Visit between July and October and you might spot the elusive and ginormous (technical term) ocean sunfish, or mola mola, the largest bony fish in the world, around Nusa Penida at Crystal Bay.
This morning it's time to depart for the next part of your adventure. After an early start you will be privately transported to Denpasar for your flight to Alor Island. The flight should take around four hours, transiting through Kupang en route.
Upon arrival, you will be met by one of our team and privately transferred to Alami Alor, the journey will take around an hour.
Spend the afternoon at leisure taking advantage of the resort's facilities. The house reef in particular offers superb snorkelling right from the jetty, with mandarin fish, leaf scorpionfish, pipefish, eels… the list goes on.
Spend the next few days taking advantage of the amazing diving on offer. Located to the east of Komodo and Flores, Alor is home to a wealth of spectacular dive sites without the crowds.
Alami Alor offers unlimited diving on the house reef to be enjoyed morning, noon and night. There's also a huge variety of offshore sites, from drift dives to channel dives, coral and muck diving, scalloped hammerheads to sea snakes; no two dives will ever be the same.
Out of water, watch the sun set over the ocean, drink in hand, in the lounge area (mocktails if you opt to night dive, mind), before indulging in supper at the communal dining table regaling the days diving with other guests.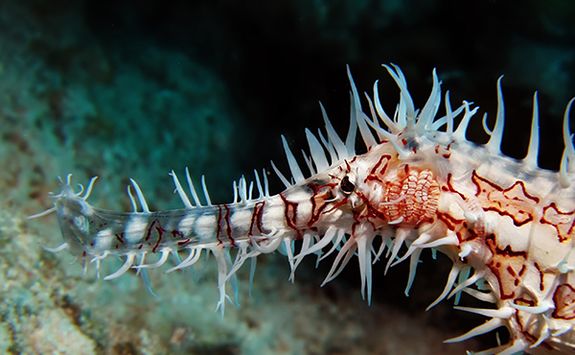 The diving here is a wonderful combination of everything, with the muck diving and reef diving being best in show. The big fish action on the channel dives is also exciting with schooling sharks, Napoleon wrasse, bumphead parrotfish and mola mola all sighted on occasion.

Additional Activities
Take a tour to the local village of Takpala for an insight into the local culture, dipping into local markets and sourcing souvenirs along the way.
This morning it's time to depart for the next part of your trip. You will be transferred to the airport in plenty of time for your connecting flights back to Bali.
Once you have cleared customs you will be met in arrivals by your driver and privately transferred to Ubud. The journey should take around an hour-and-a-half, passing through the signature emerald rice paddies en route.
Ubud is surrounded by most of the things that bring people to Bali - scenic rice fields, winding rivers, small villages, traditional art and craft communities and ancient temples and palaces.
Once you've checked in, spend the rest of the day exploring by bike, or relaxing by the pool - wherever your mood takes you.
Wake up early for a sunrise yoga session or have breakfast in bed before borrowing a bike to explore Ubud.
Located a mile outside central Ubud, visit the monkey sanctuary and get purposefully lost in great swaths of dense jungle looking for grey-haired long-tailed Balinese macaque monkeys. You might even stumble across one of the three temples hidden in the sanctuary.
Head back to your hotel to learn the secrets behind delicious Balinese cuisine taking a cooking lesson before unwinding with a spa treatment.
You can indulge in a private dinner in a secluded spot or head into town - Ubud's restaurants are well worth an explore. Our detailed Dossier will come in handy for recommendations. Ubud isn't a party town however there is a lively Jazz Cafe and salsa bar (Cafe Havana) should you wish to let your hair down.
Additional Activities
For the adventurous, set out white water rafting on the 70km Ayung River, the wildest and longest river in Bali.
This morning, head out early to beat the crowds at Pura Besakih Temple. Known as the 'mother temple', this 1,000-year-old site is perched 3,000ft up Mount Agung. The vast complex hosts over 70 religious ceremonies each year and each of the shrines has its own birthday - not to mention superb views over Ubud.
Head back into Ubud for a bite to eat before visiting Ubud Palace which, located in the centre of town, is the home to the local Royal Family. If you are templed-out you can wander around one of the local art galleries or find a secluded spot in the botanical gardens.
Head back to the hotel and cool off doing laps of the pool, staying there for sundowners. Either stay at the hotel for dinner or we can make you a reservation at Locavore, one of Ubud's most popular fine dining restaurants - and with good reason. Think fresh, local ingredients with a European twist.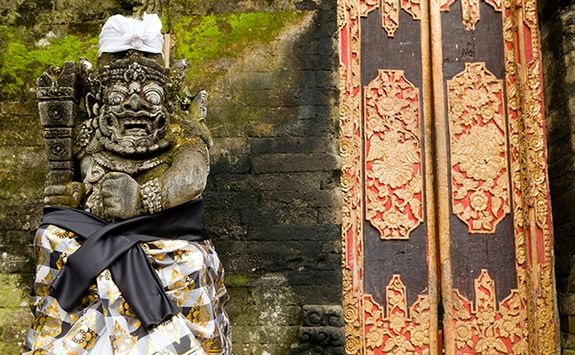 Additional Activities
Visit the Elephant Sanctuary Park. While it's a little touristy, it is a nice opportunity to see these wonderful animals up close and looked after.
Sadly, it's nearing the end of your holiday.
Take advantage of a sunrise yoga session, have a final lap in the pool or savour an extra-long lunch before being privately transferred back to the airport in plenty of time for your two-hour-40-minute flight to Singapore, which leaves in the evening. Transfer across to your late night and overnight flight back to London, which takes 13-and-a-half hours.
The flight lands back in London in the early morning.
All of the holidays we create are completely tailor-made to you
This sample itinerary is intended to give you a flavour of what we can do
A Rough Idea of Price
While all of our holidays are completely tailor-made and prices will vary based on things like time of year and level of accommodation, we want to give you as good an idea of how much this itinerary will cost. The below prices are based on two people sharing.
This Itinerary
If you would like to book the exact itinerary mentioned above, with economy flights, during mid-season and staying in our preferred room category at our preferred hotels.
Bells & Whistles
If you are looking for something extra special and would like to add business or first class flights, stay in top room categories at some of the most luxurious hotels we work with, and add more activities and guiding.
Emily C, Eleanor and Jacqui are our experts for this itinerary and as seasoned travellers they have the inside track on the most memorable adventures.