For the next three days, keep your feet on dry land and your eyes to the sky as you explore Kimbe Bay's rainforests and islets, spotting its magnificent birdlife.
New Britain is something of a geological hotspot, home to many endemic species, forming a significant part of the avian diversity of the New Guinea region. The best time for birdwatching is in the early morning, between 0530 and 0730, or mid-afternoon, between 1530 and 1730, when the birds are most active. Whether you choose to take a half day tour or a full day, we recommend visiting the lowland forest, the rainforest foothills and scrub, and the megapode habitat.
Particular species highlights include the golden masked owl, Heinroth's shearwater, blue-eyed cockatoo, nicobar pigeon, black-headed paradise kingfisher and a host of little-known passerines. Bird lovers will not be disappointed!
?>
?>
?>
?>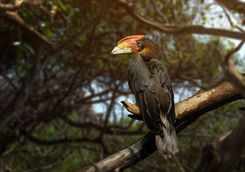 Additional Activities
Bathe in the 'hot river' which, located just a 40-minute drive from the resort, is heated by the volcano with swirling pools, mini waterfalls and sticky mud
Visit the local village and speak with the locals to get a feel for their day-to-day