Exploring New Britain
Who: Couples, Groups and Solo Travellers
From £3,795pp
Feathers and Fins in New Britain
This is the perfect two-week itinerary for those looking for world-class diving and birdwatching in one spot; combine diving one of the globe's most remote and biodiverse underwater worlds with a few days searching for bird life on land, including many species endemic to New Britain.
Itinerary at a Glance:
Experience unbeatable visibility at Kimbe Bay's offshore seamounts, overflowing with pelagic life
Explore different habitats looking for New Britain's bird life, including many species found only in New Britain
Why Book with Original Diving?
Just a few of the extra touches that come as standard on an Original Diving holiday...
See More
All of the holidays we create are completely tailor-made to you
This sample itinerary is intended to give you a flavour of what we can do
Day 1:

International Flight
This evening, you will depart London for your journey out to Papua New Guinea to explore the fins and feathers of New Britain.
There are a couple of different routes but in this itinerary you will take an overnight direct flight to Hong Kong, taking just under 12 hours, and arriving the next day in the afternoon.
Day 2:

International Flight
Upon arrival in Hong Kong, you will have three to four hours to collect your bags and proceed to check-in for your overnight flight to Hoskins. The flight will take around 11-and-a-half hours with a stop-over in Port Moresby, landing in Hoskins tomorrow morning.
Day 3:

Arrive in Papua New Guinea
Upon arrival in Hoskins, you will be given your first real taster of Papua New Guinea as you are driven through seemingly endless rows of perfectly planted palms, flanked by towering volcanoes, to Walindi Plantation Resort, which will take around an hour.
Once you've checked in, spend the afternoon shaking off any jet-lag by relaxing in your bungalow or by the pool. Have a chat with the dive team and guides to get ready for your diving tomorrow, filling out all the necessary forms, before toasting to your upcoming adventure as the sun sets.
Days 4-9:

Diving Kimbe Bay
The diving in Kimbe Bay is some of the very best, not only in Papua New Guinea but world-wide, which you will spend the next six days discovering.
The best diving in Kimbe Bay is found on the offshore reefs which are generally an hour to an hour-and-a-half away from the resort. This means that the usual format is a couple of dives out on the offshore reefs with an hour's surface interval in between. Be sure not to miss Inglis and Bradford shoals, both seamounts with incredible visibility and bursting with marine life.
After the morning's two-tank dive, the boat will head back to Restorf Island where you will feast on a delicious lunch spread on the boat, overlooking a bright turquoise lagoon with brahman kites swooping above.
Restorf Island is surrounded by a wealth of dive sites so you are well positioned should you wish to partake in a third dive of the day. Susan's and Vanessa's reefs in particular boast some of the biggest gorgonian fan corals we've laid eyes upon.
Snorkel around Restorf Island between dives. The water is wonderfully warm and home to some interesting marine life.

Days 10-12:

Birding in New Britain
For the next three days, keep your feet on dry land and your eyes to the sky as you explore Kimbe Bay's rainforests and islets, spotting its magnificent birdlife.
New Britain is something of a geological hotspot, home to many endemic species, forming a significant part of the avian diversity of the New Guinea region. The best time for birdwatching is in the early morning, between 0530 and 0730, or mid-afternoon, between 1530 and 1730, when the birds are most active. Whether you choose to take a half day tour or a full day, we recommend visiting the lowland forest, the rainforest foothills and scrub, and the megapode habitat.
Particular species highlights include the golden masked owl, Heinroth's shearwater, blue-eyed cockatoo, nicobar pigeon, black-headed paradise kingfisher and a host of little-known passerines. Bird lovers will not be disappointed!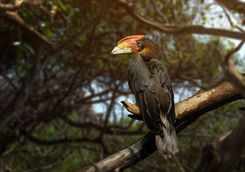 Additional Activities
Bathe in the 'hot river' which, located just a 40-minute drive from the resort, is heated by the volcano with swirling pools, mini waterfalls and sticky mud
Visit the local village and speak with the locals to get a feel for their day-to-day
Sadly, today it is time to leave this paradise and head back to the UK. You will transfer back to the airport in the early morning with a packed breakfast to catch your Air Niugini flight back to Port Moresby, departing at around 0700 and taking one hour.
On arrival in Port Moresby you will have a few hours to spare until your flight in the middle of the afternoon and we can recommend the best local hotel to head to to use the restaurant, pool and Wi-Fi. Once you have cleared customs in Hong Kong, you will need to proceed to check-in for your onward overnight flight back to London, which will take around 13 hours.
All of the holidays we create are completely tailor-made to you
This sample itinerary is intended to give you a flavour of what we can do
A Rough Idea of Price
While all of our holidays are completely tailor-made and prices will vary based on things like time of year and level of accommodation, we want to give you as good an idea of how much this itinerary will cost. The below prices are based on two people sharing.
This Itinerary
If you would like to book the exact itinerary mentioned above, with economy flights, during mid-season and staying in our preferred room category at our preferred hotels.
Bare Necessities
If you would like to pare back the above itinerary by travelling at non-peak times, staying in a standard room and removing some or all of the guided activities.
Bells & Whistles
If you are looking for something extra special and would like to add business or first class flights, stay in top room categories at some of the most luxurious hotels we work with, and add more activities and guiding.
Emily C, Eleanor and Jacqui are our experts for this itinerary and as seasoned travellers they have the inside track on the most memorable adventures.