For the next three days, dive to your heart's content in the spectacular underwater world of Milne Bay.
While there are many diving highlights here, all boasting pristine, vibrant coral and magnificent marine life, there are two particularly magical dive sites not to be missed. The first is Deacon's Reef which is made up of tower-like structures and bommies, forming gullies and swim-throughs which you can pootle around in in crystal clear visibility. These structures are drenched in hard and soft corals, as well as bright red sea whips that climb up from the reef plateau at around eight metres. A giant trevally often hangs out in the shade created by the jungle canopy above, and it is worth keeping your eye out to the blue for the odd hammerhead or manta.
If this wasn't enough, Milne Bay is also a world-class muck diving destination and the jewel in the crown is Lawadi. All manner of critters can be found lurking in the volcanic sand, from mimic octopus to frogfish and colourful nudibranchs.
?>
?>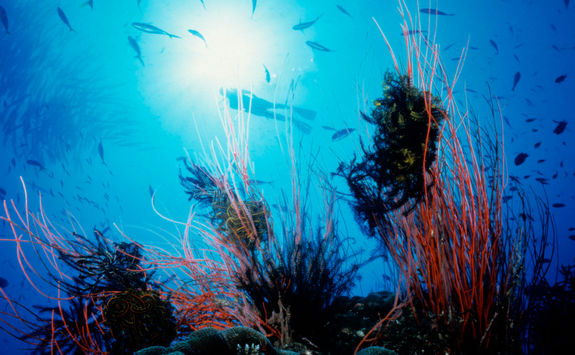 ?>
Milne Bay is considered the birthplace of muck diving so make the most of the incredible critters while still being able to enjoy pristine reefs close to the resort, and the chance for bigger fish as you head out to the Nuakata Islands.

Additional Activities
At dawn, take a 30 minute hike up the hill to see a red bird of paradise who regularly comes to dance and attract female partners. You may also see other bird species en route as you trek through the denser forest
Take a day off diving to hike across the mountain ridge which rises behind the resort. The views from here of the coastline and rainforest canopy are spectacular
Take a day trip to the Dei Dei hot spring on Fergusson Island. These natural hot springs erupt every so often and the locals still use them for their cooking.