The Best of Papua New Guinea
Who: Couples and Solo Travellers
From £5,515pp
Ultimate Papua New Guinea
On this two-and-a-half week itinerary stay in three of the best diving destinations in Papua New Guinea, including the extraordinary reef structures and muck diving sites of Milne Bay, swirling schools of barracuda in New Britain and deserted reefs and beautiful topside scenery in Tufi. It doesn't get much better than this.
Itinerary at a Glance:
Head to Milne Bay, staying at the wonderfully remote Tawali to experience stunning reefs and particularly good muck diving
Get some more dives in at Kimbe Bay, with particular highlights including Bradford Shoals, Inglish Shoal and a Japanese Zero wreck
Explore the spectacular fjords of Tufi both above and below the waves and then head to the offshore sites for world-class marine life in unbeatable visibility
Why Book with Original Diving?
Just a few of the extra touches that come as standard on an Original Diving holiday...
See More
All of the holidays we create are completely tailor-made to you
This sample itinerary is intended to give you a flavour of what we can do
Day 1:

International Flight
This evening you will depart for the adventure of a lifetime. You will take a direct overnight flight from London to Singapore, taking just under 13 hours.
Day 2:

International Flight
You will land in Singapore in the afternoon and will have three hours to collect your bags and proceed to check-in for your flight to Port Moresby, again overnight and taking around six-and-a-half hours.
Day 3:

Arrive in Papua New Guinea
Your flight lands early in the morning in Port Moresby and you will then connect onto a domestic flight to Alotau in Milne Bay, taking one hour and 10 minutes.
On arrival in Alotau, you will be privately transferred for an hour to a sleepy jetty to board your boat for a short 15 minute transfer around the peninsula to Tawali Dive Resort. Enveloped by thick jungle in a secluded bay, Tawali Dive Resort towers 60ft from the sea, connected by wooden stairs and hardwood decking that snakes through the jungle. Once you have checked in, spend the rest of the afternoon exploring your local surroundings.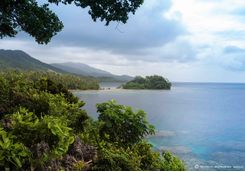 For the next three days, dive to your heart's content in the spectacular underwater world of Milne Bay.
While there are many diving highlights here, all boasting pristine, vibrant coral and magnificent marine life, there are two particularly magical dive sites not to be missed. The first is Deacon's Reef which is made up of tower-like structures and bommies, forming gullies and swim-throughs which you can pootle around in in crystal clear visibility. These structures are drenched in hard and soft corals, as well as bright red sea whips that climb up from the reef plateau at around eight metres. A giant trevally often hangs out in the shade created by the jungle canopy above, and it is worth keeping your eye out to the blue for the odd hammerhead or manta.
If this wasn't enough, Milne Bay is also a world-class muck diving destination and the jewel in the crown is Lawadi. All manner of critters can be found lurking in the volcanic sand, from mimic octopus to frogfish and colourful nudibranchs.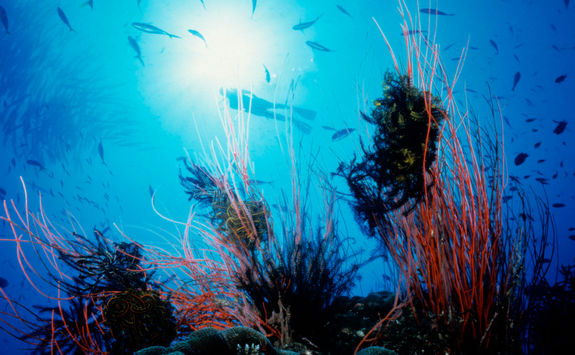 Milne Bay is considered the birthplace of muck diving so make the most of the incredible critters while still being able to enjoy pristine reefs close to the resort, and the chance for bigger fish as you head out to the Nuakata Islands.

Additional Activities
At dawn, take a 30 minute hike up the hill to see a red bird of paradise who regularly comes to dance and attract female partners. You may also see other bird species en route as you trek through the denser forest
Take a day off diving to hike across the mountain ridge which rises behind the resort. The views from here of the coastline and rainforest canopy are spectacular
Take a day trip to the Dei Dei hot spring on Fergusson Island. These natural hot springs erupt every so often and the locals still use them for their cooking.
Today you will head out from Tawali to explore some of the interesting sites of this region above the waves.
This is not necessarily to everyone's taste but we recommend a visit to the underground skull cave (part of an ancient native practice) which you reach by a wooden stairway built by the local villagers, who will also take the opportunity to show you their handicrafts.
After visiting the cave, you will head with your guide to some local waterfalls via a 40 minute walk through the lush forest. Here you can take a break and go for a cool dip before heading back down to the resort.
This morning it is time to head on to the next diving paradise. You will be transferred back to the airport by boat and car before taking your connecting flights via Port Moresby to Hoskins on the island of New Britain.
Once you have cleared customs, you will be met by a representative of the resort and transferred 90 minutes by road to Walindi Plantation Resort. Enjoy the contrasting landscape coming from the lush, tropical jungle of Milne Bay to the endless rows of palm plantations with volcanoes towering behind.
Days 9-11:

Dive Spectacular
The next few days will be spent diving the spectacular reefs of Kimbe Bay.
There are over 40 dive sites in the bay ranging from the famous Japanese Zero to closer reefs overflowing with gorgonians, and the offshore reefs which take a little longer to get to but are well worth the journey.
One of the best dive sites is Bradford Shoals which takes around one hour and 15 minutes to reach but, once there, will not disappoint. This seamount rises up to around 21 metres with the reef structure being mostly made up of flat plates of hard coral. Swirling above the reef is a huge resident school of barracuda that forms tornado-like schools and is quite simply breathtaking. With a camera in hand, the opportunities to snap stunning photos are endless and without, just sit back and enjoy the spectacle. Add to this trevally, tuna, fusiliers and reef sharks patrolling the reef and this dive site is hard to beat.
Additional Activities
After dinner, take a quick five minute drive to the firefly trees where these tiny beetles pulse and flash in synchronisation
Visit the Talasea WWII Plane Wrecks just a 40 minute drive from the resort. Here you will find an abandoned NZ4522 and B-25H Mitchellin
For those that like something more strenuous, take a three hour walk up the active volcano Gabuna. The trail takes you through primary rainforest and leads you into the dramatic scorched valley with steaming vents, hot streams and volcanic rubble
Today, you will explore the wildlife above the waves in New Britain, specifically the birds. While there are no birds of paradise in this part of Papua New Guinea (PNG), it is particularly famous for the birding and there are some wonderful species to spot.
There are a number of different tours to choose from but on this full day tour, you will explore the upland forest habitat. Hike up a jungle track to around 600 metres (good fitness required) and your guide will help you spot some of the 50 bird species recorded here. Over half of them are endemic to the Bismarck Archipelago so for bird lovers, this can be a very rewarding trip. Bird watching is best either at dawn or dusk so it is worth incorporating one of these times of day in your tour.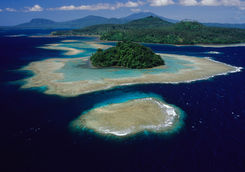 New Britain is known to be a great spot for birding as well as diving so either combine the two or pick one – you will not be disappointed!

Today, head back to the airport for your flight back to Port Moresby and then on to the tiny, gravelled airstrip of Tufi. The total flight time with stopover is around five and a half hours.
On arrival into Tufi, a member of the resort will pick you up in a 4x4 and transfer you less than five minutes to the resort. Enjoy the rest of the afternoon at leisure soaking up your new surroundings. Tufi is situated in a breathtaking position, perched at the end of one of the finger-like strips of land making up this fjord system. Grab a beer and admire the views either out to the fjords or to the endless open ocean, where underwater wonders await.
Days 14-16:

Diving in Tufi
Enjoy the next few days getting to know the amazing dive sites of Tufi. This spot feels a million miles from anywhere and you are probably more likely to see a hammerhead here than anywhere else.
The dive sites closest to the resort are located within the fjords which makes for great diving if the wind prevents a journey out to the offshore sites. The visibility is a little lower but there are some lovely corals, including table corals 10ft wide and superb elephant ear coral of all shapes. The wharf dive is a fascinating muck dive, full of all sorts of critters among the rubble and worth a visit at dusk to see the entrancing mandarin fish mating dance.
Heading further afield will take you to the offshore sites where the diving is some of the most remote and spectacular on earth. Around an hour's boat journey from the resort, these sites are exploding with marine life including reef sharks, rays, pelagic schools, cuttlefish and hammerheads. The sites out here are blessed with extraordinary visibility caused by the ocean's current up-welling, often in excess of 40 metres. Mulloway is one of our favourite sites, with hammerheads regularly seen and an incredible giant clam on the safety stop.
Tufi is home to some of the best diving in PNG as well as being one of the most beautiful spots above the waves. Very few others come here to dive so it feels like you are diving one of the last untouched reefs.

Additional Activities
Take a walk up the fjord to spot all manner of flora and fauna, particularly birds and butterflies. Tufi is home to the world's largest and very rare butterfly, the Queen Alexandra Bird Wing, that can have a wingspan of up to 28cm
Take a kayak into the fjords which are over 100m deep, where cliff faces are a few hundred feet high, shrouded in rainforest
Day 17:

Epic Scenery & Tribal Tradition
Today, you will head off on a tour of McLaren Harbour.
The resort will take you up one of the fjords by speedboat. Where the fjord becomes too narrow, you will be met by local villagers on outrigger canoes in traditional dress. They will take you on their outriggers deep into the inner reaches of the fjord where spirits and sorcery run wild.
Once you reach the end of the fjord, they will walk you through the rainforest to a sacred area and show you how to make sago (a staple food of this region), teach you about bush medicines, fire making, mat making and traditional tattooing. They will also give a couple of demonstrations, including a sing-sing (a celebratory festival of local tribes). Once finished, they will paddle you back to the boat and you will take the short journey to Komoa Beach.
You will spend the rest of the afternoon enjoying this lovely stretch of white sandy beach where you can snorkel on the reef or relax in the sun. Enjoy a barbecue for lunch while you soak up these beautiful surroundings. You will head back to the resort in the afternoon.
Sadly, today it is time to leave this paradise and start your journey back home. You will be transferred back to the airstrip for a short 50 minute flight back to Port Moresby.
You will likely have a stopover in Port Moresby before taking your onward flight, most likely via Singapore if you're returning to the UK.
All of the holidays we create are completely tailor-made to you
This sample itinerary is intended to give you a flavour of what we can do
A Rough Idea of Price
While all of our holidays are completely tailor-made and prices will vary based on things like time of year and level of accommodation, we want to give you as good an idea of how much this itinerary will cost. The below prices are based on two people sharing.
This Itinerary
If you would like to book the exact itinerary mentioned above, with economy flights, during mid-season and staying in our preferred room category at our preferred hotels.
Bare Necessities
If you would like to pare back the above itinerary by travelling at non-peak times, staying in a standard room and removing some or all of the guided activities.
Bells & Whistles
If you are looking for something extra special and would like to add business or first class flights, stay in top room categories at some of the most luxurious hotels we work with, and add more activities and guiding.
Emily C, Eleanor and Jacqui are our experts for this itinerary and as seasoned travellers they have the inside track on the most memorable adventures.