Family Diving Fiji
Who: Couples and Families
From £4,705pp
A Family Diving Adventure in Fiji
Create lots of special family memories staying at the amazing Jean-Michel Cousteau Resort in Fiji. See some of the world's best soft coral in nearby marine reserves while the kids are entertained in the brilliant kids club. Take them to local villages and waterfalls to marvel at the beauty of this amazing country.
Itinerary at a Glance:
Dive in the soft coral capital of the world
Stay at a beautiful resort with the South Pacific's best kids club
Explore the surrounding rainforest by walking to waterfalls or exploring by kayak
Visit a local Fijian village to see what Fijian life is like and watch a traditional dance
Why Book with Original Diving?
Just a few of the extra touches that come as standard on an Original Diving holiday...
See More
All of the holidays we create are completely tailor-made to you
This sample itinerary is intended to give you a flavour of what we can do
Days 1-2:

International Flight
It's time for your trip to Fiji! While a 26 hour flight from the UK might be more tolerable with teens than with tots, those flying from the States have no such problem and should top up the iPad with the latest series to keep young scallywags at bay.
Day 3:

Say Bula (Hello) to Fiji
You will arrive into Nadi early in the morning and connect onto a flight to Savusavu. This domestic flight will take around one hour and ten minutes.
Upon arrival, you will be met by your driver and transferred 20 minutes to paradise: The Jean-Michel Cousteau Resort. Upon arrival you will be shown to your beautiful oceanfront bure. The bure has two bedrooms so you can keep the kids close by but still have some privacy. Relax into your new home this afternoon and organise your diving for the coming days.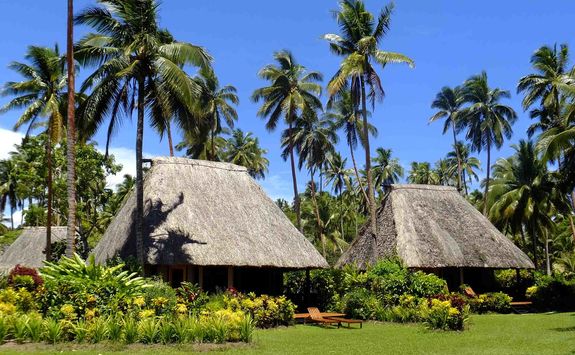 Day 4:

Settle into Island Life
Take your first full day at the resort to relax into your new beautiful surroundings.
There is so much to explore here, from the exotic wonders that flourish in the botanical garden to towering waterfalls and hidden natural pools which can be reached by hiking through the lush tropical jungle. Sun worshippers, meanwhile, can pull up a sunbed by the pool or on the picture perfect beach.
Kids will love the Bula Club which offers a wealth of fun activities to educate and initiate them into island life. While they meet their buddy (who will supervise them and lead a range of activities to keep them occupied during your stay), indulge in a spa treatment, join the morning group yoga session or book yourself into a private session with one of the resort's yoga instructors.
Days 5-7:

Diving Close to the Resort
Take the first few days to get used to being back in the water by doing some relaxed, but beautiful, reef dives close to the resort.
Fiji is the soft coral capital of the world (official title) so you're in for a real treat. While you are out diving there is plenty to keep the kids occupied at the Bula Club where, supervised by their buddy, they can play all sorts of games, take part in educational activities, swim in their own pool (complete with slide, natch), play in the jungle gym, on the zip-line, trampoline or in the arts and crafts centre. If the kids are already water babies then they can do a bubble maker course to introduce them to the watery world of diving (which we highly recommend).
Day 8:

Diving the Namena Marine Reserve
Today you will dive the world-famous Namena Marine Reserve.
Located a 40 minute boat ride from the resort, the reserve forms part of the migratory pathway for a number of cetacean species including bottlenose and spinner dolphins, pilot, minke, sperm and humpback whales. Humpback whales are also thought to calve in this area so keep your eyes peeled! The reserve is also home to thousands of endemic fish species and invertebrates, as well as hundreds of colourful coral species. Away from the reefs you will see lots of pelagic species including sharks, tuna and schools of barracuda.
If you can draw the kids away from the kids club, spend an afternoon exploring the mangroves nearby with a marine biologist, assisting in planting mangrove seedlings.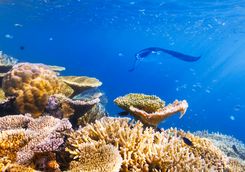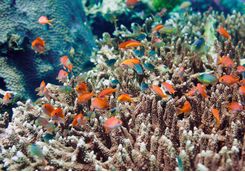 Make sure you dive Dreamhouse, which is well-known for hammerhead sharks preying on schools of barracuda.
Day 9:

A Morning of Fishing and an Afternoon Kayak
Today you will spend a leisurely morning fishing followed by an afternoon discovering deserted beaches by kayak.
These waters are full of life and you will troll for fish, a method which involves dragging baited hooks behind the boat. You are likely to catch a range of pelagic species such as tuna, mahi-mahi, wahoo and marlin.
In the afternoon, bring the whole family along for a kayak or paddleboard around the beautiful local shoreline, exploring the local mangroves and finding some deserted beaches to enjoy all to yourselves.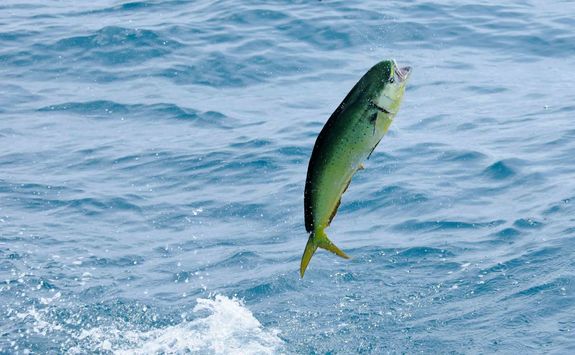 Day 10:

Visit a Traditional Fijian Village
Spend a leisurely morning relaxing on the beach or snorkelling straight from the shores in search of nemo.
In the afternoon, you can visit a traditional Fijian village, Nukubalavu, where you will be immersed in the Fijian culture, meeting the village chief and enjoying some traditional dance performances. You can also sit with one of the elders and learn about ancient folklore, which spans over 3,000 years.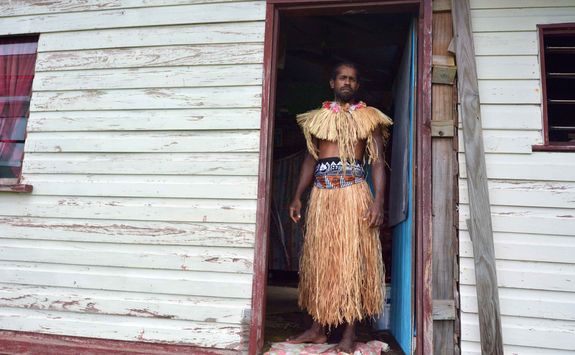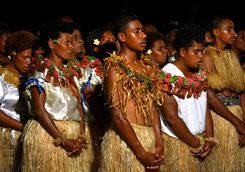 Day 11:

More Diving at Namena Marine Reserve
Today head back to the Namena Marine Reserve to tick off some of the dive sites you missed on your last visit.
Dive through kaleidoscopic, coral-covered swim throughs where you can see an amazing array of animals, from small nudibranchs, clams and gobis up to large fans and schools of reef and pelagic fish. The reserve is carpeted with coral gardens boasting some of the best soft corals you will see anywhere in the world, covered in reef fish and macro life.
Fiji is known as the soft coral capital of the world and the best of this is on show in the Namena Reserve
Days 12-14:

Explore, Explore and Explore Some More
Spend the next few days making the most of island life.
Spend delightfully slovenly days parked up on the beach, snorkel the house reef to spot its colourful critters and set sail to the surrounding islands. For landlubbers, take a guided medicine tour inland to discover the medicinal properties of the ancient fauna, play volleyball on the beach and channel your inner Novak Djokovic or Serena Williams playing a family tennis tournament (we could go on…).
One evening, after the sun has set, try a night dive close by to watch the nocturnal behaviour of the marine life on the reef.
Sadly it is time to leave this beautiful resort. We hope you have made lots of special family memories. After a short drive to the airport you will fly to Nadi to board your flight home.
All of the holidays we create are completely tailor-made to you
This sample itinerary is intended to give you a flavour of what we can do
A Rough Idea of Price
While all of our holidays are completely tailor-made and prices will vary based on things like time of year and level of accommodation, we want to give you as good an idea of how much this itinerary will cost. The below prices are based on two people sharing.
This Itinerary
If you would like to book the exact itinerary mentioned above, with economy flights, during mid-season and staying in our preferred room category at our preferred hotels.
Bare Necessities
If you would like to pare back the above itinerary by travelling at non-peak times, staying in a standard room and removing some or all of the guided activities.
Bells & Whistles
If you are looking for something extra special and would like to add business or first class flights, stay in top room categories at some of the most luxurious hotels we work with, and add more activities and guiding.
Emily C, Eleanor and Jacqui are our experts for this itinerary and as seasoned travellers they have the inside track on the most memorable adventures.