Today you will dive the world-famous Namena Marine Reserve.
Located a 40 minute boat ride from the resort, the reserve forms part of the migratory pathway for a number of cetacean species including bottlenose and spinner dolphins, pilot, minke, sperm and humpback whales. Humpback whales are also thought to calve in this area so keep your eyes peeled! The reserve is also home to thousands of endemic fish species and invertebrates, as well as hundreds of colourful coral species. Away from the reefs you will see lots of pelagic species including sharks, tuna and schools of barracuda.
If you can draw the kids away from the kids club, spend an afternoon exploring the mangroves nearby with a marine biologist, assisting in planting mangrove seedlings.
?>
?>
?>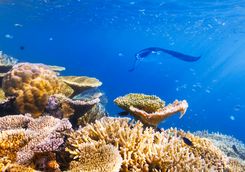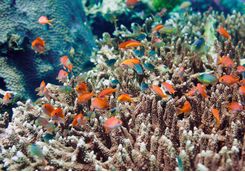 Make sure you dive Dreamhouse, which is well-known for hammerhead sharks preying on schools of barracuda.