Island Hopping in Fiji
Who: Couples and Families
From £6,285pp
Spend two weeks island hopping across Fiji in Taveuni and Beqa Lagoon, two of the best dive spots in Fiji. See some of the world's best soft coral reefs and get up close and personal with several species of shark, spending surface intervals exploring these Robinson Crusoe-worthy Fijian islands.
Itinerary at a Glance:
Relax in two beautiful tropical island paradise resorts
Dive the 'soft coral capital of the world'
Enjoy close encounters with a plethora of sharks, including bull and tiger sharks
Why Book with Original Diving?
Just a few of the extra touches that come as standard on an Original Diving holiday...
See More
All of the holidays we create are completely tailor-made to you
This sample itinerary is intended to give you a flavour of what we can do
Days 1-2:

International Flight
Wave goodbye to work and prepare for paradise because today you depart for Fiji.
You will fly from London to Nadi via Los Angeles, arriving into Fiji two days later (as you will be crossing the international date line), taking around 26 hours.
This morning you will arrive into Nadi airport where you will board your domestic flight to Taveuni island.
Keep your eyes glued to the window as you fly over Fiji's famed turquoise waters and reefs on the 90-minute flight. Upon arrival you will be driven through the lush interior to the boat terminal, taking around 20 minutes, before boarding the boat to Qamea island, which will take ten minutes.
The journey might be long but trust us, it's worth it as you have now arrived at your home in paradise for the next week. Once you've checked in head to the beach for sundowners over a magnificent sunset before feasting on freshly caught fish for supper.
Days 4-8:

Diving The 'Soft Coral Capital Of The World'
You will have six days at leisure at Qamea to enjoy the numerous dive sites close by, including those located in the famous Somosomo Strait.
A narrow stretch of sea wedged between the islands of Vanua Levu and Taveuni, the Somosomo Strait houses some of the best soft coral gardens in the world in the aptly named rainbow reef. Be sure not to miss the White Wall, Yellow Wall and Purple Wall sites, which feature stunning walls completely covered in corals and attract a wealth of marine life, including reef sharks, mantas, hammerhead sharks and even the odd whale shark.
Additional Activities
Kayaking
Paddleboarding
Surfing
Day 9:

Welcome to the Jungle
Put on your walking shoes to explore the lush jungle-clad mountains and valleys of Qamea island.
Hike through the jungle to spot tropical birds, cooling off in hidden waterfalls, rivers and rock pools and discovering deserted beaches. Alternatively, circle Qamea island on a boat, stopping off to snorkel and have a barbecue on a deserted beach à la Robinson Crusoe.
A guide will accompany you on all of these trips and will be able to explain the history of the island and point out lots of different species of flora and fauna, including the distinctive Qamea orange dove which is indigenous to Fiji.
Day 10:

Say Bula (Hello) to Beqa Lagoon
Today you will hop from one paradise to another as you travel to Beqa Lagoon.
After a leisurely breakfast you will fly back to Nadi where you will take a short flight to Pacific Harbour, followed by a 30-minute boat ride to the island. Once you have checked in, spend the afternoon exploring the island. With only 16 villas the Royal Davui offers a real private island experience, whether sunbathing on your villa's private sun deck or exploring swathes of deserted sandbanks. If you're eager to explore the underwater world you can snorkel straight from the island's shores or, for a more relaxed setting, indulge in a spa treatment.
Day 11:

A Sharky Encounter
While Beqa is home to dramatic walls, caves, overhangs and, of course, soft and hard corals, the main draw lies in the shark diving.
Home to some of the best shark diving in the world, you will have the opportunity to dive with an incredibly diverse, and abundant, range of sharks. During shark encounter dives you will descend to a depth of around 20 metres and take up position behind a coral wall at a safe distance. The divemasters will chum the water to attract the sharks while you sit back and watch the action unfold in front of you. Huge numbers of fish are also attracted to the site and if you're lucky a large tiger shark will cruise by.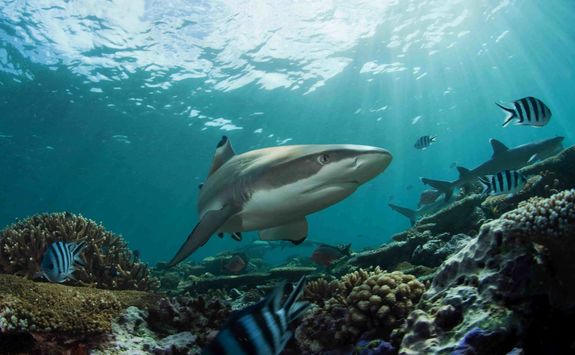 The shark encounter dive is truly spectacular – you can see up to eight species of sharks including bull and tiger sharks
Day 12:

Diving In Beqa Lagoon
After all the action of the shark dives yesterday, you will have a chance to enjoy some more relaxed diving.
Caesar's Rocks is a particularly well-known dive site, boasting incredible topography with several coral-lined tunnels. Marine life at the site includes everything from small macro animals such as nudibranchs and blennies up to large pelagics, including schools of tuna, turtles and, if you're lucky, mantas. Other sites such as Carpet Cove, E.T and Fantasea are also all guaranteed to impress with beautiful corals and lots of fish life.
Today, take the opportunity to visit nearby Beqa island.
On the island, visit a local village to meet some of the famously friendly Fijian people and see what life in rural Fiji is like. For active adventurers, combine this trip with a hike to the top of the island, Ulnkoro mountain which, at 460 metres high, offers spectacular views over the coastline and beyond.
End the day with a lovely sunset cruise complete with sparkling wine and canapes before ending the night with a private dinner under the stars in the beach hut.
Sadly it is time to leave this beautiful country and head back to the UK.
Spend a final morning soaking up the island life (we thoroughly recommend a final spa treatment), before being transferred back to the mainland by boat. You will then take a short 25-minute flight back to Nadi. From Nadi you will fly back to the UK via Los Angeles, taking around 26 hours.
You will arrive back in to London Heathrow in the late morning.
All of the holidays we create are completely tailor-made to you
This sample itinerary is intended to give you a flavour of what we can do
A Rough Idea of Price
While all of our holidays are completely tailor-made and prices will vary based on things like time of year and level of accommodation, we want to give you as good an idea of how much this itinerary will cost. The below prices are based on two people sharing.
This Itinerary
If you would like to book the exact itinerary mentioned above, with economy flights, during mid-season and staying in our preferred room category at our preferred hotels.
Bare Necessities
If you would like to pare back the above itinerary by travelling at non-peak times, staying in a standard room and removing some or all of the guided activities.
Bells & Whistles
If you are looking for something extra special and would like to add business or first class flights, stay in top room categories at some of the most luxurious hotels we work with, and add more activities and guiding.
Emily C, Eleanor and Jacqui are our experts for this itinerary and as seasoned travellers they have the inside track on the most memorable adventures.