Riviera Maya Diving
Who: Couples, Honeymoons, Families and Solo Travellers
From £5,540pp
Diving and Relaxation on the Riviera Maya
Relax, dive and explore in the beautiful Riviera Maya. Inland, dive in the crystal clear water of unique cenotes, while out to sea, discover the colourful corals, turtles and bull sharks of the Mesoamerican reef. On land, explore ancient Mayan ruins and revel in the amazing biodiversity of the Sian Ka'an biosphere reserve.
Itinerary at a Glance:
Dive the world's second largest barrier reef, the Mesoamerican reef
Dive the freshwater-filled, stalactite-lined cenotes
Dive with bull sharks
Explore the ancient Mayan ruins at Tulum
Take in the amazing flora and fauna of the Yucatan Peninsula in the Sian Ka'an biosphere reserve
Why Book with Original Diving?
Just a few of the extra touches that come as standard on an Original Diving holiday...
See More
All of the holidays we create are completely tailor-made to you
This sample itinerary is intended to give you a flavour of what we can do
Day 1:

International Flight to Cancun
Aaaaand relax… this afternoon you will depart London Gatwick for Cancun which, taking around 11 hours, will arrive at around 1900.
Upon arrival you will be privately transferred to your hotel on the Riviera Maya coastline, which will take around 35 minutes. Once you've checked in, settle into your beautiful new surroundings with a cocktail on the beach followed by a delicious Mexican feast, and perhaps even a Mezcal (you are on holiday, after all).
Day 2:

Turtle-y Awesome Diving
Today you will delve below the glistening turquoise ocean to discover the nearby Tortugas (turtle) and Barracuda reefs.
On the aptly named Tortugas Reef, mingle with endless hawksbill (and the occasional loggerhead) turtles, as well as a wealth of other marine species including barracuda, jacks, snappers, stingrays and moray eels.
After a surface interval soaking up the sun, giant stride back into the water to explore Barracuda Reef, a wall punctured with small caverns and overhangs, filled with large schools of fish, including grunts and snappers, as well as giant morays, seahorses and turtles. Depending on your air consumption you may be able to drift down towards the next dive site, Sabalos, where you will see large schools of colourful fish, as well as barracudas and giant groupers.
In the afternoon, if you are still feeling adventurous, take a bicycle tour into the jungle surrounding the hotel to spot its exotic inhabitants, including coatis and spider monkeys.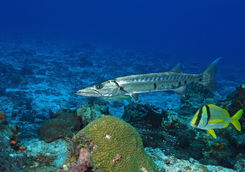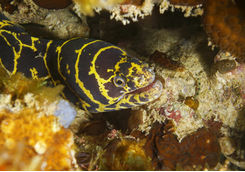 Day 3:

Dive the Local Sites
Spend the day exploring some of the other local sites that pepper the coastline, such as Cerebros and Los Arcos.
Cerebros, meaning brains, is named so after the large brain corals that carpet the reef. You will find lots of interesting coral formations that provide a home to hordes of marine life, including turtles, lobsters, jacks, groupers, eels and crabs.
Los Arcos is named after the two underwater arches under which you will find lots of schools of fish, moray eels and crustacean species sheltering. The wall sections are covered in hard corals, sponges and fan corals. On the sandy areas around the corals you are likely to encounter turtles, groupers and stingrays.
Day 4:

Rise and Shine at Tulum's Ruins
It's an early start this morning for your privately guided sunrise tour of the ancient Mayan walled city of Tulum.
You will be privately transferred to the ruins which will take around one hour by car. Upon arrival, your guide will lead you in your exploration of Tulum's most interesting sites, explaining each monument's fascinating past and uncovering Mayan traditions, including El Castillo, the Temple of the Frescoes and the Temple of the Descending God. The walled city rests along the coastline giving spectacular vistas over the ocean as the sun rises, and you will also have a chance to swim from the beach beneath the ruins to look up at Tulum's iconic "Castillo" from below.
Day 5:

An Entrance to the Underworld
The ancient Mayans believed that the cenotes that dot the Yucatan Peninsula were portals to the underworld, and today you will get to explore them.
The Yucatan Peninsula is essentially a large limestone platform, underneath which fresh water runs through underground cave systems. Sections of this land collapsed creating sink holes called cenotes, which are filled with fresh water so clear that diving feels like flying, and while there are over 7,000 cenotes, we've arranged for you to dive two of the best: The Pit and Dos Ojos.
Don't be fooled by The Pit's small entrance, as once you've descended below the surface it opens out into a huge cavern in HD visibility. Marvel at the stalactite-covered walls as you descend, passing through a fuzzy halocline (where fresh and salt water mixes) and a hydrogen sulphide cloud where tree branches protrude (it's all very Tim Burton).
Dos Ojos (meaning two eyes) is more of a closed underwater cave system where you swim between the stalactites with two lines to follow. The bat-cave line takes you into a large underground, air-filled cave which is home to thousands of bats before you return back to the entrance and see daylight penetrating the turquoise water from the outside.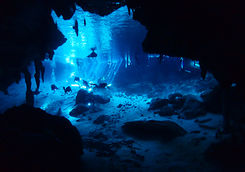 Dive The Pit when the sun is at its highest and you'll see the beams of light that penetrate through the water, lighting up the entire cave like the filament in a lightbulb.

Day 6:

Dive with Bull Sharks
During the summer months when the water temperature is a little lower, the Riviera Maya is visited by bull sharks.
The resort's dive centre works with the local 'Saving Our Sharks' project, which tracks the bull sharks visiting the area so they can be effectively protected and managed, and you can dive with these incredible predators in a safe and controlled way, descending to the sandy bottom and watching as these powerful creatures swim around in front and around you.
After the dives, you will be brought back to the hotel where you can spend the rest of the day relaxing on the beautiful beach or by the pool.
Additional Activities
Dive or snorkel Casa Carwash cenote and discover an underwater Eden, carpeted with lily pads and tiny terrapins
Dive Cenote Angelita which, at 30 metres, reveals an eerie island of trees surrounded by a thick halocline cloud, much like being in another world entirely
Day 7:

Sian Ka'an Biosphere Reserve
Today you will have a chance to visit one of the largest protected areas in Mexico, Sian Ka'an Biosphere Reserve.
Located a two hour drive south of the hotel, the area was designated as a biosphere reserve in 1986 and is home to thousands of exotic bird, animal and plant species. You will board a boat and glide through the lagoons and mangroves, keeping an eye out for ancient Mayan temples (Xlapak temple in particular), crocodiles, birds and even manatees.
As the boat emerges from the mangroves and into the ocean, grab your mask and snorkel to spot dolphins, turtles, manatees, up to 500 species of fish and lots of beautiful corals. After snorkelling you will be taken to some beautiful beaches nearby to relax in paradise with a picnic before heading back to the hotel.
Sadly it's the end of your Mexican immersion as you depart for home. You will be privately transferred to the airport in plenty of time for your direct flight back to London, which will take around 11 hours.
All of the holidays we create are completely tailor-made to you
This sample itinerary is intended to give you a flavour of what we can do
A Rough Idea of Price
While all of our holidays are completely tailor-made and prices will vary based on things like time of year and level of accommodation, we want to give you as good an idea of how much this itinerary will cost. The below prices are based on two people sharing.
This Itinerary
If you would like to book the exact itinerary mentioned above, with economy flights, during mid-season and staying in our preferred room category at our preferred hotels.
Bells & Whistles
If you are looking for something extra special and would like to add business or first class flights, stay in top room categories at some of the most luxurious hotels we work with, and add more activities and guiding.
Emily C, Eleanor and Jacqui are our experts for this itinerary and as seasoned travellers they have the inside track on the most memorable adventures.