The ancient Mayans believed that the cenotes that dot the Yucatan Peninsula were portals to the underworld, and today you will get to explore them.
The Yucatan Peninsula is essentially a large limestone platform, underneath which fresh water runs through underground cave systems. Sections of this land collapsed creating sink holes called cenotes, which are filled with fresh water so clear that diving feels like flying, and while there are over 7,000 cenotes, we've arranged for you to dive two of the best: The Pit and Dos Ojos.
Don't be fooled by The Pit's small entrance, as once you've descended below the surface it opens out into a huge cavern in HD visibility. Marvel at the stalactite-covered walls as you descend, passing through a fuzzy halocline (where fresh and salt water mixes) and a hydrogen sulphide cloud where tree branches protrude (it's all very Tim Burton).
Dos Ojos (meaning two eyes) is more of a closed underwater cave system where you swim between the stalactites with two lines to follow. The bat-cave line takes you into a large underground, air-filled cave which is home to thousands of bats before you return back to the entrance and see daylight penetrating the turquoise water from the outside.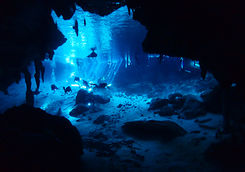 Dive The Pit when the sun is at its highest and you'll see the beams of light that penetrate through the water, lighting up the entire cave like the filament in a lightbulb.