Today you will do your last dives of the trip in cenotes close to Tulum.
Cenotes are sinkholes filled with water, formed by the collapse of the region's limestone bedrock, which were believed to be portals to the underworld by ancient Mayans. While there are hundreds scattering the Yucatan Peninsula, we have a few favourites to recommend, which are very different from diving in the sea.
Head first to El Pit cenote which is a large cavern with a small opening, letting in beams of light that penetrate the crystal clear freshwater like the filament of a lightbulb. Do a loop of the cenote starting down at the deepest point where there is a small sulphur cloud then head back up through the halocline (where the fresh and salt waters mix) - you will see strange formations in the walls and get views of the light from different angles.
After a surface interval, head to Dos Ojos cenote where you can do two dives along different lines into separate caverns. In one of the caverns you can surface in a cave which has bats living in it. This cenote is very different to the pit in that you are swimming between stalactites, stalagmites and other formations to caverns with less light coming in from the outside. Alternatively head to cenote Angelita for your second dive. Angelita is a large pool which opens suddenly from the jungle. During the dive you will swim through a large sulphur cloud which leads to what appears to be a dark underwater forest rising from the floor.
?>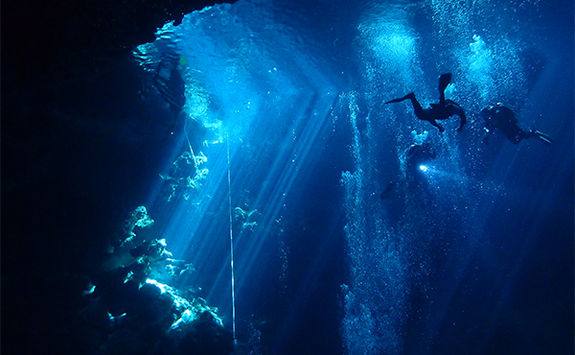 ?>
?>
?>