Island Hopping Asia
Who: Couples, Honeymoons, Families and Solo Travellers
From £5,515pp
Singapore and Raja Ampat Twin Adventure
Combine three very different experiences in one itinerary. Wander the bustling streets of Singapore one food stall at a time, dive some of the world's most superb coral reefs straight from your room in Raja Ampat and discover the lush green rice paddies and active volcanoes of Yogyakarta.
Itinerary at a glance:
Explore Singapore's buzzing streets, one delicious street treat at a time
Head to the final frontier at Misool Eco Resort and dive pristine surrounding reefs - it is located smack bang in the centre of the Coral Triangle, after all
Feel tiny against humongous, impressive Buddhist temples in Java
Why Book with Original Diving?
Just a few of the extra touches that come as standard on an Original Diving holiday...
See More
All of the holidays we create are completely tailor-made to you
This sample itinerary is intended to give you a flavour of what we can do
Day 1:

International Flight
Your overnight international flight leaves London in the evening and takes nearly 13 hours to Singapore. Plenty of time to snooze or catch up on the latest box sets on your iPad.
Day 2:

Arrive in Singapore
The flight lands at Singapore Changi Airport in mid-afternoon the following day.
Once you have passed through customs, you will be met by one of our team for the private transfer to your hotel. Spend this evening relaxing before getting stuck in to this most under-rated city.
Spend the next couple of days exploring Singapore.
Having thrown off its reputation for stuffy efficiency, Singapore has now emerged as one of the most enjoyable cities in Southeast Asia, and arguably the region's culinary capital. Split into gastronomic pockets, eat your way from Little India to Chinatown, from fine dining extravaganzas to street food feasts to picnics in the leafy parks that dot the city. We can arrange for a food blogger guide to show you the street vendors you might otherwise miss, and our Concierge is also on hand to offer recommendations.
Once you're full (insider tip: you may never be, there is too much good food to indulge in), stroll the streets of Orchard Road for fashion galore, dip into times gone by in the antique centres of Chinatown or admire the Hindu Veeramakaliamman temple in Little India. Then watch the city come alive at night as the skyscrapers glitter while sipping on cocktails in a trendy rooftop bar.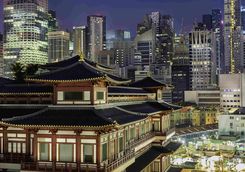 Day 5:

International Flight
Enjoy a leisurely last day in Singapore, maybe finding room for one last chicken rice lunch before departing to the airport for your evening flight to Sorong, via Jakarta.
The flight to the Indonesian capital takes two hours before the onward and overnight connection a couple of hours later to Sorong, which takes four hours.
Your flight arrives in Sorong in the early morning. You will be met by one of our team who will transfer you to the port, where the comfortable speed boat departs for Misool Eco Resort. This journey takes approximately five hours depending on weather conditions.
On the way, you'll speed past jungle-clad islands dotted across the open ocean. Look out to the water to spot large schools of tuna feeding on the surface. Whale sightings are also not unheard of, so keep your eyes peeled.
Check in to Misool Eco Resort where you will be shown to your overwater cottage, where you will be spending the next seven days.
A private resort island, staying at Misool Eco Resort is akin to getting well and truly off the grid. Wake up to views of the aquamarine lagoon encircled by emerald-green ridges and delighting to the sound of, well, nothing at all.
You can do up to three scheduled boat trips a day from the resort's dive centre, as well as a dusk or night dive. You can also explore the house reef any time of day, either from the dive centre or straight from your water cottage, armed with a mask and snorkel.
Dive from the jetty and drift north through the channel to spot a plethora of marine critters from schools of horse-eyed jacks to groupers and black tip reef sharks. Past the channel you will come to a drop off encrusted in colourful corals, including huge gorgonian sea fans, coral bommies and soft corals brimming with colourful reef fish as well as the more unusual creatures, such as nudibranchs and pygmy seahorse. No dive will ever be the same as new critters come out of the crevices.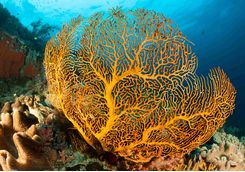 Days 8 – 10 :

Misool Eco Resort
Misool Eco Resort is all about relaxation. Spend your days here alternating between snorkelling and diving in the house reef, relaxing in the resort, indulging in sumptuous spa treatments (using local, organic ingredients, naturally) and diving the local reefs, of which 25 world-class dive sites are less than a 15-minute boat ride away.
One such dive site is Magic Mountain, a submerged pinnacle that attracts huge schools of pelagics, and which happens to also be a manta cleaning station. Keep your eyes peeled for the two species of manta rays that grace the area, as well as white tip reef sharks and Napoleon wrasse. Learn more about the majestic manta ray back at the resort's conservation centre, where the Misool Manta Project identifies and tags the visiting mantas (you can even help out, if you want).
Day 11:

Misool Eco Resort
Today, spend your day on land as you depart for a tour of the local villages.
Located just over an hour away by boat, you'll visit a traditional Papuan village. Continue your Indonesian immersion back at the hotel with a traditional cooking class to prepare crowd-pleasing dishes using exotic spices (think slow-cooked Sumatran coconut curries). If you're still feeling active, set out on a paddle boarding expedition to discover secret beaches and unexplored lagoons, paddling back into the sunset.
Additional Activities
Put on your walking shoes and set out on a self-guided flora and fauna trail, walking to 21 different spots around the island
Set out, binoculars in hand, on a birdwatching cruise to spot countless tropical birds, including sea eagles, cockatoos and hornbills
Day 12:

Misool Eco Resort
Following a final morning diving, or relaxing, spend the afternoon living the life of a castaway as you are dropped off to one of the resort's private, secluded beaches for a romantic beach experience.
Head back to the resort in time to watch the sun slip below the horizon then opt to explore the reef in a different light (literally) on a night dive. Or stay in the bar, cocktail in hand, and watch the night sky unfold (with no light pollution whatsoever, this is a very special place).
Additional Activities
One of the most original experiences out there - spend an afternoon immersed in a lake full of a million stingless jellyfish (seasonal)
Get dropped off on a deserted island armed with a picnic hamper and beers in time to watch the sky turn different hues of pink and orange at sunset
Look out for turtles, marbled stingrays and juvenile sharks on a boat ride through a mangrove forest
Spend the afternoon with the Misool Foundation's local Ranger Patrol learning about, and participating in, the areas ongoing conservation
Sadly, your time at Misool Eco Resort has come to an end. You will be transferred again by speedboat and car to your hotel in Sorong, where you will spend the night.
Day 14:

Arrive in Yogyakarta
This morning you will fly to Yogyakarta in Java, connecting in Jakarta again.
Once you have cleared customs, you will be met by one of our team on the ground and transferred out of the city and into the rural countryside, to the hotel of your choice where you can spend the rest of the day relaxing.
Characterised by hundreds of volcanoes (many still active), glimmering rice paddies and traditional villages, Java's great natural beauty is evident throughout its landscapes.
Spend the next two days immersing yourself in the island's rich heritage, visiting the impressive temples with a personal guide to explain the fascinating history behind these structures. Drink fresh coffee as you tour the Kaliklatak plantation and climb one of the active volcanoes dotting the island. We highly recommend taking a sunrise tour to the colossal Borobodur temple.
Sadly it's time to leave this paradise for home. This morning you will be picked up by your driver and transported to the airport in plenty of time for your direct flight to Singapore, which takes just over two-and-a-half-hours.
On arrival you will have a few hours in Singapore before your onward overnight flight back to the UK. Time to pop into town for one last 'death by dim sum', perhaps? Your flight takes 14 hours, leaving in the late evening.
Your flight lands back into London early in the morning.
All of the holidays we create are completely tailor-made to you
This sample itinerary is intended to give you a flavour of what we can do
A Rough Idea of Price
While all of our holidays are completely tailor-made and prices will vary based on things like time of year and level of accommodation, we want to give you as good an idea of how much this itinerary will cost. The below prices are based on two people sharing.
This Itinerary
If you would like to book the exact itinerary mentioned above, with economy flights, during mid-season and staying in our preferred room category at our preferred hotels.
Bare Necessities
If you would like to pare back the above itinerary by travelling at non-peak times, staying in a standard room and removing some or all of the guided activities.
Bells & Whistles
If you are looking for something extra special and would like to add business or first class flights, stay in top room categories at some of the most luxurious hotels we work with, and add more activities and guiding.
Emily C, Eleanor and Jacqui are our experts for this itinerary and as seasoned travellers they have the inside track on the most memorable adventures.