When it comes to diving, people sometimes fall into two camps: the die-hard divers who will happily dedicate their entire holiday to underwater exploring, and the landlubbers who prefer to spend their time above the waves. But what happens when you're trying to plan a holiday that appeals to both groups? Whether you're the only diver in your family or you haven't yet convinced your partner to join you beneath the waves, we can recommend the top dive destinations for non-divers that offer the perfect blend of above and below surface experiences. Read on for our top holiday destinations for a house divided… 
Indonesia
Indonesia boasts one of (if not THE) most breathtaking and biodiverse marine ecosystems on Earth. You can see manta rays and sharks, go muck diving, and hunt for macro life (think blue ring octopus, flamboyant cuttlefish, nudibranchs and pygmy seahorses). And with a whopping 17,000 islands in the archipelago, you can rest assured that your non-diving other half will have more than enough to keep them entertained. From trekking through the night for a volcano sunrise summit and learning the traditional method of cooking satay, to surfing and paddling along the coast, you'll want plenty of time to fit everything in.  
Mexico
With two drastically different but equally stunning coastlines, Mexico offers a diverse range of habitats for divers and non-divers alike. On Mexico's Yucatan Peninsula, situated in the calm warm waters of the Caribbean, healthy reef life abounds and world- renowned beaches are plentiful. Just off the coast of Cancun, you can go drift diving to see turtles, sharks and the illusive frogfish, while on land you can discover ancient Mayan ruins, snorkel the reefs and crystal clear cenotes, experience the intensely flavourful culinary scene and unwind on one of the many pristine beaches. The topaz waters of the Sea of Cortez on Mexico's west coast offer an equally astounding underwater playground. Hammerheads school in the hundreds; grey, blue, sperm and humpback whales congregate for their winter breeding grounds; huge dolphin pods play in the surf; and colonies of sea lions pepper the coastline. Further afield, 150 miles off Baja California, divers and non-divers alike can cage dive with great white sharks off the island of Guadalupe. 
Egypt
Year round, Egypt boasts clear, placid waters with thriving reefs that support all types of life. With water temps rarely dropping below 22 degrees Celsius, the ecosystem thrives. On a lucky day, you might spot dolphins, manatees, hammerheads, threshers and even tiger sharks here. Whether you're a lover of rainbow reefs, shipwrecks steeped in history or dramatic walls carpeted in soft corals, the Red Sea will not disappoint on all fronts. Topside, travellers can explore the plethora of cultural and monumental attractions Egypt is overflowing with. The Nile River Valley plays host to many iconic sites to wander and wonder at, including the Pyramids of Giza, the Valley of the Kings, the Great Sphinx, ancient bazaars, temples and much more.
The Bahamas
Shark- infested waters may put off most swimmers, but in the Bahamas, this term is the calling card for thrill- seeking divers who flock here for world-famous sites like Stuart's Cove (Nassau) and Tiger Beach (Grand Bahama). The Bahamas offers a backdrop pulled right from a Pirates of the Caribbean film - with soft white- sand beaches, lapped by turquoise waters and colourful local fare including conch fritters and rum cocktails. Both divers and non-divers can visit Pig Beach, where wild hogs swim out to greet you (take them snacks!). And, in true Hemmingway fashion, you can try your hand at deep sea fishing before lounging in the Bahamian sun, soaking in the surroundings that inspired the author's Islands in the Stream (among others). Meanwhile, below the vibrantly blue surface, lively reefs support myriad fish, and sandy bottoms pulsate with tiger, hammerhead, lemon and reef sharks. Snorkellers can even explore a crashed drug running plane from the Medellin Cartel era.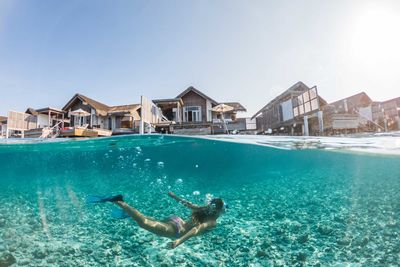 The Maldives
If a tropical climate, lush scenery, world-renowned chefs and warm waters rich with marine life describes your ideal holiday destination, consider putting the Maldives at the top of your list. Divers flock here for the rich marine ecosystem that supports megafauna like mantas rays, whale sharks, hammerheads, leopard sharks and more, and it's equally seductive as a destination for non-divers, too. While you're out exploring the reefs and walls, anyone surface side can keep busy with morning yoga sessions over the water, snorkelling adventures over house reefs, and pampering spa afternoons at a world-renowned spa.