Palau and Micronesia have history. Once part of the Federated States of Micronesia, Palau, now an independent island country in the western Pacific, left Micronesia with just four 'federated states' - Yap, Chuuk, Pohnpei and Kosrae. But when it comes to their diving, their history can be left in the past. For it's all about their underwater utopias, which are some of the best in the world. They know it too. Palau created the world's first shark sanctuary in 2009, Yap has one of the highest concentrations of resident manta rays and Chuuk famously houses the world's finest collection of WWII wrecks within its tropical lagoon. And with each destination belonging to the Caroline Islands, you can visit all three on a multi-stop trip and decide your own winner of epic diving in Micronesia vs. Palau.
Diving In Micronesia vs. Palau: Best Shark Diving
If you like your marine life big and toothy, the question won't be whether or not you'll even be able to see any sharks, but rather how many you will. Because in these tropical waters, you'll see lots. Both Micronesia and Palau are surrounded by shark-infused waters, but of the three destinations - Palau, Yap, and Chuuk - Palau gets our vote as the winner in the shark diving category. Its ubiquitous grey reef sharks patrol the waters on virtually every dive site; white-tipped reef sharks rest on sandy patches, black-tipped reef sharks cruise the shallow reef flats and there's always a surprise lurking around the next coral corner. From tiger sharks, hammerheads and nurse sharks to bull sharks, leopard sharks, pelagic blacktip sharks, and the occasional whale shark, Palau is the epitome of a shark smorgasbord.
Micronesia has its fair share of sharks too, with grey reefs and white-tips common on reef dives, but if sharks are at the top of your dive bucket list, Palau is probably your best bet.
Diving In Micronesia vs. Palau: Best Manta Ray Diving
Spoiler alert: Yap is the winner of best manta ray diving. Palau puts up a good fight but it's the Micronesian state of Yap that gets our vote. With a resident population of around 100 mantas, all who spend days gliding up and down its channels in search of a full-body treatment at one of the myriad cleaning stations, it's not surprising that Yap makes it onto every page written about manta ray diving. Sites like the M'il and Goofnuw channels and Valley of the Rays are the ones you'll want to make a beeline for. However, they can be seen throughout the state's dive sites, and they may just be accompanied by a couple of white-spotted eagle rays too. Palau's signature manta ray dive takes place in the German Channel, the entrance to which is 'guarded' by a cleaning station on either side. Mantas (including the rare ornate eagle ray) glide in for a clean and feed in the deeper waters in front of the channel. Mantas can also make an appearance on other Palau dive sites such as Ulong Channel.
But it's Yap that sneaks ahead when it comes to the manta ray department, especially if you're planning a trip between December and April, when the resident mantas are joined by numbers of their more itinerant cousins.
Diving In Micronesia vs. Palau: Best Wreck Diving
The Pacific Ocean saw its fair share of bloodshed and heavy fighting during World War II. And you can tell when diving in Palau and Chuuk. In Palau, you can dive down to the Iro and the Helmet Wreck, while at Orange Beach, you can see artillery left over from the storming of the beach before heading onto Pelelieu Island for a land tour to the WWII museum. But as good as Palau's WWII wreck sites are, they pale almost into insignificance next to Chuuk Lagoon's famous WWII Ghost Fleet. Thanks to their element of surprise, the US military sank around 250 aircraft and 50 warships that all went down in a relatively small area. The years have encrusted the wrecks with colourful soft corals and marine life.
While Palau has a few good wrecks to dive, the sheer number of wreck diving options in Chuuk gives Micronesia the win in the wreck diving category.
Diving In Micronesia vs. Palau: Best Coral Diving
Given Palau, Yap and Chuuk are all neighbours in the same region of the western Pacific Ocean and all belonging to the Caroline Islands group, it shouldn't come as too much of a surprise that they all boast superb coral cover. The main difference being the type of diving on offer and the way the different topographies display the colonies of hard and soft corals. In Chuuk Lagoon, the state's impressive corals cling to the wrecks and the reef alike; the juxtaposition of vibrant life being supported by the wreckage of warships is equally poignant and stunning. While gliding up and down Yap's channels alongside manta rays, you can find pristine patches of colourful soft corals, and healthy hard coral cover along the southern wall dives - if you can take your eyes of the giant rays. Palau's coral is a little more consistent, and its deep walls provide the perfect conditions for soft corals to thrive. Big Drop Off is a stunningly colourful wall dive, close to German Channel, with reds, yellows, purples and blues catching the eye. Hard coral lovers should not miss Ulong Channel, which features the world's largest colony of lettuce coral acting as a central reservation as you drift along the channel towards the fishbowl at the end.
Across the entire sweet Carolines, the coral dives never seemed so good - but there should be no reaching out and touching them - and although it's a close call, Palau's topography earns it the win in this category.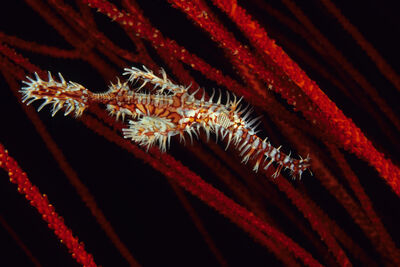 Diving In Micronesia vs. Palau: Best Macro Diving
It could be said that the macro life in Palau and Micronesia needs a little love. Both destinations have a plethora of cryptic critters and microscopic monsters to hunt down, but they often get overlooked due to the bigger sharks, mantas and wrecks on display. Head a little deeper though and you'll realise that it's not just about the BNOCs (big names on campus - or corals) here. Palau's sharks may draw your attention more and its currents can make stopping a little trickier, but along its reefs you can see feather-star shrimp clinging to their host's 'legs', whip-coral shrimp blending seamlessly into their host's polyp's and the occasional frogfish and ornate ghost pipefish. The dive sites closer to Koror should also be explored by macro enthusiasts, with the Mandarinfish Lake and Helmet Wreck being particularly fruitful in macro species.
Overall, Micronesia is better known for its sharks, mantas and wrecks, but the macro life is also impressive - it just gets a little less attention. It's not usually the main reason divers flock to the Carolines, and as such, it's difficult to choose a winner in the macro diving category, so we'll have to declare it a draw.
And The Winner Is...
The only winners when it comes to the diving in Micronesia vs. Palau are the divers who venture out to judge for themselves. As divers, we all have different bucket-lists, dive agendas and preferences, and the diving in the Carolines appeal to many types of diver. If you want the best shark diving, opt for Palau, head to Yap for the best manta ray action, and Chuuk Lagoon for some of the best wrecks in the world. Both Micronesia and Palau boast world-class diving, and whichever you choose, you will be sure to enjoy a memorable dive holiday on some of the planet's most remote reefs.