LA and French Polynesia are like chalk and cheese. Tinsel Town, La-La Land, the City of Angels - whatever you call it, Los Angeles, or simply LA, is California's golden child. As the world's movie hub, the main draw to LA lies in its thriving entertainment industry and you only have to spend a few days in this city to gain a glimpse into the American Dream. French Polynesia, on the other hand, is an archipelago of ring-shaped coral atolls encircling turquoise lagoons flung across the indigo-blue ocean - it is paradise. When it comes to diving, French Polynesia also boasts an A-star line-up of big animals. Unlike other pelagic hotspots - like the Galapagos Islands and Socorro in Mexico - you'll also be diving in warm, tropical water. For those looking to combine a city escape with world-class diving, an LA and French Polynesia holiday is just the ticket. Read on to find out why this unlikely combo works so well…
Lights, Camera, LA
First up: Los Angeles. Thanks to Hollywood, the city is best known as California's creative hub and the home of the world's film industries. For those who want a behind-the-scenes look into Hollywood, you can wander down the Hollywood Walk of Fame, attend live TV screenings and go celeb spotting along the Sunset Strip. Yet, there is so much more to LA than meets the eye. From surfing in Malibu and swimming off Venice Beach to shopping at Abbot Kinney, LA's boho boulevard, the list of things to do in this city is seemingly endless. As the starting point on a LA and French Polynesia holiday, this city adds a spritz of glitz and glamour, chaos, colour and excess - everything you would expect from La-La Land.
Diving in French Polynesia
Part two of an LA and French Polynesia holiday: a remote expedition to experience the best diving in the world. When people think of French Polynesia, Bora Bora often springs to mind. But this archipelago of some 100 islands has so much more to offer - especially when it comes to diving. Abiding to the modem that 'the more remote you go, the fishier it gets', the best diving can be found in the outer reaches of French Polynesia. And for the crème de la crème of underwater adventures, island-hopping across French Polynesia will allow you to experience the best diving in the South Pacific - if not the world.
The Society Islands
Think of French Polynesia and chances are the Society Islands will come to mind. These postcard-perfect islands, including Bora Bora, Moorea, Taha'a and Tahiti, are characterised by Jurassic Park style scenery, moon crescent beaches and turquoise lagoons. Bora Bora is the epicentre of French Polynesia's luxury hotels. Overwater villas offer spectacular views over glistening turquoise lagoons and the green Toblerone-shaped Mount Otemanu. As for diving, Bora Bora is the only place in the world where divers are guaranteed to have close encounters with lemon sharks, as well as common grey and blacktip reef sharks. Over in Moorea, divers and non-divers alike can swim alongside humpback whales between July and early-November. However, for those who want to experience some of the best diving in the South Pacific, The Tuamotus Archipelago is a must-visit on an LA and French Polynesia holiday.
Rangiroa's Wall of Sharks
A breezy 20-minute flight from Moorea lands you in Rangiroa, the first stop in the Tuamotus Archipelago. Rangiroa, or Ra'iroa, means 'endless skies' and is the second-largest atoll in the world, boasting 240 islets across an immense turquoise lagoon. However, this island's main claim to fame lies in the Tiputa Pass. Located in the northwest of Rangiroa lagoon, this channel joins the lagoon to the open ocean. Strong nutrient-rich currents flow through the channel into the lagoon, creating an ideal environment for a plethora of marine life. Divers who take the plunge can drift in along the current alongside bottlenose dolphins, grey reef sharks, great hammerheads and eagle rays. Dive between November and February for the chance to see the 'wall of sharks', when whitetip, blacktip, tiger, silky and silvertip sharks aggregate. The site reaches a maximum depth of 30 metres, which, coupled with strong currents, makes it best suited for advanced divers.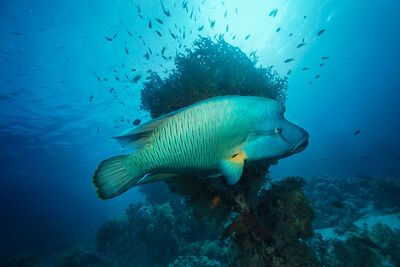 Fakarava: The Crown Jewel of Polynesian Diving
A 45-minute flight south of Rangiroa takes you to Fakarava. Located some 273 miles north of Tahiti in the Tuamotus Archipelago, landing in this idyllic atoll feels like reaching the end of the world. Fakarava has been a UNESCO Biosphere Reserve since 1977, allowing its marine environment to flourish into an underwater Eden. Diving with over 200 grey reef sharks is commonplace within the Fakarava South Pass, as well as groupers, huge Napoleon wrasse and blacktip reef sharks. Meanwhile, in Fakarava's North Pass, divers hook into a rock and watch huge schools of grey, whitetip and blacktip reef sharks effortlessly cruise in a washing machine of currents. Thanks to strong currents (Fakarava's North Pass has a whopping seven currents at play), the diving here is best suited for experienced divers, but for divers up for an adventure, this is some of the most exhilarating diving on the planet.