Here is my journey from Backpacker to Dive Instructor to a Sales Consultant at Original Diving…
My Introduction To The Magical Underwater World
My eight month backpacking trip was sadly coming to an end when I was presented with an opportunity to snorkel with whale sharks on the West Coast of Australia. Strange as it seems now but at the time I had no real interest in marine life, I even had a slight fear of the ocean. However, I decided to put that aside and add the experience to my bucket list... wow - a seven and a half metre whale shark within four metres of me... just wow!
Not only did the whale shark blow my mind but Ningaloo Reef's colourful coral and dancing fish were like nothing I'd ever experienced. I watched in awe as a woman free dived down, taking videos whilst our guides pointed out the different marine life - these people were truly 'living the dream'.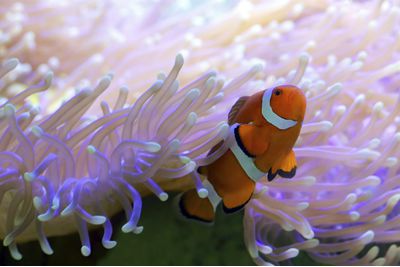 Learning to Scuba Dive
I headed back to Koh Tao in Thailand and took the opportunity to learn how to scuba dive. The training I received was very professional but the underwater world wasn't what I had experienced on the West Coast of Australia, I felt a little disappointed. That was until I spent my 28th birthday diving off Koh Phi Phi, where I finally got to hang out with Nemo (false anemone clownfish) and a yellow tiger tail seahorse. What a brilliant day that ignited a flame for marine life and diving.
Becoming a Divemaster
I arrived home, returning back to work and life in London but I still had this burning feeling that there was another adventure waiting... so back I went to Koh Phi Phi for a holiday, where I completed my PADI Advanced Course. This is when I started thinking about becoming a PADI Divemaster...
I didn't last long back in the UK before I returned to Phi Phi and started my Rescue and Divemaster training. I took my first job as a snorkel guide and Divemaster on Phi Phi and continued my learning, not just in diving but about the local marine life, ocean and the island's history and culture.
Qualifying as a Scuba Instructor
After finding my feet in the diving world I wanted to climb the ladder further, travelling to Kota Kinabulu, Borneo where I spent a month becoming an instructor.
Again I returned back to Phi Phi and started work teaching diving; an incredible challenge at times but very rewarding. Just like those girls I was so in awe of on my whale shark trip, I was 'living the dream'.
I have dived a few places around South East Asia (Koh Tao, Phi Phi, Kota Kinabalu, Samporna/Mabul and Lembongan, Bali) and have been entertained by many different marine species, from leopard sharks flirting with me to Harlequin shrimp hiding; peacock mantis shrimp building their homes to octopus changing their colour and skin texture as they move over different topographies. Not to mention being surrounded by schools of fish from tuna to travail hunting yellow snapper.
And Finally… Original Diving
After what I can only describe as the most incredible seven years I have finally returned back to city life in London. Becoming a part of the team at Original Diving is just the icing on the cake. I get to spend my time talking about diving and travel, listen to clients' experiences, learn about new diving destinations, marine life and I am now close to my friends and family.
So I am now 'living the London dream' and I couldn't be happier!