Dive travel planning takes finesse, patience and a lot of research. Navigating weather, route to destination and what bucket list creatures should be in the area at the time, all while trying to avoid throngs on other tourists as well, can be daunting to say the least. And, what often happens is travellers get caught in a whirlwind of jumping from one peak season to the next. While there are numerous reasons to travel during these popular times (why else would they be considered peak, right?), there is a bevy of benefits to travelling outside these norms. Off-peak holidays are friendlier on your wallet, less crowded in transit (who doesn't love a shorter airport queue?), and quieter on location. What's more, some of our favourite dive spots come alive during these 'off-seasons' with unique underwater encounters well worth traversing the globe for. Read on for our top pick 'off-season' destinations (that are really on)…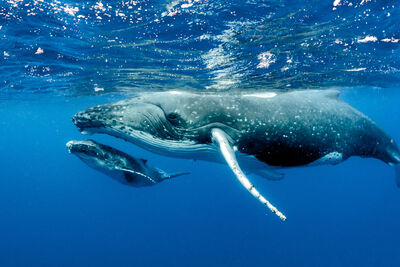 Humpbacks in Australia
Located in a remote corner of northwestern Australia, Ningaloo's seafloor is carpeted in layers of hard coral bustling with tropical life. The reef alone is worth the trip, but the real showstopper is the concentration of humpback whales who rest here and play in the cay on their annual migration. Known for being gentle and curious, don't be surprised if humpbacks come in for a closer inspection, when you can enjoy the melodic vibrations as they sing in the water around you. Bonus: if you time your trip just right, there might also be whale sharks in town for their seasonal feeding (March - July).
Best Time of Year: June/October
Where to Go: Ningaloo Reef
Whale Sharks in Oman
Enjoy a leisurely boat ride to these uninhabited rocky islands off Muscat where vibrant coral gardens wait beneath the waves. There's no need for a wetsuit as these warm waters are the draw for congregations of whale sharks during this time. Explore underwater swim throughs and caves shared by stingrays, eels, turtles and leopard sharks, and keep your eyes peeled to catch a glimpse of a whale shark or two cruising by.
Best Time of Year: September/October
Where to Go: Daymaniyat Islands
Mating Octopus in The Philippines
Dive sites overflowing with colour and shoals of tropical fish vie for your attention but the show-stopping mating event of multiple species of octopus should take priority. Behold ostentatious shows as the males perform to attract a female and try not to feel too sorry for the loser when a craftier chap feigns female behavior to sneak in for the carnal act (studies suggest females actually prefer these males because it shows signs of greater intelligence!)
Best Time of Year: October
Where to Go: Dumaguete
Manta Aggregation in The Maldives
Another snorkel spot worth staying shallow for, witness the largest (known) aggregation of manta rays in the world at Baa Atoll's UNESCO World Heritage site. Find yourself surrounded by hundreds of summersaulting manta rays churning the water all around you, occasionally joined by whale sharks drawn to the plankton feast. Afterwards, share stories of your experience during a private picnic on your own remote island, then cruise home sipping champagne while dolphins race beneath the bow.
Best Time of Year: July/August
Where to Go: Hanifaru Bay
Whale Sharks in Mexico
Technically not a dive… grab your snorkel gear and head out from your white sand paradise on Holbox Island in search of these giant creatures. Once you've found one feeding near the surface, ease into the water and spend the next couple of hours swimming among as many as 50 whale sharks at a time.
Best Time of Year: August
Where to Go: Cabo Catoche
Sailfish in The Seychelles
Board a custom-built boat and head out to open water for one of the most exclusive snorkelling experiences of them all. Sit back and feel the excitement build as the crew entice sail fish up from the depths with shiny lures. Once spotted, it's time to hop in and let yourself be surrounded by a group of the fastest fish in the ocean. A wholly different experience to reef diving, enjoy the open blue with a fish species few people have ever been in the water with.
Best Time of Year: January/February
Where to Go: Alphonse
Schooling Hammerheads in French Polynesia
A five-minute RIB-ride from the dive shop and you'll find yourself at one of the best dives in the world. Expect bottlenose dolphins to appear, playfully swimming through the dive group, followed by fevers of eagle rays, schooling grey reef sharks, white tips, black tips, tigers, silkys, silvertips and, best of all, great hammerheads, who all ride the current through this narrow pass as you hang in place for the show.
Best Time of Year: January
Where to Go: Tiputa Pass, Rangiroa