The key to diving with large schools of fish is this: the stronger the current, the more nutrients and fish life you'll encounter. That being said, there are exceptions to the rule, depending on what you want to see; take silvery bait balls, with their penchant for the deep blue, or the vast schools of tropical fish that seek shelter in wrecks and under jetties for example. And while some destinations are home to permanent schools of fish, others serve as rest stops along an extensive migratory highway - meaning timing is crucial. Whether you want to join the world's biggest manta ray buffet, enter a barracuda vortex or observe a bait ball under siege, read on to discover the best places to dive with big schools of fish.
Baja California, Mexico
Unlike South Africa's world-famous sardine run, Mexico's aggregation remains relatively undiscovered by tourists. Yet every autumn, huge bait balls congregate off the shores of Magdalena Bay, a secluded fishing village in the southern part of Mexico's Baja California peninsula. These enormous bait balls, in turn, attract one of the ocean's rarest spectacles - the striped marlin migration. Divers who dip below the waves can witness a huge frenzy as silvery fish are targeted from all angles by marlin, sailfish, tuna, sea lions and, if you're lucky, humpbacks, grey whales and even makos.
Prefer to dive with big schools of fish that stay intact? Head up the coast to Cabo Pulmo National Park, where you can see huge schools of jacks alongside groupers, turtles and bull sharks.
Moalboal, the Philippines
Unlike other sardine runs, Moalboal's sardine bait ball can be seen year-round. This small fishing village, located on Cebu Island in the Philippines, attracts millions of sardines a few fin kicks from the shores of Panagsama beach, rain or shine. In fact, there are so many sardines that diving beneath the dancing bait ball will block out the sun. While you can see the sardine run year-round, we recommend visiting during the dry season (December to June) for the best visibility and conditions.
Raja Ampat, Indonesia
The Coral Triangle, the global epicentre of marine biodiversity, spans a whopping 2.3 million square miles of the Pacific Ocean. Often referred to as the 'Underwater Amazon', this triangular marine region boasts nearly 600 species of coral and an astonishing 2,000 species of reef fish. Located in the bullseye of all this biodiversity is Raja Ampat, the jewel in the Coral Triangle's crown. No matter where you go, diving with big schools of fish is virtually guaranteed. However, Cape Kri, located on the north-east point of Kri Island, holds a world record fish count of 374 species on a single dive. Arborek Jetty, located on the small island of Arborek, is another site where you can get wonderfully lost in large schools of sweetlips and mackerels. You may also spot giant oceanic manta rays and wobbegong sharks.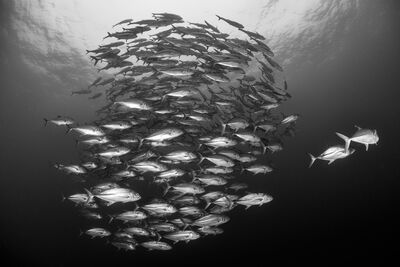 The Red Sea, Egypt
Egypt's Red Sea has several epic spots to dive with big schools of fish. Starting with Elphinstone Reef, which, located near Marsa Alam, is known for its strong currents and mammoth amounts of marine life. Divers can encounter schools of jacks, barracuda and reef sharks - especially around the north and south plateaus. If you like to encounter massive schools of fish in giant hulking wrecks, Abu Nuhas is just the ticket. This ship graveyard, located near Sharm El Sheik, features several sunken ships that have developed into artificial reefs. For the fishiest encounters, dive the Giannis D and Carnatic shipwrecks.
Cocos Island, Costa Rica
Cocos Island, also known as 'Shark Island', might be best known for its hammerheads, but this remote marine park also hosts huge schools of jacks. Located 340 miles offshore from Costa Rica in the Pacific Ocean, Cocos Island marks the convergence point of multiple nutrient-rich currents, attracting a monumental amount of marine life. Aside from huge shimmering bait balls, divers can spot sailfish, tuna, dolphins and, of course, scalloped hammerheads.
Galápagos Islands, Ecuador
The Galápagos Islands are world-renowned for their incredible marine biodiversity, from ginormous pregnant whale sharks to large schools of hammerheads, manta rays and a whole roster of endemic species - the Galapagos has it all. Those keen to dive with big schools of fish will not be disappointed with Gordon Rocks. Located near Santa Cruz Island, Gordon Rocks features strong currents that draw in huge shimmering bait balls, schools of jacks, hammerheads and sea lions.
The Baa Atoll, Maldives
The Maldives is known for its thriving fish life. No matter where you go, huge schools of tropical fish and larger pelagics are virtually guaranteed, however, for the best encounters with big schools of fish, head to Hanifaru Bay. Located in the Baa Atoll, a UNESCO World Heritage Site, Hanifaru Bay hosts the world's largest aggregation of reef manta rays. Between mid-May and December, join hundreds of reef manta rays, as well as whale sharks, as they gorge in the nutrient-rich waters brought in by the monsoonal current.