Have you ever made it halfway into scheduling a dive holiday only to realise your dates land you directly in prime hurricane season instead of the whale shark migration you hoped to catch? No wonder flights and resorts were so affordable! Sometimes, dates and desires don't line up just how you want, and the amount of time spent researching the perfect destination for your schedule, wishes and budget can be exhausting and overwhelming. Not to worry though! Here at Original Diving, we have spent decades researching the best times to schedule a dive holiday and we know all the secrets to ensure you experience the very best diving in the world. Now, this doesn't always mean calm seas… as many an adventurous diver knows. After all, sometimes ripping currents and combat diving over the side of a rib result in the most exhilarating encounters, well worth the adrenaline-fueled adventure. Read on for a crash course in where to dive in 2022…
January
Tanzania - Want to swim with the biggest friendly sharks in the sea? Head to Mafia Island, off the Tanzanian coast, to embark on epic whale shark safaris. An adventurous launch from shore starts every dive day and the rustic eco-lodge surroundings immerse you in raw adventure.
Mexico (East Coast) - There's something very different and powerful about watching athletic predators school and sprint around you as they hunt bait balls of sardines. For an exhilarating underwater encounter, head to Isla Mujeres where sailfish work in groups to surround and herd sardine schools toward the surface where they make for an easier meal.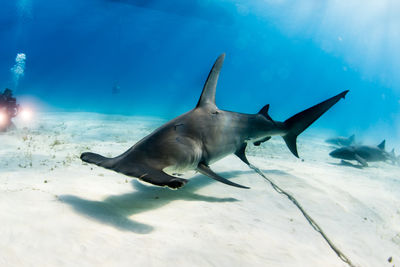 February
Bahamas - The Bahamas is one of the few places in the world where you can have up-close-and-personal encounters with great hammerheads. The winter months provide perfect weather and dive conditions allowing you to spend hours on the sandy bottom with these apex predators.
Mexico (West Coast) - Avoid the rough waves that often hit the offshore island of Socorro and venture here in February for calm seas, manta rays, whale sharks and the enigmatic songs of humpback whales migrating here to breed and calve.
March
Maldives - Bypass monsoon season and catch the strong currents navigating nutrient rich waters to the Maldives. Pelagic creatures of every diver's dreams follow, with manta rays, whale sharks, tiger sharks, grey reef sharks and many more all congregating in the waters around this island paradise. You can also keep the adrenaline pumping above the waves, as you'll catch the start of surf season as well!
Indonesia - While Bali and Komodo are wet this time of year, Raja Ampat - which lies further to the east - has minimal rain and smooth seas. With its prime position in the coral triangle, there's no better way to see the kaleidoscope reefs and hunt for illusive macro life, than aboard a traditional Phinisi yacht. Mantis shrimp, blue ring octopus, ribbon eels, flamboyant cuttlefish and an array of other ocean jewels await you under the waves.
April
Egypt - Late spring in Egypt is the ideal time to take a dip in the Red Sea. Air temperatures have not yet hit sweltering and the water has warmed up enough for you to comfortably enjoy the colourful reefs and walls. Here, you'll find WWII-era wrecks and aquarium-like reefs swarming with a multitude of fish. And make sure to keep your eyes peeled for octopus and dolphins on every dip!
Belize - April brings about the cubera snapper spawning in Belize, which works its way up the food chain, attracting all sorts of marine species that are drawn to the easy meal including whale sharks. Turtles also return at this time of year to mate.
May
Galapagos - Pregnant whale sharks make their way through the Galapagos in May. Visit during May to view them in all their gigantic glory, while the hammerheads school all around you and manta rays dance in and out of view in the big blue.
Mexico - Travel to the Sea of Cortez in May to catch one of the most spectacular migrations on Earth as tens of thousands of mobula rays perform acrobatic jumps in unison while pods of orcas hunt on the periphery and sea lions observe for the shore.
June
Australia - In June, humpback whales travel north to warmer waters for mating and calving, using the pristine waters of Ningaloo reef as a resting ground on their long journey north. This area will be graced with tens of thousands of these magnificent creatures each year around this time. Combined with southern right whales and whale sharks, which you'll find nearby, it's the perfect time to visit.
Iceland - For a truly unique experience, snorkel or dive between two tectonic plates that separate the North American and European continents. The Silfra Fissure in Iceland boasts visibility stretching more than 120 meters with captivating view of the stark underwater geography carpeted in bright green algae.