Papua New Guinea may be renowned for having some of the best coral diving in the world, but one of the reasons why luxury diving in Papua New Guinea is so spectacular is the sheer variety of its dive sites. From diving on the pristine reefs of Kimbe Bay to encountering sharks in New Ireland, no matter what you're looking for, Papua New Guinea can deliver. There are countless dive sites to discover in Papua New Guinea, but some of our favourites are New Ireland, Tufi and Kimbe Bay. While each of these sites has something different to offer, you'll find no shortage of world-class accommodation surrounded by natural beauty to help take your luxury diving holiday in Papua New Guinea to the next level.
New Ireland
Like most of the best dive sites in the country, New Ireland is a far-flung destination roughly a two-hour flight away from Port Moresby (the capital city). The main draw here is diving, with divers journeying here for the chance to dive among large groups of reef sharks.
New Ireland's reputation for sharks and pelagics is thanks to the nutrient rich currents weaving in and around the area's numerous islands, making it a hotbed for black-tip, white-sip, silvertip and grey reefsharks, as well as tuna, Spanish mackerel and barracuda.
This region may not be the most obvious choice for a luxury diving holiday, due to the lack of five-star resorts, however, what you will find is high quality accommodation, such as the Lissengung Island Resort, a stone's throw from the area's best dive sites.
Tufi
Tufi is our top choice for a combination of luxury diving in Papua New Guinea and experiencing the country's rich culture. We're big fans of the Tufi Dive Resort, which, despite its name, can organise a whole range of above-water activities including touring the local village, beach picnics and hiking.
Beneath the water, Tufi has over 15 dive sites, ranging from rich inner reefs to interesting muck sites, to outer reefs. Of these, Mulloway and Cyclone Wall are a couple of must-dives when you're in the area. Cyclone Wall is a beautiful coral wall, whereas Mulloway, a steep drop-off, is renowned for sharks and pelagics.
Kimbe Bay
Last but not least, you have the marvellous Kimbe Bay, one of the most spectacular places to dive in Papua New Guinea. Kimbe Bay is renowned in the marine biology community for its impressive levels of marine biodiversity (which includes 400 species of coral, 860 species of reef fish and 10 species of cetaceans), all within an area the same size as California.
With countless sites each as beautiful as the last, choosing where to dive in Kimbe Bay can be a challenge, luckily, Kimbe Bay and the rest of New Britain is best experienced via liveaboard, like the MV FeBrina, where your locally-trained diver guides will know the best spots in the area.
Nevertheless, some of our favourite dive sites in Kimbe Bay are 'The Zero', a Japanese Aircraft wreck surrounded by rich coral bommies, and South Ema, a gorgeous swim-through studded with soft corals, sea fans and rope sponges.
There's no doubt that luxury diving in Papua New Guinea is a dream holiday for most people. If you're thinking about making the dream a reality, our expert team can help you create a one-of-a-kind itinerary to suit your needs.
Itineraries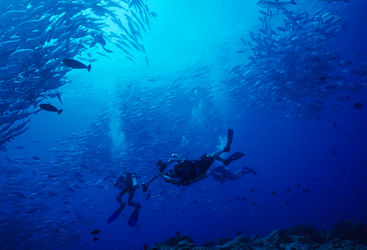 Best for: Couples and Solo Travellers
Ultimate Papua New Guinea
On this two-and-a-half week itinerary stay in three of the best diving destinations in Papua New Guinea, including the extraordinary reef structures...
18 Days
From £5,515pp
Best for: Couples, Groups and Solo Travellers
Feathers and Fins in New Britain
This is the perfect two-week itinerary for those looking for world-class diving and birdwatching in one spot; combine diving one of the globe's...
12 Days
From £3,795pp
Where to Stay
Lissenung Island Resort
The island province of New Ireland in the far north of Papua New Guinea is a two-hour flight from Port Moresby. From the provincial capital of...
Tufi Dive Resort
Located in Oro Province in the south east of mainland of Papua New Guinea, the Tufi Dive Resort is a small, remote resort of just 25 rooms that...
Start creating your tailored trip today
Our thoughtful experts are ready with ideas, inspiration and advice for your next journey.
Working with you we'll craft an unforgettable trip and tailored itinerary.
We're here to help with everything while you're away from the smallest to the biggest request.
Emily C and Eleanor are our 'Luxury Diving in Papua New Guinea' experts and as seasoned travellers they have the inside track on the most memorable adventures.