For many, cave diving may appear as dark and impenetrable as the philosophical writings of Friedrich Nietzsche. But one of the German philosopher's more famous quotes - 'And if you gaze long into an abyss, the abyss gazes also into thee' - reveals one of many reasons why divers enjoy the challenge of exploring dark and dingy caves: self-discovery. You can learn a lot about yourself when you venture outside your comfort zone, and aside from marvelling at the twisted topography and dancing shafts of light, the world's best destinations for cave diving also allow you to experience the thrill of pushing yourself into the shadowy unknown...
Yucatan
The labyrinth of subterranean sinkholes scattered beneath the Yucatan Peninsula has elevated it to the pinnacle of the world's best destinations for cave diving. A favourite among underwater photographers, Dos Ojos (Spanish for 'two eyes') features two separate caves: Bat Cave and the Barbie Line.
Cenote Angelita, just a stone's throw away from Dos Ojos, delves even deeper and is renowned for its eerie gas cloud. The vertical cave progressively widens during descent, adorned with stalactites dripping from the overhangs, until you encounter a mysterious cloud of hydrogen sulphur at 30 metres.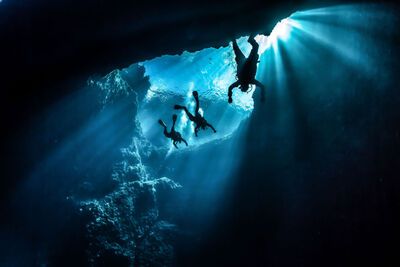 Gozo
The rugged Gozitan coastline is no less jagged below the cobalt-blue Mediterranean waters. Yet, it's precisely this rugged circumference, pitted with inlets and crags, that positions Gozo one of Europe's foremost destinations for cave diving. There's no shortage of caves to dive - Billinghurst Cave, Inland Sea Crack, Xlendi Tunnel, Double Arch, Cathedral Cave, Mgarr I-Xini Cavern, Popeye Cave and Dingli Cliff Cave, to name just a few. There are also caves to explore on land, including the famous Calypso's Cave, where Homer's Greek hero, Odysseus, was kept as a prisoner of love by Calypso.
If you can only dive one spot, make it Billinghurst Cave. Also known as Booming Cave, this site features a long, dark tunnel that leads 50 metres into Gozo's northern shoreline at Reqqa Point. Most of the cave is a full-overhead environment, with no chance to surface until you reach the rear, where an air pocket awaits. Navigating the wide, dark tunnel requires a torch and offers the chance to spot macro critters.
The Bahamas
The tropical islands of North Andros, Mangrove Cay and South Andros collectively form the Andros Archipelago in the Bahamas. This region is home to the world's largest collection of blue holes, both inland and offshore, making it one of the world's top destinations for cave diving.
Dianna's Dungeons, Alec's Caverns and Cara's Caverns are some of the most popular cave dives, while a labyrinth of swim-through coral passageways, caves and caverns surrounding the offshore blue holes can also reveal resting nurse sharks.
For those with a full-cave certification, Stargate Blue Hole on South Andros is likely on your radar. The topography of this site is nothing short of breathtaking, and it was the focus of a National Geographic expedition that uncovered both endemic species within the cave and ancient human remains!
Hawaii
If you're seeking a Pacific Island diving holiday, then the Hawaiian Islands of Maui and Lanai are the best destinations for cave diving in the archipelago.
On Maui, Makena Landing, also known as Five Caves or more ominously as Five Graves, sits on the west coast and is the go-to spot, despite only having two caves. The first cave features a cathedral-like cavernous opening, while the second is an elongated 120-metre-long tunnel carved through a lava finger. Due to the overhead environment this dive is best suited for experienced divers. For a gentler cave diving experience, neighbouring Lanai may be the better choice.
The Lanai Cathedrals, off the island's southern coast, are the most famous sites on Lanai and feature lava tubes that allow rays of light to penetrate and illuminate the cave. The two sites, First Cathedral and Second Cathedral, are a couple of miles apart and both feature overhead environments and darkened areas with confined spaces. While they may be more accurately described as caverns rather than true caves, their topography and marine life are spectacular. A trip out from south Lanai usually involves one of the two Cathedrals along with a nearby reef site.
Palau
If you're looking for a top-notch reef diving holiday with a few cave dives thrown in, Palau ticks all the boxes. This Pacific Island nation is famed for its thriving shark population, but it also boasts a couple of spectacular cave dives: Chandelier Cave and the Temple of Doom.
The Temple of Doom is, in essence, a cave within a larger cavern, and this cavern is one of Palau's most famous sites, the Blue Holes. Divers descend through one of the four openings on the reef plateau, descending into an expansive cathedral-like cavern that opens entirely to the ocean on one side. Towards the rear of the cavern lies the entrance to the Temple of Doom, marked by two narrow slits. The ominous name stems from the unfortunate turtles that ventured inside and met their demise, unable to find the exit. The huge chamber has permanent lines to lead you to the four turtle skeletons and safely back out, but the dive is strictly for experienced divers.
For less experienced underwater speleologists, Chandelier Cave, near Koror Harbour, is less daunting. The shallow dive takes place at safety-stop depths, allowing divers to explore the cave's four chambers, each of which contains a large air pocket for surfacing. The highlight of the dive might well be the return journey, as light from the entrance illuminates the cave's stalactites and fellow divers in your group. While Palau may not be among the traditional destinations for cave diving, it undoubtedly boasts some spectacular, rarely explored cave dives - wherein lies the charm.