Like jeans and a white t-shirt, gin and tonic, toast and marmite (discuss), some things are just better together. Never is this more true than with travelling; some combinations just work, from mixing critters with culture, history with hammerheads or safari with scuba. Because let's face it, the experiences above the waves can be just as enriching as those beneath them. Lucky for you, we have a list as long as a ling of the coolest holiday combinations out there, and here are a few of our favourites…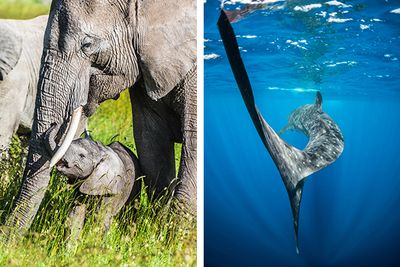 Safari & Scuba in Tanzania
For wildlife fanatics, Tanzania packs a serious punch. Set out on the Serengeti's vast, wild plains in search of the Big Five or, better yet, visit between July and October for the Great Wildebeest Migration. Next, hop across to Mafia Island and dive over some of the healthiest reefs in the Indian Ocean. Oh, and you're virtually guaranteed whale sharks between October and February. For a private island experience you can't beat Thanda Island Private Marine Reserve. Rented exclusively, this island escape features one large villa and five en-suite bedrooms, making it ideal for families and parties.
Sri Lanka and the Maldives
Calling all culture vultures - Sri Lanka has it all. Head straight to the aptly named Cultural Triangle and spend your days exploring the seven World Heritage Sites in this region, venture in to untamed jungle and wander through immaculately manicured tea plantations. Feast on tantalising local fare before sipping G&T's by the fire. Next up, paradise. The Maldives needs no introduction; hop aboard the luxurious Scubaspa (think five star hotel on water) and spend each day dipping into a different turquoise lagoon, passing through several atolls and diving world class sites teeming with marine life.
Belize and Guatemala
Deep, dark, mysterious: Belize's Blue Hole tops many divers' bucket lists (in fact, Original Diving expert, Amy, ticked off a fair few from her list in Belize). This eerie experience will see you weave through a web of stalagmites and spot sharks lurking in crevices. Once you've ticked that off, head down south to Placencia to spot wild manatees. Next up is Guatemala, home to some of the most impressive Mayan ruins in Latin America. Still not tired? How about climbing a volcano? Climb Volcán Acatenango and watch next door's Volcán de Fuego ("Volcano of Fire") shoot fiery red shots of lava into the sky.
Ski and Scuba in Japan and the Philippines
Ski and Scuba? Yes, you can literally change seasons with this itinerary. Visit Japan between January and March and ski down volcanoes, warm up in hot springs and indulge in some après-ski sushi. Next stop: Amanpulo. This private island is a self-declared marine park, boasting nearly three square miles of pristine coral reef just 300 yards from the beach. Spend your days basking in the sun, sipping cocktails and venturing into the gin-clear waters to spot colourful corals teeming with dancing fish. Oh, and the island houses the best beach we have ever seen. Anywhere. Ever.
Lisbon and the Azores
Lisbon is having a bit of a moment. Spend a few days exploring its matrix of narrow cobblestone streets, marvelling at houses woven together in a tapestry of intricate tiles before heading to the Azores for, hands down, the best diving in Europe. The Azores comes into its own in the summer and, newly added to the Original Diving portfolio, is Charming Blue, a boutique hotel located a short stroll from the local dive centres in Santa Maria (get in touch for more details). Spend days alternating between exploring the Jurassic Park-esque landscape and diving the superb offshore sites, where you'll mingle with all manner of pelagics, from manta rays, blue sharks and makos to whale sharks and hammerheads. On top of the waves, look out for sperm whales and huge pods of dolphins.