Monday 22nd April marked Earth Day, and while we're not about to hop aboard our 100% biodegradable soap box and start preaching some sort of eco-warrior manifesto (we'll leave that to the London protesters… are they still glued to that bus?!), we are committed to helping our clients travel in a genuinely sustainable way, from off-setting 100% of the carbon from our clients' flights to highlighting some of the amazing projects our partners and suppliers around the world have pioneered. So if you'd like to help redress the balance of nature and protect our oceans while also enjoying some fantastic diving on holiday, here are a few of our favourites…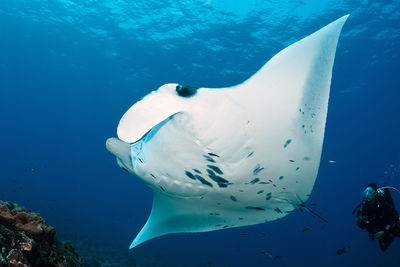 Six Senses Laamu, The Maldives
The Maldives is synonymous with luxury, but as its atolls become increasingly threatened by rising sea levels, many of its luxury resorts are taking action. Six Senses Laamu, one of the best spots for diving in the Maldives, has pledged to go plastic-free by 2022 and even gives guests a responsible packing guide, including requests not to bring shower products containing microbeads and to only bring reef-safe sun cream. They also run a wealth of volunteering projects, from their new Junior Marine Biologist programme to coral reef restoration projects.
Raja Ampat, Indonesia
Misool Eco Resort in Raja Ampat is pioneering conservation in this area with its own Misool Foundation. The foundation is dedicated to safeguarding 300,000 acres of the world's most biodiverse reef and is playing a large part in making Misool one of the only places on earth where biodiversity is increasing rather than declining. Also in Raja Ampat, Papua Explorers Resort has established the Raja Ampat SEA Centre, focused on conserving the area's marine life through science, education and awareness (SEA). They aim to work with current and future generations to understand and preserve the extensive reef systems in the region.
The Outer Islands, Seychelles
The Outer Islands of the Seychelles have been identified as a hope spot by famous oceanographer Dr Sylvia Earle's Mission Blue Foundation and the two new Marine Protected Areas spanning more than 81,000 square miles are helping ease the burden of over-fishing. At Alphonse Island there are plenty of eco experiences to get involved in, including expeditions to explore reef flats with a knowledgeable marine biologist, taking part in a biodiversity survey, or getting involved in turtle tracking, surveying mantas or planting mangroves. Such activities mean you can develop a deeper understanding of this region's natural wonders while helping to protect and preserve its extraordinary biodiversity.
The Bahamas
Since the Bahamas Shark Sanctuary was created in 2011, prohibiting commercial shark fishing in Bahamian waters, numbers have thankfully bounced back in the area. So this Caribbean nation is where to head for all but guaranteed encounters with hammerhead sharks, where you can swim alongside them close to the sandy ocean floor. At Stuart Cove's in New Providence, dive with a huge number of Caribbean reef sharks and take part in a shark awareness course, where guests are taught the correct behaviour for diving with sharks before completing two shark dives.
Palau
The island nation of Palau in the western Pacific Ocean is ahead of the game when it comes to ocean conservation; it was the first country in the world to create a dedicated shark sanctuary, it has banned bottom trawling and also requires visitors to take an 'Eco-Pledge' on arrival. Palau has also banned eco-unfriendly sun creams and other products which contain chemicals that are harmful to coral reefs. By taking these measures they hope to prevent the forced closure of beaches as a result of degradation, as has sadly been the case in other parts of the world.