Are you a slave to your smartphone? Can't get through a meal without checking your emails? Fingers twitch if you're not scouring through social media? We're sorry to tell you, but you're addicted to the internet. Luckily for you, we've got the remedy. Whether setting sail to new horizons or stepping back in time on a deserted island, it's time to shake off the shackles of technology and get off the grid completely. Although, we think you'll agree there's no better way to escape the loom of the internet than by entering the watery abyss.
Sail Away…
Pull up the sails and bid bon voyage to the modern world as you cruise into the unknown.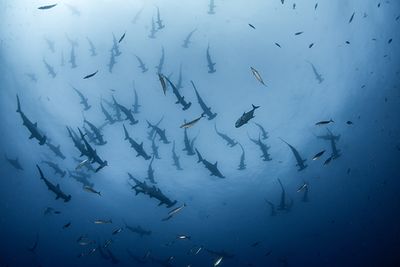 ...Cocos Island, Costa Rica
Located 340 miles from Costa Rica in the Eastern Tropical Pacific, Cocos Island Marine Park is about as remote as it gets. Discover a startling degree of biodiversity, including huge schools of jacks and tuna, silky sharks, mantas and marbled rays, dolphins, sailfish and of course, hundreds of hammerheads (between June and September).
... Komodo, Indonesia
If ragged volcanic islands, ancient dragons and world-class diving float your boat, Komodo National Park is just the answer. Located in the Coral Triangle with some of the best diving in the world, set sail aboard a traditional Indonesian phinisi and dive kaleidoscopic coral reefs with a mind boggling amount of marine life.
...Red Sea, Egypt
With superb visibility and healthy coral reefs, the Red Sea is one of the most popular scuba diving destinations in the world. Hop aboard the Red Sea Aggressor and venture to the outer reefs, where the marine life is bigger, the sites more varied and the crowds virtually non-existent.
...Chuuk Lagoon, Micronesia
You might wonder where on earth Micronesia even is - and that's precisely the point. Located in the pacific, this remote archipelago is home to the best wreck diving in the world. Dive in a museum of Japanese Second World War wrecks at Chuuk Lagoon, accessed from The Odyssey. This is Pacific diving at its best
Land Ahoy!
For those who prefer to spend surface intervals on dry land, these destinations have all the ingredients to make your digital detox a breeze.
St Vincent & The Grenadines, Caribbean
Escape the strains of modern living at Petit St Vincent, a 115-acre private island paradise where tropical jungle meets castaway beaches - and with no wifi or television, guests can truly settle into island life. Underwater expect drift dives, wall dives and healthy coral reefs teeming with marine life.
Qamea Island, Fiji
Nestled between tropical palms and white beaches with volcanic cliffs as a backdrop, Qamea is an island where time stands still. Spend days diving the fringing house reef spotting colourful critters among vibrant soft coral gardens - and with only 17 villas you'll have the reefs all to yourself.
Papua New Guinea
Papua New Guinea should top every diver's bucket list. It's that good. A paradise of barrier reefs, coral drop offs, gardens and atolls await, not to mention the marvellous marine life, Second World War submarine wrecks, macro and muck sites - all in gin clear visibility.
Pemba Island, Tanzania
Located on Pemba Island, just to the north of Zanzibar, Fundu Lagoon features just 18 tented safari style bungalows fronted by deserted swaths of beach and glistening turquoise waters. Dip underwater and you'll be treated to thousands of colourful reef fish and larger pelagic species.