When people think about diving in the Azores, inevitably the stars of the show are the offshore sites where you are bombarded with mobulas, manta rays, blue sharks and all manner of predatory species. But what happens when the sea isn't perfectly flat-calm? I went to visit early in June to find out what the unsung heroes of the local sites could offer and was very pleasantly surprised.
Faial
Departing from the sleepy sailors' town of Horta on a slightly grey June morning, the thought of slipping into the slatey waters as we sped out on a RIB towards one of the local sites was not the most appealing. I am an unabashed warm water diver usually, despite having completed my Divemaster in Malta, and didn't relish the idea of an hour looking at rocks - I was very happy to be proven wrong! Wrapped up ridiculously in no less than 3 wetsuits, I was pleasantly surprised as I descended into the depths, to find beautiful visibility and, with the help of my guide's careful eye, a trove of interesting creatures. Slipper lobsters clung to cave walls and morays hunted between boulders. Turkish wrasses danced in the light creating a kaleidoscope of colours much to my surprise. This is unlike any diving I have done in Europe and I even enjoyed myself enough to feel distracted from the 16 degree (!) thermoclines.
Pico
After my first taste of Azorean coastal diving, I was excited to jump in at some local sites from the stunning island of Pico, whose volcano had been towering over us from the opposite island for the last couple of days. After a short ferry over we jumped into the rental car and headed to Twin Peaks dive centre, where there are a number of exciting dives accessible from the shore, with stunning underwater topography and even secret shrimp caves heaving with scuttling narwhal shrimps. Large stingrays swoop under overhangs and the ever-present blue slipper lobsters are also an exciting find. The dive centre's enthusiasm for their local sites is inspiring in a spot where many focus on the 'halo product' that is Princess Alice Bank. This is also a fantastic spot for snorkellers who are happy to don their wetsuits and discover the special sites navigated by the team.
Sao Miguel
Sao Miguel immediately felt like a cosmopolitan rush in comparison to the tranquillity and stark rural feel of Faial and Pico, and I enjoyed spending a couple of nights in the main town of Ponta Delgada. Although it is possible to dive from here, I was heading off to the small town of Vila Franca do Campo and the beautiful 'Ilha' nearby. The diving here proved to be every bit as exciting as I had hoped, spotting congers and morays, eagle rays and beautiful nudibranchs in beautifully clear water.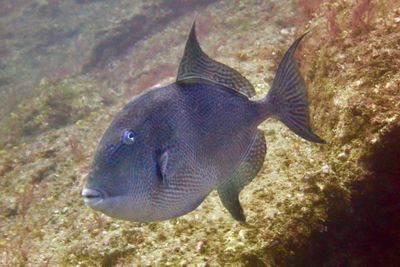 Santa Maria
For those craving the very best access to big fish diving, Santa Maria has to be part of your trip. Snorkellers and scuba divers alike can have exciting devil ray encounters at Ambrosio, a mere 45 minute boat ride away but this isn't the only draw to this tiny island, as the local sites here were my favourite across the whole trip. The visibility was in excess of 30m and this was the most abundant fishlife I saw in the Azores, with schooling jacks, a few barracudas, oceanic triggerfish and all of the usual suspects I was coming accustomed to expecting on the interesting local reefs of the Azorean Islands.
At Original Diving we always like to champion the little guy and I would like to fight the corner for the more off the beaten sites which offer the best diving I have seen in Europe (as a non-wreck junkie)! While it may not offer the kaleidoscopic colours of the Red Sea or the exoticism of Asia, we think this is a pretty fantastic destination for a spot of short haul diving. Sign us up for Summer 2018, thanks!