Ask a toddler to draw the most bizarre, colourful and wacky underwater creature they can imagine, and you might get something close to the marine residents of Indonesia's Alor. Tourism has only come to Alor very recently, meaning two very significant things: 1) the waters and their inhabitants remain fairly untouched, and 2) dive sites are still waiting to be discovered. Combine this with the sheer biodiversity of the area due its nutrient-rich waters, plus the remoteness of Alor as a destination, and the area becomes a diving fanatic's dream. Let us take you through a handful of Alor's 47 (and ever-increasing) dive sites and you'll see what we're on about…
GHOST TOWN
In a way, the name of this site is a bit of a misnomer - in that it's abundant with fish. The reason for its name is not because of a sparsity of numbers, but due to the remarkable volumes of the rare ghost pipefish that call this sandy bank home. Other quirky creatures to frequent this site? Rhinopias, frog fish and the occasional blue-ring octopus.
NUDI BEACH
The excitement of this site lies not only in the staggering number and variety of nudibranchs that reside here, but also in the continual discovery of new species of nudibranch at this site. Yes, that's right - the divemasters at Alami Alor have 3,000 species of nudibranch catalogued thus far, and yet are still not familiar with all the branches of the nudibranch family tree.
CATHEDRAL
This wall dive is bursting with hard-to-find macro life. The wall's fan corals are home to the 'cuddly toy' of marine animals: the pygmy seahorse. At a max height of 2cm these really are the teeniest equestrian species on the planet, and worth the thorough comb-through that it takes to spot them. Keep an eye out for a serpent-like bamboo shark slinking past too.
APURI
Coral can often be side-lined by the more animated marine creatures - at Apuri, you'll be politely reminded that this ought not to be the case. This site is the densest concentration of anemone anywhere in the world. Soft pinks, lilacs, peaches and oranges make for a kaleidoscopic underwater vista. One-of-a-kind and truly a dive not to miss.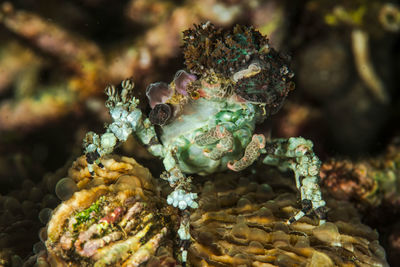 BARRY'S BAY
This newly-discovered muck dive site is a hotspot for Ambon scorpionish, rhinopias and decorator crabs. Muck diving, in particular, lends itself to critters that even the most creative child, Crayola in-hand, could not conjure up (don't let the name deter you!) - and Barry's Bay is a shining example of that.
So, if you're looking for a trip that will show you species and ecosystems truly beyond your wildest dreams, speak with one of our specialists at Original Diving about your tailor-made trip to Indonesia's Alor.