An archipelago of coconut fringed islands that scatter the Indian Ocean, the Maldives has long tempted daydreams of Robinson Crusoe escapes, but dip below the glistening waters and the diving is just as inspiring. Although you will find healthy coral gardens in abundance, divers continue to be drawn to the area for the mammoth amount of marine life. But with 26 atolls, there is a lot of ground (or sea) to cover (over 115 square miles, to be exact). This is where we come in; we've donned our masks and scoured the seas to find the crème de la crème of Maldivian diving.
Diving with Whale Sharks
Despite being the largest fish in the sea and residing across the archipelago year-round, the elusive whale shark can be tricky to spot. Luckily, we know a few of their favourite haunts.
Thaa Atoll - COMO Maalifushi offers a rather special experience: snorkelling with whale sharks at night. Watch as these graceful giants feed on plankton over the reef - only six people are allowed in the sea for this experience, which makes is all the more personal.
Ari Atoll - Set sail on a traditional dhow from LUX* Maldives, marine biologist in tow, to get up close and personal with these unassuming sharks.
South Ari Atoll - This one's for the budding marine biologists out there. When you embark on a sojourn aboard the luxurious Scubaspa, you'll get a fascinating lecture on these gentle giants by the Maldives Whale Shark Research Programme before embarking on two research expeditions.
Diving with Manta Rays
Whilst you can spot manta rays at many sites dotting the Maldives, these are arguably the most unique manta encounters.
Hithadhoo Corner, Laamu Atoll - Become a researcher for the day with Manta Trust, setting out from Six Senses Laamu to learn all about, and assist in, ongoing conservation of these inquisitive creatures at Hithadhoo Corner (or Manta Point).
Hanifaru Bay, Baa Atoll - Conveniently close to Soneva Fushi, visit Hanifaru Bay between June and November when hundreds of manta rays migrate to the atoll's plankton-rich waters. This is quite possibly the biggest manta feeding station in the world.
Diving with Sharks
The Maldives holds a strong reputation for shark encounters - whilst reef sharks can be sighted on most dives, dozens of different species can be spotted throughout the archipelago.
Orimas Thila, Noonu Atoll - This is one sharky dive. Descending to a maximum depth of 30 metres, you'll come to an underwater mound that acts as a cleaning station and nursery for grey reef sharks, leopard and guitar sharks; not to mention schools of barracuda and rays.
Foahmulah Island, Fuvahmulah Atoll - One atoll, one rock in the middle of the open ocean and a giant pelagic nursery: Foahmulah Island has all the ingredients for unforgettable marine encounters, from tiger and thresher sharks to white-tip, grey reef, sliver tip and even hammerhead sharks.
Miyaru Kandu, Felidhoo Atoll - Miyaru means shark in Dhihevi, which is no coincidence. Currents that flow through the atoll make the fish action more blizzard-like, with grey reef, white tips and hammerheads common as well as jacks, napoleon wrasse, groupers and eagle rays.
Maaya Thila, South Ari Atoll - During the day this underwater pinnacle is frequented by dozens of white tips and nurse sharks, giant trevally, barracuda and stingrays; but by night the pinnacle comes alive as the feeding frenzy commences.
General Fish Action in the Maldives
From blizzards of big fish, small fish, colourful fish and camouflaged fish - here are some of the Maldives' more 'fishy' dives.
Fotteyo Kandu, Vaavu Atoll - Often referred as one of the world's best dive sites, Fotteyo Kandu is characterised by swim-throughs, channels, caves and overhangs. Dive early in the morning and you'll have the chance to see hammerheads, potato groupers, trevally, triggerfish, swordfish and turtles.
Fish Head, North Ari Atoll - We weren't quite sure whether to categorise this in sharks or general fish action. Whilst it's not uncommon to spot over 15 grey reef sharks on a single dive, you can also see big snappers, tuna, napoleons and giant trevally.
Banana Reef, North Male Atoll - This might just be the most famous dive site in the Maldives, and for good reason. The site boasts colourful corals, overhangs, cliffs and caves alongside oriental sweetlips, blue-striped snappers, barracuda, groupers, sharks… we could go on.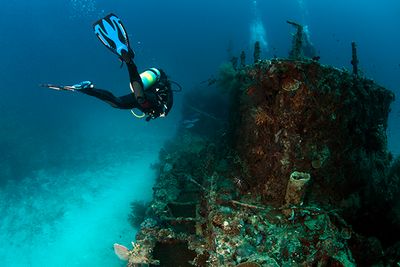 Best Wrecks in the Maldives
You don't often hear about wreck diving in the Maldives, but the archipelago has a few treasure troves waiting to be uncovered (disclaimer: don't actually go looking for sunken treasure).
Kudhima Wreck, South Ari Atoll - An old tuna boat purposefully sunken in 1998, the 30 metre wreck is carpeted with colourful sponges and macro life - don't forget your camera for this one.
Maldives Victory Wreck, North Male Atoll - Measuring a whopping 110 metres in length, spot turtles, groupers, trevallies, lionfish and more. Currents can be strong so this is a site for advanced divers.