Mafia Island
Who: Couples, Honeymoons and Families
From £3,175pp
Slowly Slowly in Mafia Island
Dive some of East Africa's best sites in Mafia Island Marine Park; swim alongside the gentle giant whale shark and get some much needed R&R on the blissful beaches of Mafia Island on this two week adventure, staying in luxury eco-lodge Pole Pole.
Itinerary at a Glance:
Swim with the biggest fish in the sea, the whale shark
Dive Tanzania's first marine park, Mafia Island Marine Park
Why Book with Original Diving?
Just a few of the extra touches that come as standard on an Original Diving holiday...
See More
All of the holidays we create are completely tailor-made to you
This sample itinerary is intended to give you a flavour of what we can do
Day 1:

International Flight
Your indirect flight departs London Heathrow for Tanzania in the late afternoon. The flight takes around 14 hours, most likely transitioning through Nairobi en route.
Your flight lands in Dar es Salaam in the morning. On arrival at the airport, proceed to the domestic terminal for your flight on to Mafia Island. The flight only takes half an hour so you will touch down by late morning.
Once you have passed security and paid your marine park fee ($24 per day) you will be met by your driver and privately transferred to Pole Pole. The scenic journey takes around 20 minutes, arriving just in time for lunch.
A relaxed, luxurious eco-retreat, Pole Pole ('slowly slowly' in Swahili) blends seamlessly into the surrounding environment. From taking a stroll through swaying coconut palms to listening to the gentle lapping of waves along the beach, it's easy to switch off, slow down and settle in to island life here. Once you've checked in, head to the beachside restaurant for a delicious lunch and spend the day at leisure. You will be spending the next 10 nights here.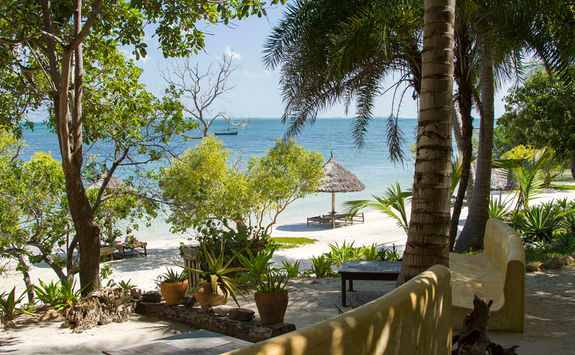 Indulge in a lazy lie-in this morning.
Relaxation is the order of the day. Shake off any strains with an alfresco spa treatment, take a leisurely stroll along the dazzling white beaches and embrace your inner sun lizard dozing along the shore.
In the late afternoon, set out on a sunset dhow cruise and watch the sky turn from turquoise to pink and ember.
Additional Activities
For an introduction into the watery world, take a trip to Maweni bay and snorkel the colourful coral reef with its dancing fish
Day 4:

Mafia Island Marine Park
This morning hit the seas to dive the spectacular surrounding sites.
Pole Pole is located on the doorstep of Mafia Island Marine Park, Tanzania's first marine park and home to some of the most biodiverse reefs in East Africa (think: over 42 coral species and over 400 fish species). The diving here is tidal, taking place either inside or outside the bay, and while inside the bay is open to all divers, outside the bay is only open to advanced as most of the sites are wall dives with deeper depths.
Enjoy your surface interval marooned on a deserted sandbank before heading back under the waves to explore. In the evening, recount the day's diving as you feast on a fresh fish supper.
Day 5:

Mafia Island by 4x4
After a leisurely breakfast set out to explore the island.
Setting out by 4x4, head inland through great swathes of tropical rainforest, passing small villages and spotting wildlife before arriving at the hidden Chuwia beach in time for lunch. Spend the afternoon exploring this hidden cove before heading back to Pole Pole in time for sundowners.
Day 6:

Swim with Whale Sharks
Today, swim with the biggest fish in the sea, the mighty whale shark.
Visit between October and March and head out with the local fishermen to find whale sharks as they feed on plankton just a few hundred yards from the beach. There is nothing quite like being dwarfed by these gentle giants as you swim alongside them.
Additional Activities
If you've visited outside whale shark season, there are plenty of other opportunities for unforgettable marine encounters diving the local sites off Chole Bay
Days 7–10:

Dive, Dive and Dive Again
Spend the next few days diving to your heart's content.
Discover a plethora of technicolour nudibranch straight from the shores of the aptly named Nudi City site, swim with two giant (and we mean giant) potato groupers, turtles, rays and more inside the bay at Kinasi Pass, and head outside of the bay to spot larger pelagics along deep walls, fringing reefs, caves, caverns… you get the gist.
When not diving, go island hopping, swim in mirror-topped lagoons and stroll down deserted sandbanks. Chole Island is definitely worth a visit to explore the eerie ruins of buildings occupied by the Germans in the First World War (look out for Comoro bats). Or for ruins worthy of an Indiana Jones film, head to Juani Island to see the ancient city of Kua enveloped in rainforest.
On your last full day take an adventure to the remote sandbanks surrounding Kitutia Reef.
Look out for dolphins as you sail south to one of the archipelago's most beautiful coral reefs, where you can snorkel to spot any marine life you might have missed while diving (or take a final look at your favourites) - including massive rays. Lunch is served on a deserted sandbank before sailing back to Pole Pole in time for sundowners.
Sadly it's your last morning in paradise before you catch an afternoon flight home.
Indulge in a massage at The Alasiri Spa or take a final dip in the sea before you are transferred to the airstrip for your flight to Dar es Salaam.
Once you have arrived in Dar es Salaam board your international flight to London Heathrow. The flight will transition through East Africa or Europe en route, taking around 12 hours.
All of the holidays we create are completely tailor-made to you
This sample itinerary is intended to give you a flavour of what we can do
A Rough Idea of Price
While all of our holidays are completely tailor-made and prices will vary based on things like time of year and level of accommodation, we want to give you as good an idea of how much this itinerary will cost. The below prices are based on two people sharing.
This Itinerary
If you would like to book the exact itinerary mentioned above, with economy flights, during mid-season and staying in our preferred room category at our preferred hotels.
Bare Necessities
If you would like to pare back the above itinerary by travelling at non-peak times, staying in a standard room and removing some or all of the guided activities.
Bells & Whistles
If you are looking for something extra special and would like to add business or first class flights, stay in top room categories at some of the most luxurious hotels we work with, and add more activities and guiding.
Emily C, Eleanor and Jacqui are our experts for this itinerary and as seasoned travellers they have the inside track on the most memorable adventures.