Twin Centre Mozambique
Who: Couples, Honeymoons and Families
From £14,875pp
Paradise Paired In Mozambique
Spend 12 days being seduced by Mozambique's unspoiled coastline, turquoise waters and vibrant African culture. Underwater, dive the marine rich protected waters of the Bazaruto Archipelago and spot the big fish from the sleepy fishing village of Tofo.
Itinerary at a glance:
Spend blissful days doing nothing but relaxing on the paradise islands of the Bazaruto Archipelago
Dive on healthy reefs inhabited by a wealth of varied marine life in the Bazaruto Marine Reserve
Set out from Tofo to dive with manta rays, sharks, whale sharks, humpback whales (between May and October)… the list goes on.
Why Book with Original Diving?
Just a few of the extra touches that come as standard on an Original Diving holiday...
See More
All of the holidays we create are completely tailor-made to you
This sample itinerary is intended to give you a flavour of what we can do
Day 1:

International Flight
Your overnight flight to Johannesburg in South Africa leaves in the evening and takes 11 hours. Make sure the iPad is charged!
Day 2:

Arrive in Mozambique
The flight lands in the early morning, and you will transfer across to the connecting flight (with your bags checked through) to Vilanculos in Mozambique. The onward flight takes an hour and 40 minutes.
Once you have cleared customs, you will be met by one of our team and transferred to your hotel, either by boat, car or helicopter depending on where you decide to stay. Once you have checked in to your room, spend the rest of the day at leisure.
Located within a protected marine park, the Bazaruto Archipelago is comprised of just six sleepy islands that snake across the turquoise ocean. Only a few luxury resorts pepper the archipelago, and with powder white beaches and crystal waters, you'll have a real Robinson Crusoe experience.
Day 3:

The Bazaruto Archipelago
Today you can relax on the beach or set out to explore the underwater world.
The Bazaruto Archipelago is home to a two-mile reef that supports an abundance of colourful coral and incredibly varied marine life, from vivid reef fish to seven different types of ray, sharks, turtles, groupers and even the rare dugong - all of which ensure no dive will be the same.
In the evening, you can opt to take a romantic sunset dhow cruise or sip on sundowners from the privacy of your own room.
Days 4 - 5:

The Bazaruto Archipelago
Spend the next couple of days diving, relaxing at the resort or on an excursion to explore the surrounding archipelago.
Depending on your mood, you can set sail on an island-hopping adventure, spotting dolphins as you speed from one island to the next, walking along deserted sandbanks, snorkelling in secret spots and tucking into a delicious picnic.
Return in time for sunset, before enjoying a private candlelit supper along the resort's beach.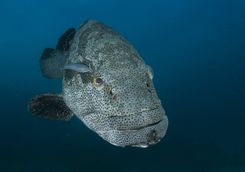 Additional Activities
Try your hand at deep sea fishing - the archipelago is home to some of the best big game, sailfish and salt water fly-fishing in the Indian Ocean
Over 150 species of bird reside in the area, so set out on a guided bird-watching tour to identify some of the more colourful residents
Between August and November, go on a whale and dolphin watching trip as humpback whales migrate near the shore
For a dose of culture, visit local villages before returning to the resort for a cookery lesson with a local chef
This morning, after a leisurely breakfast it is time to depart for the next part of your trip.
You will be privately transferred to Baia Sonambula. Depending on which resort you have been staying at, the scenic journey should take around four hours.
Once you have checked in, spend the rest of the day at leisure. While Tofo is home to blissful beaches, turquoise waters and a relaxed African charm, diving is the real draw here. There is a fantastic array of marine life to see, including turtles, dolphins, manta rays, moray eels, sharks, whale sharks and even humpback whales (between May and October).
This morning, set out to explore the reef. All of the dives are either conducted from the shore or by RIB inflatable - it is a thrilling experience pushing the boat past the breakers before zooming towards the reefs close by.
Diving, visibility ranges between 15 - 40 metres with warm waters year-round. All of the dives are drift dives, varying from easy to advanced, and you'll be rewarded with numerous sightings of the big stuff.
Spend the afternoon catching rays on the resorts sun terrace or back underneath the waves, heading back to the beach to watch sunset.
In the evening explore Tofo's local restaurants - Mango Beach restaurant in particular has fantastic seafood. Stay for drinks in Tofo's buzzing bars (Dino's and Fatima's Nest are both along the beach with great views) or head back to the privacy of your hotel.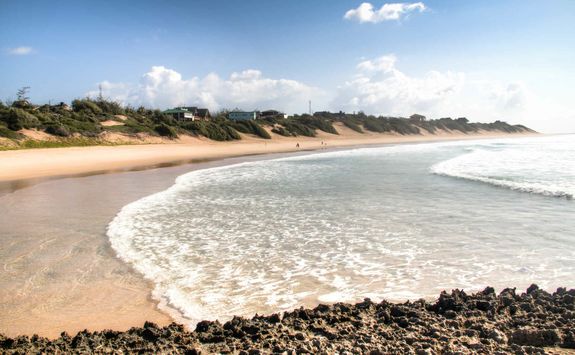 Spend the next few days exploring the different dive sites that pepper Tofo's coastline.
If you want to learn more about the local marine life, visit the Marine Megafauna Research Centre to learn about ongoing conservation in the area.
Aside from diving, you can explore the beaches on horseback, take a day trip to the nearby Tofinho to surf in Mozambique's unofficial surfing capital (there's also a great kite surfing school), or simply while away a day lounging in a hammock - Tofo is a place where you can relish doing nothing at all.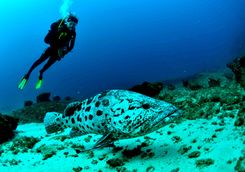 Sadly, your trip has come to an end and this being somewhere deliciously remote, it's a multi-legged journey home.
After one last lazy morning and long lunch you will be transferred from Baia Sonambula to Inhambane Airport to catch a one-hour flight to Mozambican capital Maputo and then another hour long hop on to Johannesburg. There you connect on to your overnight 11-hour flight back to London.
The flight lands back in London in the early morning.
All of the holidays we create are completely tailor-made to you
This sample itinerary is intended to give you a flavour of what we can do
A Rough Idea of Price
While all of our holidays are completely tailor-made and prices will vary based on things like time of year and level of accommodation, we want to give you as good an idea of how much this itinerary will cost. The below prices are based on two people sharing.
This Itinerary
If you would like to book the exact itinerary mentioned above, with economy flights, during mid-season and staying in our preferred room category at our preferred hotels.
Bare Necessities
If you would like to pare back the above itinerary by travelling at non-peak times, staying in a standard room and removing some or all of the guided activities.
Bells & Whistles
If you are looking for something extra special and would like to add business or first class flights, stay in top room categories at some of the most luxurious hotels we work with, and add more activities and guiding.
Emily C, Eleanor and Jacqui are our experts for this itinerary and as seasoned travellers they have the inside track on the most memorable adventures.